Get Competition Ready With This 1500-1800 Calorie Meal Plan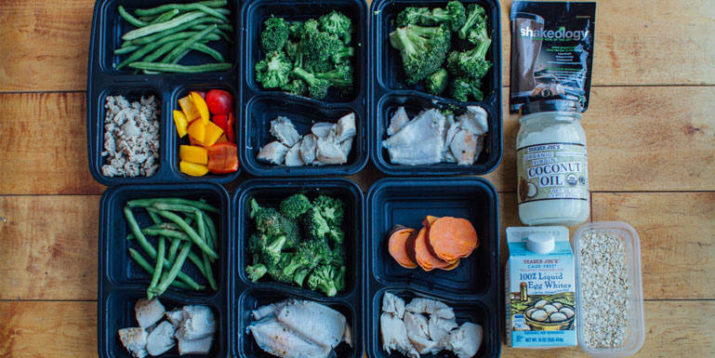 Almost every weekend, Social Media Specialist (and fitness fanatic) Amanda Meixner preps her meals and shares her photos on her Instagram account. Her simple photos remind us meal prep doesn't have to be hard. This week she is carb cycling. She is following 3 days of the regular 21 Day Fix EXTREME Eating Plan and 2 days of Countdown to Competition Eating Plan. Want to see more of Amanda's fit and healthy lifestyle? Check out her blog, Running Wild.
Want to see your meal prep on The Beachbody Blog? Email your healthy meal prep photos to Editors@Beachbody.com and you could be next! Be sure to tell us what it is and include your Instagram or Twitter handle for linked photo credit!
Amanda's Meals on Monday, Wednesday, and Friday: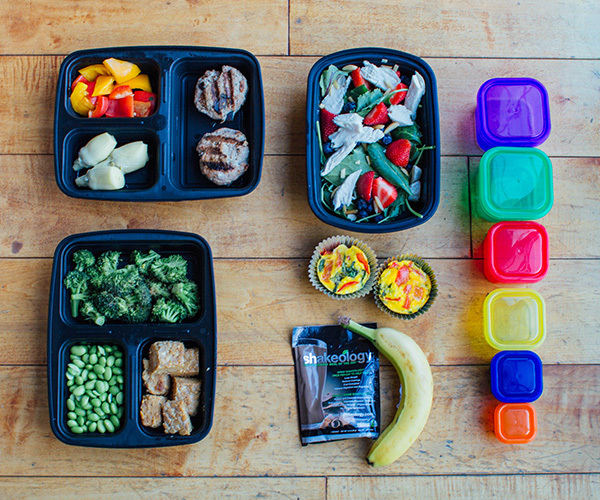 Breakfast: Shakeology with a banana and 2 tsp. almond butter (1 red, 2 purple, 2 tsp.)
Snack: 2 egg muffins (made with 2 eggs, spinach, and red bell peppers), and oatmeal (not shown) (1 red, 1 green, 2 yellow)
Lunch: Tempeh sautéed in liquid aminos, edamame, and broccoli with 1 tsp. olive oil and Flavorgod seasoning (1 red, 2 yellow, 1 green, 1 tsp.)
Post-Workout: Baked chicken with mixed greens, ½ cup blueberries, ½ strawberries, slivered almonds, balsamic vinaigrette dressing (1 red, 1 green, 1 purple, 1 blue, 1 orange)
Dinner: Homemade turkey burgers (made with ground turkey and onion), red and yellow bell peppers with 1 tsp. olive oil & lemon, Flavorgod seasoning, and artichoke hearts (1 red, 2 green, 1 tsp.)
Amanda's Meals on Tuesday and Thursday:

Meal 1: Eggs whites and oatmeal with 1 tsp. coconut oil (1 red, 1 yellow, 1 tsp.)
Meal 2: Chicken and sweet potato (1 red, 1 yellow)
Meal 3: Trout and broccoli with 1 tsp. coconut oil (1 red, 1 green, 1 tsp.)
Meal 4: Chicken and green beans with 1 tsp. coconut oil (1 red, 1 green, 1 tsp.)
Meal 5: Fish and broccoli with 1 tsp. coconut oil (1 red, ½ green, 1 tsp.)
Meal 6: Chicken and broccoli (1 red, 1 green)
Meal 7: Ground turkey, green beans and bell peppers (1½ red, 1½ green)
Meal 8: Shakeology and cucumbers (not shown) (1 red, ½ green)
Grocery List:
• 3 bananas
• 1 large carton blueberries
• 1 large carton strawberries
• 4 red bell peppers
• 3 yellow bell pepper
• 1 can artichoke hearts
• 3 bags broccoli
• 1 bag spinach
• 2 bags green beans
• 1 container of edamame
• 2 small sweet potatoes
• 2 packets tempeh
• slivered almonds
• 1.25 lbs turkey
• 1 lb chicken
• 1.25 lbs trout
• ½ dozen eggs
• 2 cartons egg whites
• oatmeal
• virgin coconut oil
• 5 packets Shakeology
Amanda answered some questions she's often asked about her meal prep:
Do you get bored of eating the same thing every day?
Not at all! I switch it up on a weekly basis and choose my healthy favorites that I don't mind eating often. I also add different seasonings to keep things interesting. (Check out the 21 Day Fix & 21 Day Fix EXTREME nutrition guides for seasoning recipes.)
Do you pre-cook all your food at the beginning of the week? Does it stay fresh all week?
I personally like to cook all of my food at once. I keep it properly refrigerated and find that it stays fresh up to 5 days. If you prefer, you can freeze the last 2 days worth of meals, or cook 2–3 days at a time.
Can you put any of these meals in the freezer?
I personally don't freeze my meals, but I know people who do. Just remember to thaw it in time.
Do you use the colored containers and then transfer food into the larger ones?
The colored containers are the meal portions used in 21 Day Fix/21 Day Fix EXTREME. I use them to help me measure all my food when cooking, then I put my meals into my black Chefland containers for easier organization and transport.
Where can I buy those containers?
You can find them here.