Creamy Tomato Soup With Grilled Cheese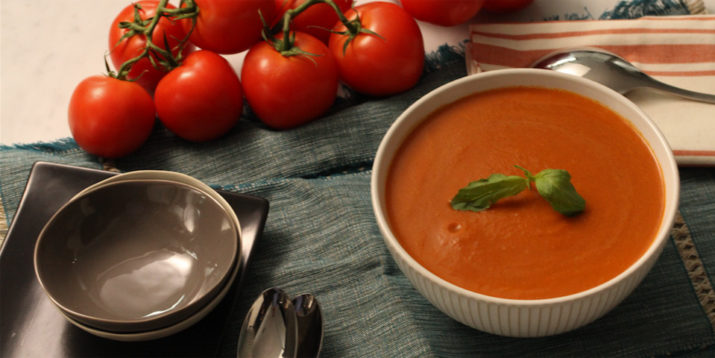 If you're going to have tomato soup, you must have grilled cheese — it's required.
But if you're committed to healthy meal planning, the tomato soup + grilled cheese combo can present a bit of a pickle.
Under most circumstances, buttery, carb-loaded grilled cheese sandwiches are completely off the table for people trying to eat clean.
So how is this Creamy Tomato Soup With "Fix"-ed Grilled Cheese FIX-Approved? We're glad you asked!
For their healthy cooking show FIXATE, Ultimate Portion Fix creator Autumn Calabrese and her brother, chef Bobby Calabrese have come up with a clever solution that satisfies that craving for a bowl of smooth, creamy tomato soup and grilled cheese that's in line with a healthy meal plan.
The goal of this Creamy Tomato Soup recipe was to make it almost as easy as warming a can of soup over the stove.
Canned tomato soup might be the easiest way to quell your cravings, but most canned tomato soups contain a lot of salt and a host of unsavory ingredients like processed sweeteners and added preservatives.
Our recipe omits all that unnecessary stuff and brings tomato soup back to its wholesome roots, with ingredients like naturally sweet Italian whole peeled tomatoes, freshly chopped onions, and diced garlic.
Bobby always has a tip or two to help you take an average recipe to the next level. In this episode of FIXATE, he recommends springing for high-quality peeled whole tomatoes for a few good reasons.
For recipes that feature tomatoes as the primary ingredient, you can dramatically enhance the flavor of your dish with higher quality tomatoes.
Plus, by using Bobby's tomato of choice, Italian San Marzano tomatoes, you won't need as much sugar, as these babies are already naturally sweet!
To make your grilled cheese a little healthier, Autumn uses sprouted whole-grain bread in place of white bread.
By using rich, flavorful Munster cheese you won't need to use nearly as much get that gooey grilled cheese flavor. And to keep them crisp and delicious she uses ghee (clarified butter) instead of salted butter.
When compared you compare this to your average can of tomato soup, this recipe boasts 1/3 the sodium and 1/2 the sugar, not to mention this creamy tomato soup doesn't contain wheat flour and has no high-fructose corn syrup. Hooray for healthier recipes!
To get the recipe and find out the Container Equivalents and nutritional information, watch the FIXATE episode on BODi!