FIXATE Italian Wedding Soup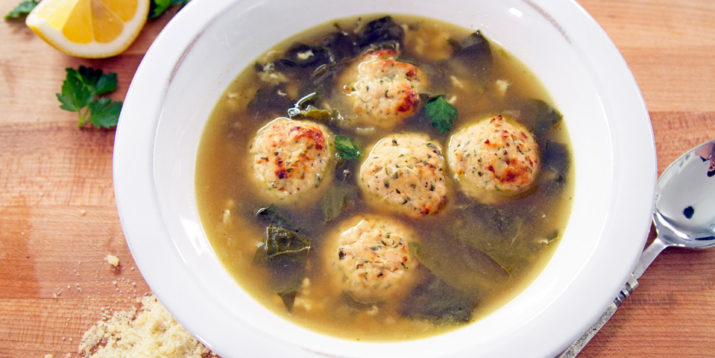 While Italian Wedding Soup may not have originated as an actual wedding dish, its deep, rich flavor is absolutely fit for a special occasion!
The name "wedding soup" likely comes from a mistranslation — the "marriage" the name refers to is more so a marriage of flavors.
The broth base for the soup — in this case, organic chicken stock — gets its deep flavor from greens like chard, kale, or spinach that gently steep while your protein of choice stews.
For their healthy cooking show FIXATE, Autumn Calabrese and her brother, chef Bobby Calabrese, tap into the family recipe book and share their FIXED version of a classic Italian Wedding Soup.
This hearty meatball soup can easily serve as a main or a starter. Autumn and Bobby's version utilizes one of their essential meal-prep recipes: healthy turkey meatballs.
When combined with leafy greens and a rich chicken broth, the trio makes for an authentic, satisfying home-cooked meal.
A complex broth is achieved by layering flavorful ingredients in stages. Bobby begins with diced onions, sauteed until translucent. Next, he adds garlic to further build flavor and aroma. Finally, he adds organic chicken stock, completing the soup's base.
While you could add any number of hearty greens, Autumn and Bobby choose chard for this recipe.
Chard stalks are a lot like celery, so you can chop your chard stalk and all, omitting the bottom wood parts. The leafy top of the chard is sturdy enough to withstand a bit of a boil yet adds a delicate texture to the final soup.
As a final ingredient, two fresh eggs combined with grated parmesan cheese are slowly poured into the broth using the egg-drop-soup method, adding a bit of protein and lots of flavor.
The advantage of making hearty soups like this Italian Wedding Soup at home is that you get to control your ingredients.
This recipe contains much less sodium, fewer calories, and almost double the protein than the average canned Italian Wedding Soup. This is good news for home cooks who want to eat healthily!
To get the recipe and find out the Container Equivalents and nutritional information, watch the FIXATE episode on BODi!