Build Muscle and Get Shredded With DIG DEEPER, Shaun T's First-Ever Lifting Program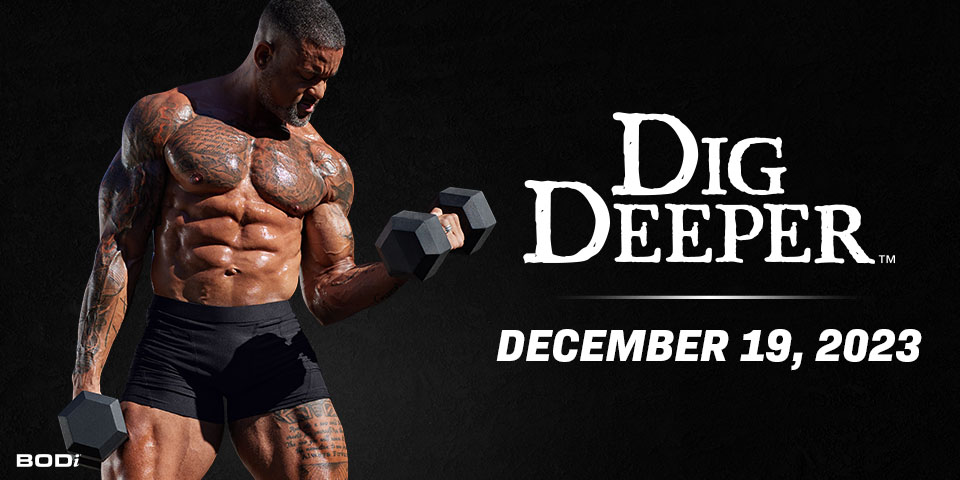 Build the body you've always wanted, become mentally unstoppable, and discover what it's like to be in control of your results with DIG DEEPER, the first-ever weightlifting program from Super Trainer Shaun T.
Destined to be another megahit, DIG DEEPER is the new, all-in strength training workout program that you can find exclusively streaming on BODi, starting in December.
What is DIG DEEPER?
DIG DEEPER is an intense weightlifting program for all levels, designed to build strength, confidence, and unbelievable physical results with a total-body recomposition.
Body recomposition reshapes your body by torching fat and building muscle to reveal a leaner, more muscular body. (Have you seen Shaun T's body lately?)
Over 12 weeks, Shaun takes you through three 4-week collections of workouts using a variety of proven lifting techniques that will leave you toned and sculpted.
You will lift heavy, gradually bumping up your intensity, and target every muscle group to help you reach your peak physical and mental strength.
Workouts are 6 days a week, 30-50 minutes a day. They include 5 days of lifting and just 1 day of optional, low-impact cardio. (No jumping or high impact required!)
There's also a No Excuses collection of under-25-minute workouts, for when you're short on time.
What equipment do I need?
Dumbbells: You need a wide variety of light, medium, heavy, and super heavy dumbbells, so you can choose the most challenging weights for each move.
Pro tip: As you advance through the program, you'll build strength and confidence, and be able to lift much heavier than you think.
Bench: You'll also need an adjustable bench, which is essential to help support your body properly and allow you to target every muscle group.
What is a body recomposition program?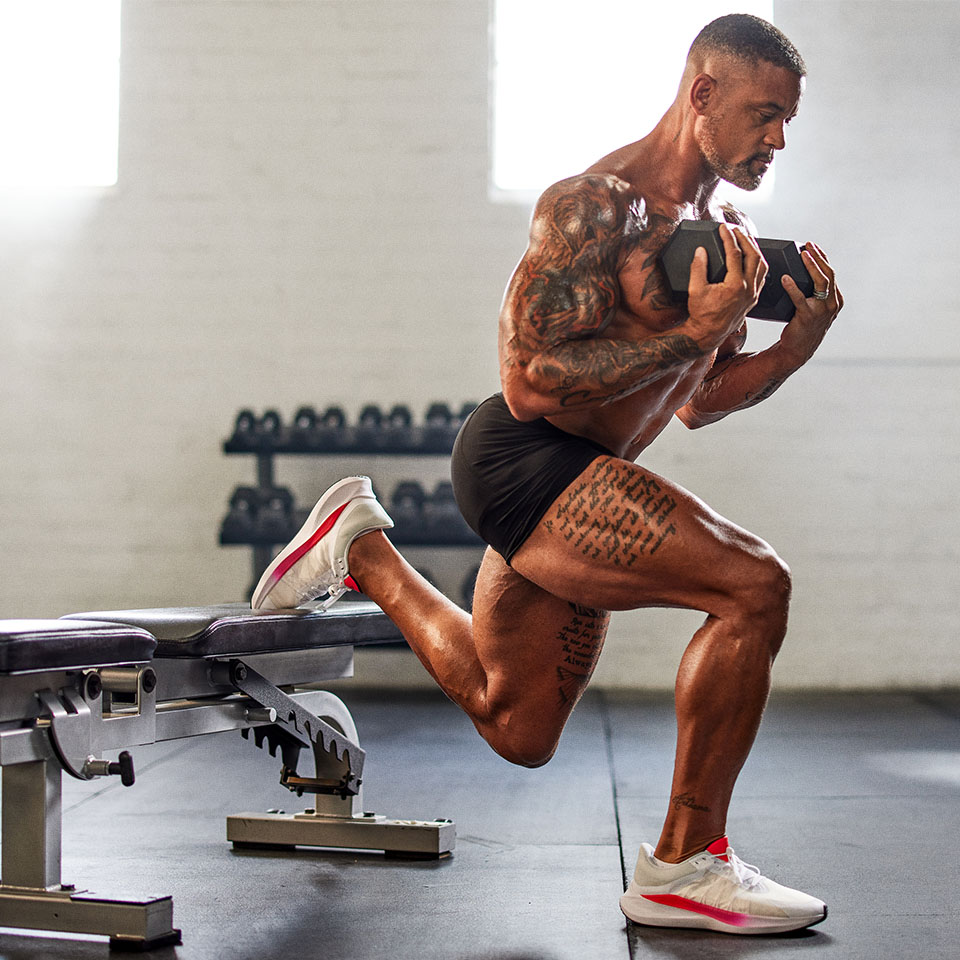 Your body composition is your ratio of lean mass (such as muscle) to fat mass.
DIG DEEPER is a body recomposition program that changes the makeup of your body by reducing your fat stores while increasing your muscle mass to make you leaner, stronger, healthier, and more powerful.
Body recomposition also speeds up your metabolism, to help you lose weight and keep it off.
Keep in mind that body recomposition looks different for everyone. This is why you might not see the scale move, but you will 100% see and feel a difference in your body.
What kind of results can I expect from DIG DEEPER?
Whether you want to pack on 10 pounds of muscle or whittle away fat to reveal definition, DIG DEEPER will help you get strong and chiseled.
It's also about feeling more powerful in your body than ever before.
You will see continuous progress as you build and sculpt muscles, even in areas you never thought you could, and achieve next-level strength and fitness — physically and mentally.
Why is strength training important?
Strength training is one of the most effective ways to reshape your body and achieve a healthier body composition.
Strength training also helps protect and stabilize your joints, improve bone density, and increase strength and muscle mass, to help you look and feel amazing — now and into the future.
Who is DIG DEEPER for?
DIG DEEPER is for anyone who wants to push themselves and their body with straight-up lifting, or change things up from their cardio-heavy, high-impact routines. You'll see results like never before, no matter your goal.
Shaun T himself has a legacy of high-intensity cardio training, but when he decided to challenge himself in a new way, weightlifting changed his body and his life.
He developed this ultimate lifting program, with low-impact moves, intensive strength training, and only one day of moderate cardio, so it can do the same for you.
How is DIG DEEPER different from other workouts?
DIG DEEPER isn't just the name of his new fitness program — it's a mentality Shaun has followed since the beginning of his fitness journey. It's tattooed on his body, quoted in his gym, and always top of mind.
The term reminds Shaun that when life gets tough, you can back down, or you can dig deeper, push through, and discover the greatness inside of you.
And that's what he did in his own weightlifting journey.
Shaun immersed himself in weightlifting to take his training to the next level. He reshaped his body, a total recomposition of his physique, and shocked the world with his stunning physical and mental transformation.
Stronger and more shredded than ever, Shaun won several gold and silver medals in his first-ever Men's Classic Physique competition. Now, he's sharing his exact body-sculpting method with you, so you can get your own inspiring results.
What if I've never lifted weights before?
Shaun T takes the intimidation out of lifting and motivates like only he can.
You'll learn how to execute each move with precision, form, and focus to get the most out of every rep, move, and training style.
You'll start with weights that are comfortable yet challenging for your fitness level and work your way up, pushing beyond your limits to achieve more than you thought you could.
You will see immediate progress in strength, ability, and mindset, as you burn away fat and discover muscles and mental toughness you never knew you had.
If anyone makes you want to work hard and give it your all, it's Shaun T.
What kind of nutrition program should I follow?
Your nutrition plays a huge part in the results you get. You will only bulk up if you eat to bulk up. The same goes for weight loss.
That's why we have two proven, healthy eating plans that can help you stay on track and reach your goals.
With DIG DEEPER, you'll get digital guides on how to follow both eating plans, 2B Mindset and Portion Fix, plus recipes for every meal. (And if you have a BODi membership, you'll get full access to each plan.)
Choose the eating plan that's right for your lifestyle at FindMyProgramTool.com and get started on Day 1.
There's also guidance on how to do The 4 Week Gut Protocol (sold separately) with DIG DEEPER. You may want to choose this option if your digestion is out of whack, or just want to improve your gut health.
Are there any supplements you recommend?
The right supplements can help fast-track your results, give you more energy, boost your endurance, build muscle, and even make workouts feel easier.*
To show up and feel your best each day, it's important to give your body the nutrients it needs to repair and recover from your DIG DEEPER workouts.
Shakeology Superfood Shake
Creamy and delicious, Shakeology contains whole-food-based nutrients your body may not be getting enough of, like protein, antioxidants, vitamins, minerals, greens, prebiotics, mushrooms, and more. It helps provide energy, curb cravings, and support lean muscle and digestion.*
Energize Pre-Workout
This plant-based pre-workout formula gives you a boost of clean energy for your workouts. It helps delay muscle fatigue and improve endurance, to help you push to the very end of your session. Meaning, you'll feel better and get the results you want faster.*
Recover Post-Workout
Protein is going to be your best friend during DIG DEEPER. Recover contains 20g of protein, plus antioxidants, all to help you repair and build muscle and alleviate post-workout muscle soreness, so you can come back stronger and better.*
Hydrate
Help replace lost electrolytes and support hydration during exercise with Hydrate. Key minerals and carbs keep your muscles fueled and help improve endurance.*
Pro tip: Grab our bestsellers bundle and save with Shake + Hustle, 20 servings each of Shakeology and Energize. You can get it as part of The BODi Essentials Collection.
Who is Shaun T?
As a BODi Super Trainer, fitness legend, and motivational superstar, Shaun T has helped millions of people get in the best shape of their lives.
Known for his transformational programs and powerfully inspirational style, he's the creator of megahits FOCUS T25, T25 + B25 Super Blocks, Transform :20, CIZE, INSANITY, and LET'S GET UP!
Now he's back with his first-ever weightlifting program that will get you serious results, to help you look and feel incredible.
Shaun's positive, results-driven workouts will help you become leaner and stronger, physically and mentally.
When will DIG DEEPER be available?
DIG DEEPER will be available for VIP Early Access on December 19, 2023. You will need a fitness membership to purchase the program.
How can I buy DIG DEEPER?
You've got two ways to access the DIG DEEPER program and materials — all of which are digital only.
Total-Solution Pack
You can get DIG DEEPER at a discounted price of $20 (that's a 60% savings!) by purchasing it with any Total-Solution or Completion Pack. Just add DIG DEEPER as a special offer at checkout.
When choosing a Total-Solution Pack, BODi members love The Essentials Collection — our wellness center in a box that includes an Annual BODi membership with access to BODi Blocks every month, thousands of workouts for every level, community support, and accountability.
You'll also get 20 servings of Shakeology superfood nutrition and 20 servings of clean pre-workout Energize + a Shaker Cup, eating plans, the BODi Essentials Guide, plus free access to two of our newest Super Blocks. 
Just select your Super Blocks when you add the Pack to your cart and then add DIG DEEPER before or at checkout.
Standalone Purchase
Your second option is to buy DIG DEEPER on its own for $49.95, with your existing fitness membership. This gives you digital access to the workouts and program materials.
Pricing varies by locale.
Want more details about DIG DEEPER?
Get all the info about Shaun's new DIG DEEPER program by visiting FAQ 10406.