The Best Workout Music for Any Activity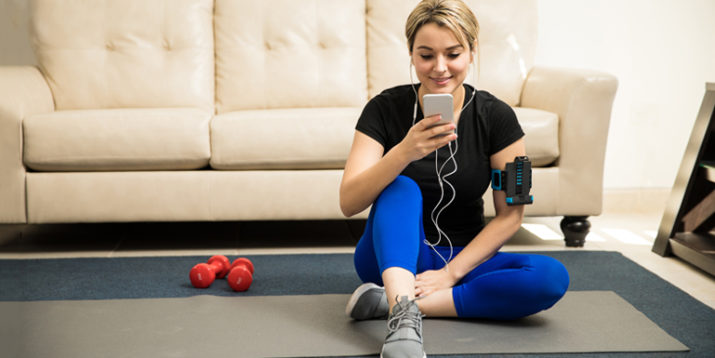 Sure, some people enjoy listening to birds chirping as they run, or they get energized by the sound of weights hitting the floor at the gym. But for the rest of us, music can make or break a workout. The right tunes can help you perform at your max potential… science even says so. Research has shown that music can make you push yourself harder and enjoy your workout more. That's why a good workout playlist is a necessity.
What workout music will give you the best results? There's no one-size-fits-all answer — well, other than "Eye of the Tiger," because who doesn't love that song? The best workout music depends on your mood, your goals, and what type of tunes you enjoy in general. Are you bursting with energy, or do you need a kick in the you-know-what to get moving today? Will you be doing yoga asanas or deadlifts? Are you into EDM, indie rock, or rap?
Whatever you're feeling, we have a workout playlist to match your mood and your musical tastes — check out 13 of our favorite workout playlists below, and follow BODi on Spotify to listen to all of our best workout music!
The Best Workout Music for Every Kind of Exercise
3 Motivational Workout Playlists
Maybe you're tired from a long day at work, you're tackling the first week of SHIFT SHOP, or you're adding heavier weights to your routine. The best workout music will give you that extra push when you really need it. These inspiring playlists are guaranteed to put you in the right mindset.
Autumn's Cardio Crush
21 Day Fix creator Autumn Calabrese has a positive "you got this" vibe that extends to her playlist. It's packed with party-ready tracks from Pitbull and Flo Rida, and inspiring pop anthems like Rachel Platten's "Fight Song" and Kelly Clarkson's "People Like Us." When you're running on empty, this playlist will keep you going strong to the end.
Sagi Kalev's Weightlifting Playlist
The creator of Body Beast definitely knows a thing or two about getting people into beast mode. Sagi's mix of throwback rap, wrestling theme songs, and motivational tracks like Eminem's "Phenomenal" are sure to get you amped up. "There are a lot of songs that mention being a 'beast' or 'beast mode,'" Sagi says. "This a reminder that you're not in a wimpy workout — you're in a Beast workout."
Joel Freeman's Hardcore Motivational Playlist
Metalheads will love Joel's supercharged playlist that includes artists like VOLBEAT, Rise Against, Mastodon, and White Zombie. "When I'm just wiped and I need every ounce of energy… the heaviest of the heavy in my playlist is what I'm going to be looking for at that point," he says. "Anything that is heavy metal is going to get me going."
3 Cardio Pop Playlists
Power through a cardio workout with these up-tempo playlists. They'll keep your energy high for the long haul — and they may even turn your workout into an impromptu dance party.
Running Workout Playlist
When you need to go the distance, this playlist will make the miles fly by. With a little bit of everything — from Taylor Swift to Fall Out Boy to M.I.A. — this mix helps break up the monotony of a long run.
Jericho McMatthews' Pumped-Up Pop Workout Playlist
Jericho's mix of dance tracks from artists like Ariana Grande, Grimes, and Calvin Harris will make you feel like dancing. "It puts me in a zone that makes me forget about everything else," she says. "I incorporate the go-tos that I know can pull me out of a funk if I need more energy and intensity to work out."
Tony Horton's Cardio Mix
Tony Horton cranks the music hard for his cardio days. His go-to cardio playlist features a mix of alt-rock anthems from bands like Imagine Dragons, AWOLNATION, The Decemberists, and more. "All these songs have one thing in common, and that is that they've got a great beat for cardio-type routines," he says.
3 High-Energy Playlists for Weekend Workouts
Working out is a great way to burn off stress after a tough week — and when that's your goal, these upbeat tracks and old favorites provide the perfect soundtrack.
Country Workout Playlist
Some people might be skeptical that country is the best music for workouts, but this playlist will prove you wrong. Blast these upbeat hits from Sam Hunt, Florida Georgia Line, Thomas Rhett, and more — this might just become your new favorite kind of workout music!
Train Hard, Play Hard
Just because a workout is hard, it doesn't mean it can't be a party. With mood-boosting dance tracks like Matt and Kim's "Let's Go" and the Alvin Risk remix of Fun's "We Are Young," this playlist is all about letting go and having fun — it's the perfect soundtrack for a Saturday morning sweat session (or a Saturday night out!).
INSANITY MAX:30 Hits
Anyone who's done a workout from the INSANITY series knows that there's no holding back. This playlist is perfect for a half-hour INSANITY MAX:30 routine, or any other intense HIIT workout. It includes songs like Sia's "Elastic Heart," Nate Ruess' "Great Big Storm," and Lights' "Up We Go" to create a stellar mix of uplifting lyrics and solid beats.
4 Low-Key Playlists to Help You De-Stress
The best workout music isn't only fast, hard-hitting jams. Whether you're cooling down after a cardio workout, unwinding with a yoga sequence, or zoning out on a long walk, these mellow playlists will help you knock down your stress level a few notches.
Unwind
After a tough workout, catch your breath with calming songs from artists like Damien Rice, James Vincent McMorrow, and HAERTS. There's even a Vitamin String Quartet cover of Coldplay's "A Sky Full of Stars" that's sure to put you into full relaxation mode.
Relax & Sweat
Your yoga playlist doesn't have to be limited to chants and meditation music. Keep things fresh with this mix of atmospheric tracks and laid-back indie-pop hits from Halsey, Kiesza, Coleman Hell, and more.
INSANITY Rock
On low-intensity workout days, these classic rock songs from legends like Skynyrd, Springsteen, and Hendrix will elicit a perfect relaxed energy vibe.
FOCUS T25 Hip-Hop
When you really just need to focus on the task at hand, the slow-burning, synth-heavy tracks on this playlist — like Drake's "All Me" and Kanye West's "Heartless" — will help you clear your head, find your groove, and get in the zone.
Stay up to date with the best workout music and songs by following BODi on Spotify!