Listen to Tony Horton's High-Energy Cardio Workout Playlist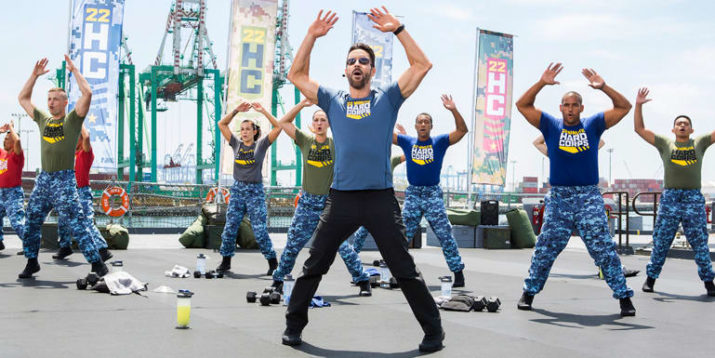 Sometimes, if you're lucky, fandom and fitness can go hand in hand.
Long before Tony Horton created the P90X series, he was helping musicians like Usher, Bruce Springsteen, and Annie Lennox get in stage-ready shape.
"It was a really fun learning experience for me," he says, adding that he never got starstruck. "I don't treat Bruce Springsteen or a Beachbody Coach any differently. I try to be as encouraging as possible, and I'm always checking on form and making sure that I'm cueing them right so they get the most out of the workout."
Tony continues to be a big music fan, actively seeking out new music through the recommendations of friends and using Shazam to identify songs that catch his ear.
These discoveries inevitably make it to his workout playlists.
On days when he's focusing on weights and resistance training, "sometimes I'll just play a Police playlist or an '80s rock Pandora channel," he says. "But when I'm doing cardio, it's got to crank.
"You're constantly moving if you want it to be a cardio routine, so the music has to be the same way," he continues. "The beat of the song will allow you more revolutions on the bike or to run faster on the treadmill. If you're doing one of my workouts, there's a tendency to move quicker based on the beat of the song. You're not going to get that with Barbra Streisand ballads."
For his BODi Super Trainer playlist, Tony assembled a program of contemporary alternative hits that mix big guitars with beats designed to keep you on your feet.
He also threw in a handful of punk classics that nod to his roots.
Below, he walks us through his selections for a cardio workout.
Listen to the full Spotify playlist below, and follow BODi on Spotify for more great playlists to pair with any kind of workout.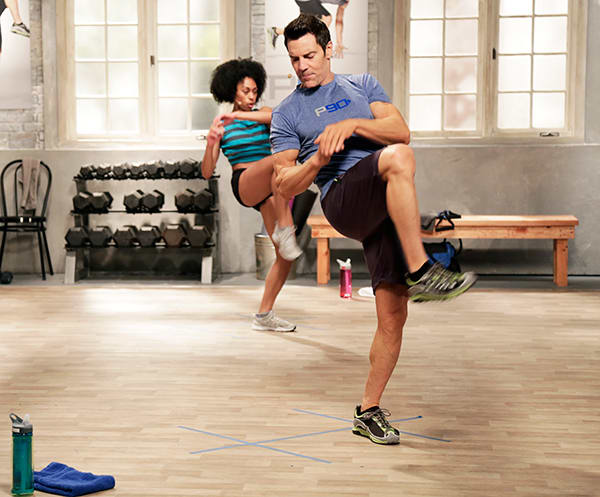 Motivational Music: Tony Horton's Cardio Playlist
"In this particular playlist, these songs don't have to line up with any particular series of moves. There's a certain quality they all have that works well with almost any fast-paced workout, like boxing, a 22 Minute Hard Corps routine, or Triometrics in P90X3. "
– Tony
"Born 2 Run"
Artist: 7Lions
Album: Born 2 Run
"Tell me that doesn't make you want to get going right there. What I like about this song is it starts out really low, and then the beat comes in. So you put your headphones on, you start your run and you're slow, and then maybe a few seconds in you start picking up your speed."
"Radioactive"
Artist: Imagine Dragons
Album: Night Visions
"This song also starts out super mellow, like you don't think it's going to be what it's going to be. I just love a song that builds. It's not just hitting you in the face right out of the box, and then [when the beat] comes, you just want to run your ass off."
"Bodysnatchers"
Artist: Radiohead
Album: In Rainbows
"Radiohead is like learning how to drink booze for the first time. Nobody likes beer or wine or booze initially; it takes time. I don't drink at all anymore, but Radiohead is just a band like that. When I hear this song when I'm on a run, blood shoots out of my ears, man. This song makes me want to just crank."
"Salute Your Solution"
Artist: The Raconteurs
Album: Consolers of the Lonely
"This is The Raconteurs. They're really an offshoot of The White Stripes. This song has that same kind of beat. All these songs have that in common."
"This Head I Hold"
Artist: Electric Guest
Album: Mondo
"It's kind of lighter. It doesn't drive as hard, but it has that sort of double beat to it, and it's still a get-up-and-go song. It's terrific. I'm always playing with the sequence of these songs. This particular sequence seems to work, but every once in awhile I'll just play this song on random just for fun."
"Kill Your Heroes"
Artist: Awolnation
Album: Megalithic Symphony
"This band, I think they're great. It's thumpier, it's a little slower, but the beat itself just works for me."
"The Golden Age"
Artist: The Asteroids Galaxy Tour
Album: Fruit
"This is a song that nobody knows about. I think I Shazam-ed it on a really funny, eclectic, goofy Heineken commercial. It's got a great beat, and there are highs and lows."
"Punkrocker"
Artist: Teddybears featuring Iggy Pop
Album: Soft Machine
"It's an old, old song. It went under the radar for a lot of people. I just love the 'Birth, School, Work, Death,' part of the song. It's like, 'Hey, this is life, man. It's these four things. You better get busy and make the best of it.' There's the beat right out of the box. It's just killer. I'll be working out with a group of people, and maybe two will know this song, and then when the chorus comes up, they'll look at me like I'm out of my mind."
"Optimistic"
Artist: Radiohead
Album: Kid A
"When this song plays and I'm on a run, I automatically get emotional. I start to tear up, and I don't know what it is. There's just something really powerful about it. It's almost theatrical. If I was a director, this would be my opening song in my film; some guy on a highway out in the middle of the Mojave Desert with cactus or Joshua trees going by really fast, hands on the wheel."
"People"
Artist: AWOLNATION
Album: Megalithic Symphony
"We have another Awol song, which is more of the same stuff. This is like another anthem to me. [Aaron Bruno]'s got a great voice."
"Sex On Fire"
Artist: Kings of Leon
Album: Only by the Night
"If you can't move to this, then you're not supposed to ever move. What's great about this is the double beat. Why don't more bands do that? There's two of them. There are three different bass lines in this song at the same time. It's genius."
"Soul Wars"
Artist: AWOLNATION
Album: Megalithic Symphony
"This beat goes 100 miles per hour. It's like a machine gun. It's just too good. It reminds me of early punk."
"London Calling"
Artist: The Clash
Album: London Calling
"Of course, you've got to have one Clash song or forget it, right? This is in my top five songs of all time. I just want to put my fist in the air. It's one of the greatest rock songs."
"Sweet Disposition"
Artist: The Temper Trap
Album: Conditions
"This is another one sort of on the lighter side. Everything is sort of up and high and airy and cool. You feel like you're running on the moon when this song comes on. This is a song that I would even play in a yoga class. It's got a great, strong beat, but it's not knocking you over the head. It just feels like after that 'London Calling,' you just needed to change it up a little bit, right?"
"Roll It Up"
Artist: The Crystal Method
Album: Tweekend
"This thing is almost electronic meets alternative a little bit. It jumps the playlist back into that beat again."
"Message of Love"
Artist: The Pretenders
Album: Pretenders II
"Another one of my top five songs. This is one of those songs where I sing every damn lyric. It's just super inspiring. To me, that's really important. The message is really about the importance of love in general. This line makes me cry: 'When love walks in the room, everybody stands up.' Are you kidding me? 'The reason you're here as man and woman is to love each other. Take care of each other.' That just kills. Come on. I'll be hanging out, working out, playing this with a bunch of Millennials who have never heard this song before, and they think I'm insane. I don't know why everybody who hears that doesn't just want to start a nonprofit right then and there."
"This Is Why We Fight"
Artist: The Decemberists
Album: The King Is Dead
"Another really great tune. All these songs have one thing in common, and that is they've got a great beat for cardio-type routines. They're high energy, big beat songs, but they're all very different. There's alternative, alternative punk, electronic, and rock and roll. There's even a little pop. That's the world I live in. That's the world I grew up in. That's what gets me going."