Motivational Music: Beast Up with Sagi Kalev's Weightlifting Playlist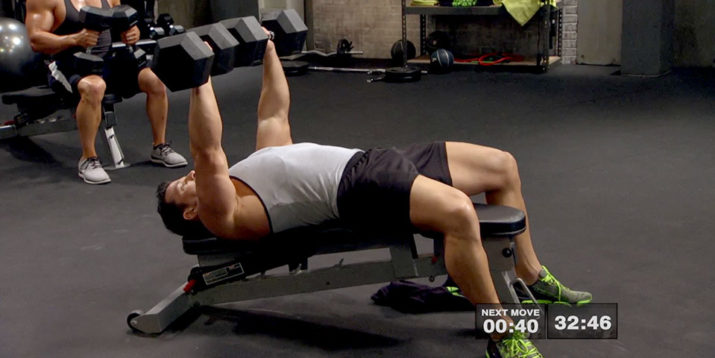 Sagi Kalev likes to make every moment count, and he has a lot to show for it.
He's created several successful weightlifting programs (including Body Beast, The Master's Hammer and Chisel, and A Week of Hard Labor), has twice won the title "Mr. Israel," is both a certified nutrition specialist and a functional diagnostic nutrition practitioner, and has appeared on the cover of more than 50 international fitness magazines.
One thing that helps Sagi connect with the audience is his motivational music mixes.
One of his weightlifting playlists includes classic and current hip-hop songs, hits from Eminem, The Notorious B.I.G. and Jeremih, and inspirational theme music from professional wrestlers Brock Lesnar and Roman Reigns.
And of course, there's also "Eye of the Tiger," because what mix of this nature would be complete without it?
"It's really about having fun. That's what people are coming for," Kalev says. "You're not going to get in shape in just one workout, but there are some things in a live workout that you will never forget."
One of Kalev's most important goals for his live workouts is to keep everyone motivated and on the same page, working together.
"I'm a military guy. I like order. I like when everybody's participating," Kalev says.
He's serious about that and isn't afraid to take away someone's phone if they're using it during his workouts.
"I make it fun — I will sit next to the person on the floor, like, 'I got your phone now, and you can't do anything about it because I'm the Beast.'"
Below, Kalev walks us through why he picked certain songs for his weightlifting playlist, and some of his general guiding principles when putting together a mix for his live workouts.
Listen to the full Spotify playlist below, and follow BODi on Spotify for more great playlists to pair with any kind of workout.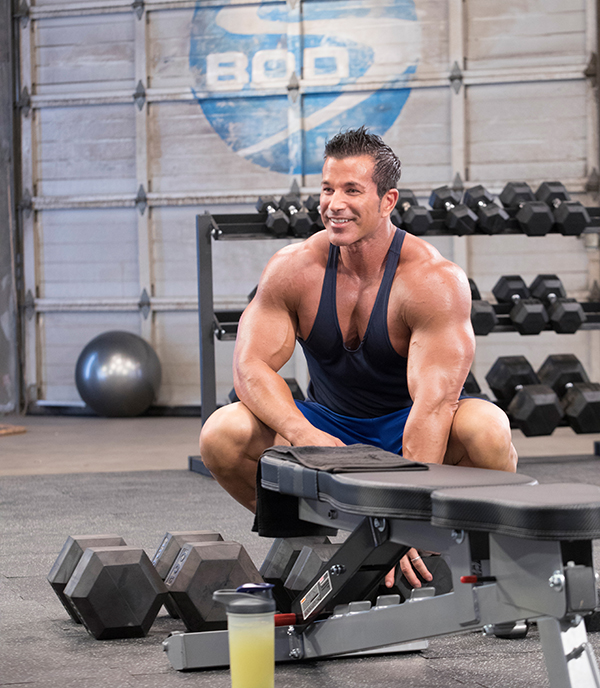 Sagi Kalev's Weightlifting Playlist
"The Next Big Thing (Brock Lesnar theme song)"
Artist: WWE & Jim Johnston
Album: N/A
"There are no lyrics, but it's very powerful. When a song like this comes up, a very powerful move will come into the workout. You're not going to do a stretch with something like this. You're going to do something that is very hard."
"What I Live For"
Artist: Rob Bailey & the Hustle Standard
Album: Beast
"I like the lyrics in this song. I also like the way it starts, how it goes up in the beginning, down in the middle, and then up again."
"The Next Episode" (featuring Snoop Dogg, Kurupt and Nate Dogg)
Artist: Dr. Dre
Album: 2001
"With Snoop, you're not going to be doing a cardio move; you're going to be doing something that's a power move. This song is for something that's more slow-motion."
"Notorious Thugs" (featuring Bone Thugs-n-Harmony)
Artist: The Notorious B.I.G.
Album: Life After Death
"In my mixes there are some songs where I like the intro, or there's something in the middle I like. Or, the song stops and a speaker talks about something inspiring. Each song is picked on purpose."
"Eye of the Tiger"
Artist: Survivor
Album: Eye of the Tiger
"This is in Rocky III. Everybody knows this song. It's kind of fun, and you can do some funny dance moves to it. You can be playful and not so furious."
"I'm A Beast"
Artist: T. Powell
Album: Game Day Motivation
"There are a lot of songs that mention being a 'beast' or 'beast mode.' This a reminder that you're not in a wimpy workout—you're in a Beast workout."
"Kush" (Featuring Snoop Dogg and Akon)
Artist: Dr. Dre
Album: N/A
"Sometimes I like to change the mood of the workout. I'm going to kick your butt, but you will also laugh. You will bust your ass, and you will also have tons of fun."
"Roman Reigns (Heart of a Warrior)"
Artist: Monteasy
Album: Heart Of A Warrior
"Just look at the name of the song. It tells you what it's about."
"Phenomenal"
Artist: Eminem
Album: Southpaw (Music from and Inspired By the Motion Picture)
"Eminem has done my Body Beast workouts. When I was filming the program, lyrics from two of his songs were in my locker room, printed on a wall. Each time before I filmed, I read the lyrics and listened to the songs."
"I Got 5 On It" (Remix) (feat. Dru Down, Numskull, Richie Rich, E-40, Shock-G, Spice-1)
Artist: Luniz
Album: The Remix vs. The Original
"I played the piano for eight years. Just like in dance, or music, you have eight counts. That's how my brain thinks about moves in a workout, and how to count through them."
"Put It On Me" (DJ Quik & Mimi)
Artist: Dr. Dre
Album: Training Day: The Soundtrack
"I wanted a mix of songs that could start with a warm up, then go really high, and then go a little bit lower. It's like a symphony."
"Imma Star (Everywhere We Are)"
Artist: Jeremih
Album: Jeremih
"You can't go and just destroy someone during a live workout because there are so many people on different levels. You want to mix it up. I know that after a few high-intensity songs and really powerful moves, we should go to a move that it's not going to be as hard, which is where this song comes in."
"Hold Strong"
Artist: Rob Bailey & the Hustle Standard
Album: Battle-Tested
"I would say that this weightlifting playlist is just another tool for my workouts. You think you're only coming for a workout, but really, my intention is that when you leave you have gotten something from me that will change something in your life."
"I'm A Beast"
Artist: R. Kelly
Album: I'm A Beast
"Being a 'beast' isn't always what people think. It's about growing from the person that you are today to the person that you want to become."
"Hypnotize"
Artist: The Notorious B.I.G.
Album: Life After Death
"I'm shaking my booty with this song. At first I'm serious, and then suddenly this song comes on and I'm dancing. It makes everybody crack up. Me being silly and funny and dancing in a workout… people don't expect that."
Cue up this weightlifting playlist for your next workout from Sagi, like Body Beast, The Master's Hammer and Chisel, or A Week of Hard Labor.