Crush Your Workout With Joel Freeman's Hardcore Motivational Playlist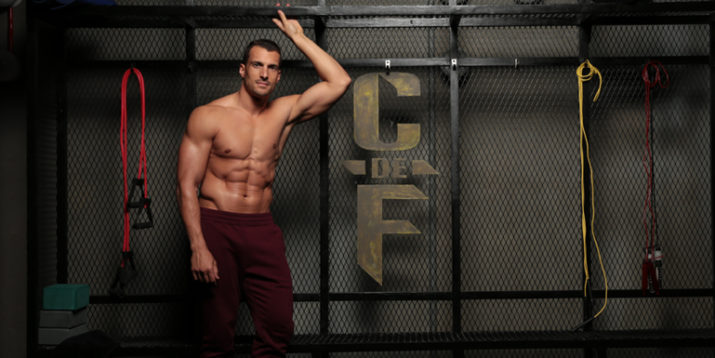 You might not know it by looking at his aggressive rock workout playlist, but CORE DE FORCE co-creator Joel Freeman was actually raised by his parents on a steady diet of Jackson Browne, Steve Winwood, and the Grateful Dead.
"That type of rock was always in my head," he says. "I got into the newer, hard rock when I went to college at Texas Tech.
"My roommate was a big rock guy also. We just kept going to all these concerts and it developed from there," he says. "Then we moved to Olympia, Washington, right outside Seattle, so there you go; that was the grunge-rock world."
Freeman has worn a lot of hats in the fitness world since he got his start manning the front desk of a gym at 19 years of age.
He's worked for the Department of Health in Washington state, as the marketing director at Los Angeles' Gold's Gym franchise, and has Elite Personal Trainer certifications from the American Fitness Association of America (AFAA) and the American Council on Exercise (ACE).
He joined the ranks of BODi Super Trainers with the release of CORE DE FORCE, a mixed-martial-arts program that he developed alongside his friend Jericho McMatthews.
But while his career has taken him in many different directions, his love of the almighty riff has never abated.
"If I'm going to do cardio, I might listen to something a little more electronic or techno with faster BPMs that gets your heart beating more," he says. "But rock is my main love."
Freeman already has a pre-defense of his recommended list of hardcore workout tunes. "Some of these artists that I listen to, some people might call them screaming rock, but there's always a melody in there somewhere," he says. "And that's usually what gets me."
Below, he walks us through a sample workout playlist that keeps him pumped up during his workouts.
Listen to the full Spotify playlist below, and follow BODi on Spotify for more great playlists to pair with any kind of workout. You can also check out what Jericho McMatthews and Tony Horton listen to while they exercise!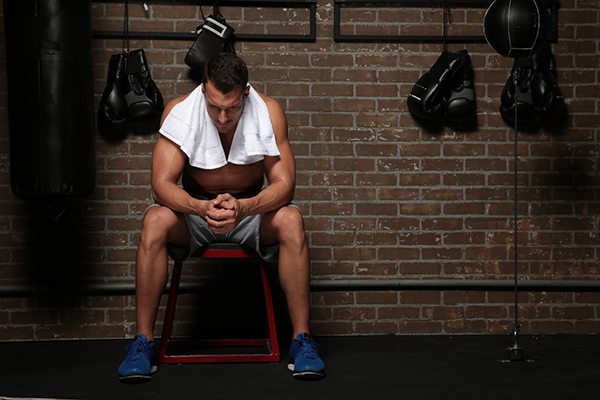 Joel Freeman's Hardcore Motivational Workout Playlist
"Hearts Burst Into Fire"
Artist: Bullet For My Valentine
Album: Scream Aim Fire
"I love these guys. They do these rock ballads, and it's great because it kind of takes you back to the glam rock of the late '70s and early '80s; Twisted Sister and stuff like that. But they bring it up a level. Some of their songs are eight minutes long. They bring a level of grit to it."
"Rainbow in the Dark"
Artist: Corey Taylor
Album: Ronnie James Dio: This Is Your Life
"Corey Taylor, he's the lead singer of Slipknot and Stone Sour. I love his stuff. He re-did Dio's 'Rainbow in the Dark.' I love the original by Dio, of course, but that was a great one."
"Stillborn" (Featuring Ozzy Osbourne)
Artist: Black Label Society
Album: The Blessed Hellride
"Zakk Wylde is just a guitar god. This song is absolutely phenomenal. I follow him on Instagram, and he always posts these videos called 'The Running of the Scales.' He practices every morning and every night. His commitment to his art is just phenomenal, and he can just play with such precision. He used to play for Ozzy, so it's definitely an Ozzy sound. He just kills it with that."
"Through the Fire and Flames"
Artist: DragonForce
Album: Inhuman Rampage
"They are from the U.K., and the lead singer's vocals are out of this world. It really reminds me of some of the older bands like Twisted Sister that I never got to see, but that I would have loved to. [They make] very melodic rock ballads, and there aren't a lot of bands that do that anymore. I've seen them live a few times and they just go crazy onstage. It's so much fun to watch."
"Adrenalize"
Artist: In This Moment
Album: Blood
"They are a rock band with a female lead singer, Maria [Brink]. I've followed them almost from day one. Her voice is just incredible. I could listen to her sing all day, because she can hit these notes that are just ridiculous. She can scream, and you think her lungs are going to explode, but then she can hit a note perfectly right after that. And with the band behind her, they have such an unbelievable sound. I listen to them a lot."
"I'm Alive"
Artist: Shinedown
Album: Avengers Assemble (Music from and Inspired by the Motion Picture)
"If you told me I could only listen to one rock band for the rest of my life, it probably would be these guys. I've seen them at least half a dozen times. Their music is just really powerful. There's a story in every single song, and I don't want to say that's rare, but it's not as always that well done."
"Breath"
Artist: Breaking Benjamin
Album: Phobia
"These guys are very much like Shinedown in how they write. But the melody that they bring is so unique to just them. When a Breaking Benjamin song comes on, I instantly know it's them."
"Humans Being"
Artist: Van Halen
Album: Twister: Music From The Motion Picture Soundtrack
"'Humans Being' is one of my favorite Van Halen songs ever. Just the way the riffs start out and get nasty, which I absolutely love. I grew up in a small town in West Texas, and there weren't a lot of radio stations out there. One of the only stations that came through was a classic rock station, so that was my introduction to Metallica, Van Halen, Cheap Trick, Ozzy, and Blue Öyster Cult."
"Tragedy + Time"
Artist: Rise Against
Album: The Black Market
"I love these guys. They're rock, but it's almost more of a older punk-rock thing. It has a harder edge to it, which I like. I don't really want something super-punky. They always have a really good melody in the chorus."
"Switchback"
Artist: Celldweller
Album: Celldweller
"This has an industrial rock sound where they bring in more of a techno sound, which is pretty cool when you mix it with guitars. It's not very often I hear a band that can do that well, and I think Celldweller does it pretty good. If I'm on my third set and I'm just dying, then I'll put on something superheavy like Celldweller, and that definitely gets me amped up."
"(Don't Fear) The Reaper"
Artist: Blue Öyster Cult
Album: Agents of Fortune
"[This song] is so iconic! It's not a karaoke song, but it's equivalent to a generic karaoke song. When '(Don't Fear) The Reaper' comes on, everyone knows the song. You can attribute so much American pop culture to this song. I saw these guys live with Kansas and Styx—they were phenomenal."
"Hater"
Artist: Korn
Album: The Paradigm Shift
"Again, I followed these guys for a long time. I love their unique sound and their bass. [This song] will definitely get me going anytime. I feel like they continue to push their boundaries and find new ways to stay relevant and be original."
"Lola Montez"
Artist: Volbeat
Album: Outlaw Gentlemen & Shady Ladies
"They are one of my newer [favorites]… I should say newer because they've been around since early 2000s. They're a Danish metal band, and their album from 2010, Beyond Hell/Above Heaven, it was the first one that I ever heard.
"I Smell A Massacre"
Artist: Butcher Babies
Album: Goliath
"This one is definitely on the extreme side. It's two girl lead singers with their band behind them. It's not something I would listen to in the car very much. I would listen to it if I'm on my last set and I'm dying. It's truly extreme, heavy metal screaming rock. When I'm just wiped, and I need every ounce of energy to get through this, that's when 'Butcher Babies' comes on. The heaviest of the heavy in my playlist is what I'm going to be looking for at that point."
"The Motherload"
Artist: Mastodon
Album: Once More 'Round the Sun
"It's interesting, they're almost an alternative rock band in a way. They're heavy metal, but still have a really cool, newer wave sound. It might just be that the lead singer's voice isn't that gritty. He almost has an Ozzy sound to him, I would say. They're still pretty hardcore in the music, but I like the melodies."
"Stardust"
Artist: Gemini Syndrome
Album: Lux
"They're a newer group. They didn't really hit until late 2014, but they're really cool."
"Spoonman"
Artist: Soundgarden
Album: Superunknown
"I love Chris Cornell. I absolutely love his new stuff. He did Soundgarden, and I loved when he was in Audioslave. Anything he does, I'm a fan of."
"My Hero"
Artist: Foo Fighters
Album: The Colour and The Shape
"You want to talk about a range of what Foo Fighters do when it comes to songs. 'My Hero' is on this playlist, but some of their other songs are so different. I just really respect them as artists, and I love Dave Grohl's voice, as well."
"Ratfinks, Suicide Tanks and Cannibal Girls"
Artist: White Zombie
Album: Beavis and Butt-Head Do America
"What got me listening to White Zombie is when the Beavis and Butt-Head Do America movie came out. It's the scene where Beavis and Butthead are tripping in the desert, and they're hallucinating, and that song came on and I went, 'Whoa! What is that?' I went and found it and I've been a White Zombie fan ever since."
"Emotionless"
Artist: Red Sun Rising
Album: Polyester Zeal
"They're fairly new to the rock scene. Very talented guys, really melodic, which is what gets me in there. It starts out really cool, it's got a slow, sexy sound, and then it just goes off. Anything that is heavy metal is going to get me going. It's what I always listen to. I listen to the classic rock station still, and I'll listen to an EDM song if I'm doing something more cardio based, but, basically, when I set out on my own in college, it's been rock ever since."