Your Guide to the Best Meal Prep Containers and Bags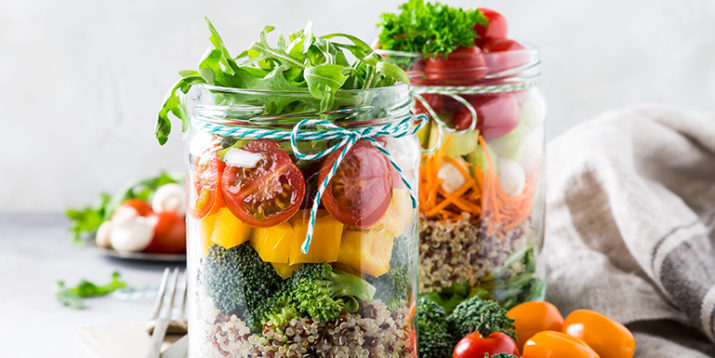 Planning your meals in advance takes the guesswork out of healthy eating, which can make it easier to lose weight.
But what happens when you're late for work and don't have time to make a spinach and broccoli omelet?
What if you have an exhausting day at work and don't exactly feel like roasting a chicken and sautéing a side of mixed veggies when you get home?
That's where meal prep comes in. Having a meal prep container filled with a healthy, delicious meal can help save you time, money, and it certainly reduces the stress of figuring out what to eat that day.
Meal prep helps you hack the meal-planning process by cooking a week's worth of meals at once, so you can just grab and go for the rest of the week.
But once your cooking marathon is done, you'll need to store all the healthy grub you made.
And you don't want it stored in recycled takeout containers that can crack, leak, or leach who-knows-what chemicals when you throw them in the microwave.
If you're serious about meal prep, it's worth investing in a few fancypants meal prep containers that simplify the process.
I'm doing one of the Beachbody programs and following the eating plan…don't I need to store everything in the color-coded Portion Control Containers?
Nope! While you can keep food in the Portion Control Containers, you use the color-coded containers to create meals and then you can store your batch-prepped food in any container you'd like. No need to use every red container you own to store the dozen eggs you hard-boiled on Meal Prep Monday.
For keeping batch-prepped meals fresh all week, our Portion Fix system includes a 32-ounce blue container (not to be confused with the smaller, dark blue container for your healthy fats).
This container is perfect for stashing a few days' worth of salad, roasted chicken, or cooked zoodles in the fridge.
But, since we're also kitchen-gadget-hoarders at heart, here are a few more products we love that can make meal prep easier and more enjoyable.
The Best Glass Meal Prep Containers
Glass storage containers don't get as much love as they should. Yeah, they're heavy and breakable.
But they're also eco-friendly, oven-proof, dishwasher-safe —and perfect for long-term food storage.
And when you're using strong spices to ramp up the flavor of your food, glass is non-porous and won't trap odors.
Here are a few good glass options:
Pyrex Glass Containers
It's hard to beat these as far as bang-for-your-buck goes. The nestable lids make it easy to stack food, and you can clearly see what's inside (because, you know…glass) so nothing ends up rotting away in the back of your fridge.
Just don't nick them with anything. Otherwise, explosionsville.
Glasslock
Another awesome glass option. These are oven-safe, easy to clean, and come in a wide range of sizes. Bonus: The lid snaps into place, making it basically impossible to spill.
Mason Jars
Even if you're not meal prepping, these should be a staple in your kitchen. They're super-versatile and can be used for anything from grab-and-go salads to overnight oats.
Or fill them with smoothie ingredients — when you're ready for a smoothie, just add coconut water or almond milk, blend, and pour it back into the jar to enjoy.
The Best Metal Meal Prep Containers
Like glass, stainless steel is environmentally friendly, dishwasher-safe, and because they're metal, they can even go safely on the stovetop.
Stainless storage can be pricey, and it's definitely not microwave-safe — but it's not as heavy as glass, you don't have to worry about it shattering, and it can bring back those old-school metal-lunchbox memories.
LunchBots
Perfect for grazers, these bento boxes keeps your snacks separated. The lid isn't leak-proof, though, so you'll need to stick to mostly-dry grub like nuts, apple slices, and hard-boiled eggs.
Tiffin Boxes
These stackable silver tins are airtight, spill-proof, and keep your foods completely separated — so you can pack soup, a sandwich, and orange slices, for example, without worrying about soggy bread issues.
U Konserve Stainless Steel Nesting Trio
These tiny containers — the biggest one is a pint — are great for packing sandwiches, veggies, nuts, or hummus.
The lids are BPA-free, and if you're short on cabinet space, the containers nest inside each other when you're not using them.
The Best Portable Plastic Meal Prep Containers
Plastic gets a bad rap — and yes, certain types can warp in the dishwasher, leach chemicals in the microwave, or crack in the freezer.
But that doesn't mean you should ban plastic from your kitchen completely — just invest in durable, reusable plastic containers that are heat-safe and BPA-free.
Bentology Bento Box Set
Bento boxes make everything more fun — they basically turn your lunchbox into a sampler platter.
This set comes with five different inner containers — three with lids, two without — so you can mix and match whatever you need for the day.
Sunsella 3-Compartment Bento Box
Another bento option — this one has a snap-on lid that makes it leak-proof, and the compartments are completely separate so you don't have to worry about your raspberry yogurt mingling with your quinoa salad.
Prepworks by Progressive Lettuce Keeper
No…wilted…salads…ever. Store your leafy greens in this container, which has a water reservoir and venting to keep everything crisp and delish all week.
Freshware 15-pack Reusable Bento Box
They're not quite as sturdy as the bento boxes we mentioned above, but these budget versions are still microwaveable and leak-resistant.
And since you can stock up without breaking the bank, you can pack a week's worth of lunches ahead of time.
The Best Disposable Meal Prep Products
No matter how eco-friendly you may be, occasionally you need something you can use once (or a few times).
Instead of grabbing an old takeout container — they're not always meant to be reused or reheated — pick up some of these economical storage options instead.
Gladware
These are sturdy enough to wash and reuse, and they're safe for the microwave, dishwasher, and freezer.
But they're also cheap enough that you won't feel bad tossing one out if it gets cracked or won't let the smell of those cumin-spiced chickpeas go.
Ziplock Freezer Bags
If you've ever wondered if there's a difference between "storage bags" and "freezer bags," the answer is yes — freezer bags are designed to prevent against freezer burn.
Use these to freeze smoothie ingredients, egg cups, and leftovers.
The Best Meal Prep Bag
Baggies can be a great way to portion out foods — especially fruits and veggies — without using up every container you own.
But if you feel guilty sending all that plastic to the landfill, you'll feel better using these reusable storage bags.
Stasher Bags
Stasher Bags are stackable and durable — and because they're made of silicone, they're safe for the freezer, microwave, and dishwasher.
Plus, each bag can be reused thousands of times. Time to go meal prep crazy!
Helpful Meal-Planning Tools and Tech
Before you can prep, you have to plan — these tools will help you figure out your week. Just start with one of the Beachbody Blog's dozens of nutritionist-approved meal preps and go!
Knock Knock What to Eat Pad
If you're not hyper-organized enough to plan Friday's afternoon snack on Monday morning, this well-designed notepad will help you ease into the structure of meal planning.
There's a column for each day's dinner plan, and another with spaces for breakfast, lunch, and snack ideas that you can pick and choose from throughout the week.
Ubrands Dry Erase Weekly Planner
There are a ridiculous number of options in the weekly-planner department, but we like the super-simple design of this one — you can give yourself a visual reminder of what's on the menu today without cluttering up your fridge.
Where to Buy Meal Prep Containers
Meal prep containers and bags are available at most department stores and home goods stores — Target, Kohl's, Wal-Mart, and Bed Bath & Beyond all carry a variety of food storage containers — and you can always check Amazon if you want to be completely overwhelmed with options.
Choose one or two that appeal to you, and test them out to see if they can make the meal prep process easier for you.
Save