Tips to Keep Your Leftovers from Spoiling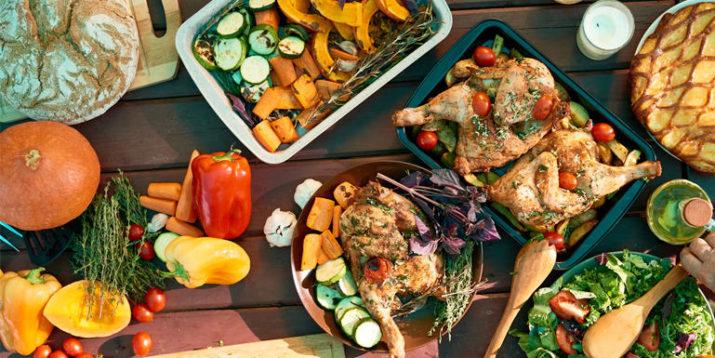 Managing lots of leftovers can be a struggle. Trying to finish everything before it goes bad can sometimes seem like a gustatory juggling act that inevitably falls back down to earth when that succulent steak you grilled to perfection over the weekend transforms into a slimy smelly piece of meat a few days later. And when holiday season rolls around with its mounds and mounds of delicious home-cooked food piled on the table, keeping on top of leftovers before they become compost material can get annoying and frustrating. Following a few simple food safety rules can make your extra food last longer and keep your grocery bill down.
I style myself as a bit of a food safety expert since I work from home and normally make up a batch of protein on the weekend — slow cooker pork, roast chicken — and then keep it to mix into meals for the rest of the week along with some carbs — wild rice, sweet potatoes — and a few sides of veggies like steamed broccoli and chopped greens. But what's essential to keeping on top of all of this food is, one, make sure you are eating it consistently, and then knowing how to store it, and when it's time to throw it into the compost bin or trash.
Why Does Food Go Bad?
When food spoils, it's usually because bacteria — like Staphylococcus, Salmonella, E. coli, and Campylobacter — starts feasting on it after it cools down to temperatures that can support bug life. If the food is not sealed and put away in either in the fridge or freezer, the bacteria can multiply to dangerous levels or create toxins that can cause illness when ingested.
Exposure to oxygen — which helps microorganisms grow, encourages enzymes in the food to react faster, and make fats, or lipids, in the food smell and taste funny, like oil going rancid — is another factor effecting food's longevity. Water and light are also culprits in spoiling food — water by giving microorganisms like mold and bacteria the moisture they need to rapidly colonize the food, and light by degrading the structure of the food by breaking down nutrients and pigments.
Controlling temperature is the final key to keeping your foods from spoiling as a cold enough environment will stop or slow the growth of bacteria — food should be kept out of the so-called "Danger Zone" of 40 degrees F to 140 degrees F, which is the range bacteria thrive in. Never leave food out for more than two hours during most of the year as the temperature will quickly adjust to whatever it feels like in the room — cut that back to one hour in the summer when temps can get above 90 degrees F.
What Can I Do to Keep Food From Spoiling so Quickly?
If you can control these three factors—air, water, light, and temperature — you will be able to maximize your leftovers life, saving you money and time spent cooking new dishes to replace your rotten and smelly food. Food waste in the U.S. is a huge problem, with the Environmental Protection Agency estimating that we threw away over 38 million tons of food in 2014, with only five percent going to a composting program. Food spoilage takes up 21 percent of municipal solid waste and about one third of that is fruit and veggies, says the U.S. Department of Agriculture.
First off, to protect the food — and your family — invest in some good quality re-sealable containers like the Glasslock products, which latch tight, are easy to reopen, have glass bottoms that won't hold odors or stains, and is safe for the oven, freezer, or microwave. Beachbody's Portion-Control Containers are another way to store your food while keeping tabs on your food portions. These high quality plastic containers are BPA and DEHP-free, dishwasher and microwave safe. Another tip is to write on the lid of the container with a dry erase marker to record the date and time you put the food into the fridge or freezer.
Next, make sure your refrigerator and freezer are operating at the right temperature — the fridge should be at or below 40 degrees F and 0 degrees F for the freezer. Buy a special thermometer designed for either appliance, put it inside and check frequently so you know for sure that your food is well out of the danger zone. And remember that just because your food is in a properly cold fridge, it won't keep it from eventually spoiling, that's the job of the freezer. Don't pack your fridge tight — food needs the cold air to circulate around it to keep it cool — and make sure you clean it out regularly to prevent old, rotten food from spreading bacteria.
What is the Shelf Life of Foods?
When safely put away in the freezer or fridge at the right temps, foods will last longer, but there are varying ranges of time that affect every food's ability to last. Here's a handy chart pulled from the U.S. Department of Health and Human Services that can help give you a general idea of how long common foods will last.
What are Some Holiday Leftover Strategies?
The holidays can offer extra challenges for the frugal leftover lover as the sheer amount of food you bring home (or cook at your house) can overwhelm even the most dedicated fridge denizen. Here are some quick tips to keep you safe and satiated this holiday season.
• Try to eat up most of leftover food in your fridge the week before the big day so you have extra room to pack in all of those delicious dishes you couldn't quite devour.
• If going to someone else's house for your meal, bring along a cooler with cold packs so your food will survive the trip home without warming up enough to make it into the danger zone.
• Take out any stuffing from your turkey once the meal is finished. Refrigerate both the turkey meat and the stuffing separately, and make sure to put all food leftover in the fridge within 2 hours.
• Again, a good general rule is to keep food in the fridge for only 3 to 4 days, or put the bulk of it in the freezer so you can thaw it out and enjoy it later. Investing in a vacuum sealer can help dramatically extend the life of your holiday delicacies.