Beachbody Results: Sue Lost 54 Pounds and Won $1,000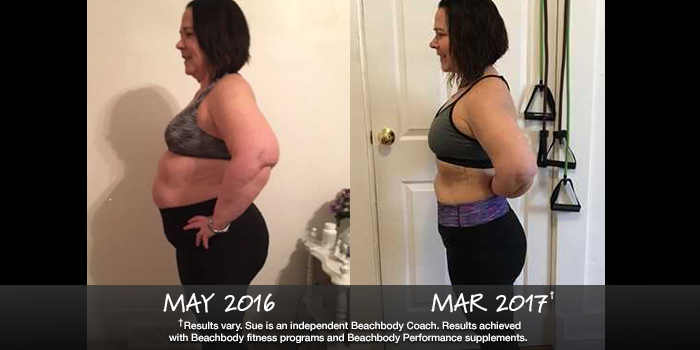 Sue Schwartz, age 48, lost 54 lbs with 21 Day Fix, The Master's Hammer and Chisel, FOCUS T25, Shakeology, and the Beachbody Performance supplements. She entered her results into The Beachbody Challenge and won $1,000! You can do it too! Here's her story in her own words …
Tell us about your life before you started the program. How did you feel about yourself and your body?
Before starting Beachbody I had hit an all time low in my life. I was so sad and hated myself. I didn't like what I had let myself become, and I was physically so unhealthy. I couldn't walk 100 yards without feeling winded and out of breath, it was a chore to go up and down steps, and I couldn't even bend over to tie my shoes. I didn't like going places other than work because I was so embarrassed to see people who knew me before I looked like this.
What inspired you to change your life and begin your transformation journey?
My friend had recommended the 21 Day Fix and Shakeology to me because she was seeing results in herself. I inquired on Facebook to friends, and I found my Coach. I knew I needed to do something before I ended up diabetic or even heart disease. I was tired of feeling so bad physically and I needed to do it for myself so I would learn to love myself again.
What is the greatest challenge you faced before beginning the program? How did the program and Beachbody® help you overcome that challenge?
My greatest challenge was making sure my family was on board with this new healthy life style I would be living, because it meant they would be living it too. I found great recipes that were 21 Day Fix approved and showed them that clean eating was also good! My other challenges were of course the physical ones. I was so heavy and out of shape the exercise proved to be hard for me but I stuck with it and the more results I was seeing the more motivation I had to keep going.
What in particular did you like about the program you chose?
I have loved all the programs I have done but Hammer and Chisel pushed me to limits I didn't think I could do. I love lifting weights… a feeling of strength and so empowering.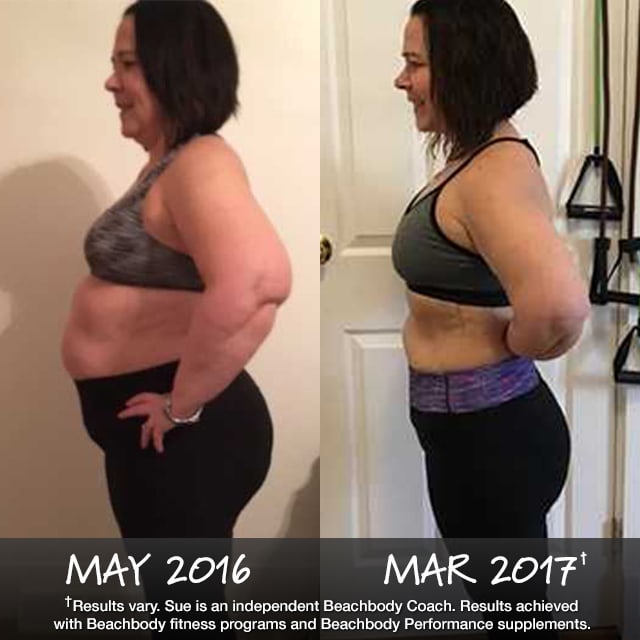 Describe the results you achieved with your Beachbody program. Which achievements are you proud of?
Besides my physical results, I have gained so much confidence and have learned to love myself again. I've lost a total of 54 lbs in 10 months, and over 40 inches. I'm really most proud of the strength I've gained and how I love a challenge from something I could never physically do before.
How has your life changed since completing your Beachbody program?
By far what is most life changing is my confidence and self esteem! I love myself and want to be healthy for my family. I want to live a long and healthy life. Without a doubt Beachbody is completely responsible my my health and happiness! Thank You Beachbody!
How did participating in a Challenge Group help you reach your goals? How did your group support you and keep you accountable?
Being in a Challenge Group for me is what has helped me stay accountable. If I happened to be on the struggle bus for a day and didn't feel like pushing play, you looked at a post from a fellow challenger in your group and it gave me the motivation to get moving and get it done! Everybody's encouraging words really keeps you going. It's nice to know that we are on the journey together and facing the same challenges.
How did your Team Beachbody® Coach support you on your journey?
I can't say enough about Brittany. She's very encouraging and has been my biggest cheerleader. She's been very knowledgeable with any questions I've had. Her challenge groups have been fun and she is very interactive with the group!
How did a Beachbody Supplement or Nutritional Product or Program (such as Shakeology® or Beachbody Ultimate Reset®) support your transformation? What are the greatest benefits you gained? Did you see benefits to your energy, sleep, mood/mental clarity, digestion/regularity?
I can't say enough about Shakeology! Love it! It's helped with my energy level and my digestive system!2
Tell us about your experience with Beachbody On Demand. If applicable, how has it helped you achieve your goals?
I love BOD. I like getting to try work outs before making a purchase. That's how I tried T25 and it's how I'm doing Hammer and Chisel now.
You can change your life, too. Take the Beachbody Challenge for the tools you need to Decide, Commit, and Succeed! Complete any Beachbody program, and enter your results for a free gift and a chance to win cash and prizes. What program are you committing to next?

†Results vary depending on starting point, goals, and effort.
2These statements have not been evaluated by the Food and Drug Administration. This product is not intended to diagnose, treat, cure, or prevent any disease.