6 Winter Fruits to Stock Up On
Just because winter is the season of comfort food (hello, creamy casseroles, pie, soups, and stews!) it doesn't mean your health has to take a backseat. Definitely don't skip the produce section: Many fruits peak during the winter months, so grocery stores will be offering unique seasonal gems like persimmons and pomegranates.
Find out what fruits to pick up and how to use them this winter.
1. Grapefruit
Just like many other citrus fruits, grapefruit is a great source of vitamin C. Half of a medium grapefruit provides 70 percent of the daily recommended value of vitamin C. Pink and red varieties contain the phytonutrients beta carotene and lycopene, both of which act as antioxidants in the body and can help support your immune system. (Note: grapefruit can interact with some medications, so check with your doctor.)
How to select:
Choose grapefruits that are heavy with firm, smooth skins. A ripe grapefruit should give slightly to pressure (make sure there are no soft spots). Avoid fruit that feels hard or has visible mold or blemishes.
How to store:
Store grapefruit at room temperature for one week or in the refrigerator for two to three weeks.
How to use:
Cut a grapefruit in half horizontally and carve out the segments, add slices to fish dishes, or toss halves under the broiler then with drizzle with orange liqueur for a sweet treat.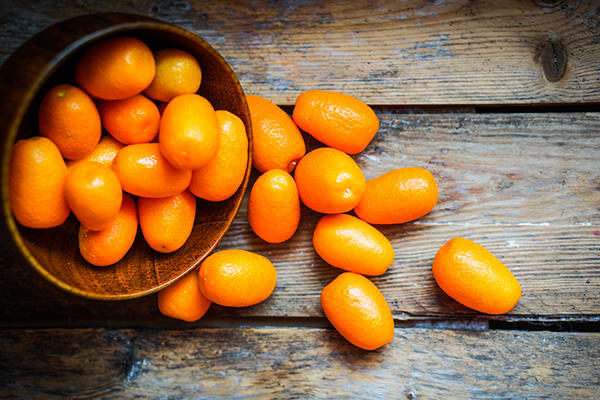 2. Kumquats
Kumquats are tiny citrus fruits with thin, edible skins and they're a great source of vitamin C and dietary fiber.
How to select:
If kumquats are harvested too soon, they may be fairly tart since citrus fruits don't ripen as well once they're picked, compared to some other fruits. Ripe kumquats have have a darker orange skin and slightly sweeter flesh than unripe ones. Look for fruit that's firm, not soft.
How to store:
Kumquats have a long shelf life and can be stored at room temperature for a few days or in the refrigerator for two weeks.
How to use:
You can eat whole kumquats raw — yup, skin and all — just make sure to wash them well. Slice kumquats into small rounds and add them to salads or try these sweet and savory roast chicken quarters with potatoes, tomatoes, and kumquats.
3. Oranges
Oranges are known for their high levels of vitamin C. While orange juice provides plenty of immune-boosting vitamin, go for the whole fruit for added fiber to keep you fuller, longer. Oranges also have high levels of flavonoids, plant compounds that may help you maintain good health as you get older.
How to select:
Choose oranges that are heavy with firm, smooth skins. Ripe oranges should give slightly to pressure (just make sure there are no soft spots). Avoid ones that feel dry and hard, or has visible mold or blemishes.
How to store:
Oranges can be kept at room temperature for about one week or in the refrigerator crisper for one to four weeks. If you notice any mold, toss the fruit out.
How to use:
Eat peeled orange wedges as is, or add to salads (try this shaved fennel and orange salad), fish and meat dishes, and fresh cocktails.
4. Pears
With six grams of fiber per fruit, a medium pear provides about one quarter of our daily dietary fiber needs. Pears are also a great source of potassium and vitamin C.
How to select:
Because pears are one of the few fruits that don't ripen on the tree, it's okay to buy them when they aren't ripe. To test for ripeness, apply gentle pressure to the neck of the pear (the top part right below the stem). If it yields to the pressure, it's ready to eat. While most pears hardly change color as they ripen, the skin on Bartlett pears will become brighter.
How to store:
To allow unripe pears to ripen, leave them at room temperature. Refrigerate ripe pears for up to five days.
How to use:
Eat them raw and whole, add slices to warm or cold salads, (like this blue cheese, pear, and spinach salad in a jar), or use them to make sweet or savory tarts.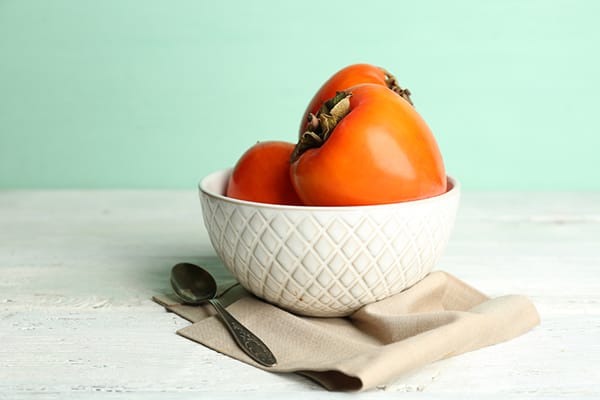 5. Persimmons
Persimmons (whose scientific name loosely translates to "fruit of the gods") are an excellent source of fiber and vitamins A and C.
How to select:
Keep an eye out for persimmons that have glossy, bright, smooth skin and still have their leaf attached. They should be well-rounded and plump without cracks, bruises, or soft spots.
How to store:
Keep persimmons at room temperature until they soften and ripen. If there are any yellow patches on the fruit, it's not ripe yet. Once they're ripe, store persimmons in the refrigerator for up to three days.
How to use:
Eat raw persimmons by scooping out the insides with a spoon or eat slices with the skin still intact. Add them to salads, smoothies, or homemade dressings.
6. Pomegranates
This gorgeous red fruit contains potassium, vitamins C and K, and folate and is incredibly versatile: You can snack on the fresh arils (the small red seed pods inside that are filled with juice), add them to salads, toss them in smoothies, or cook them in savory meals like this roast chicken with pomegranate. (Skip the white pith around the arils; it's bitter and not nearly as tasty.)
How to select:
A healthy, ripe pomegranate should feel heavy since it's full of juice. The skin should be firm and medium-to-dark red. If you notice a few surface scratches, the fruit inside should still be OK.
How to store:
Store pomegranates at room temperature away from sunlight for a few days or up to three months sealed in plastic bags in the refrigerator.
Arils can be refrigerated for three days or frozen for up to six months. To keep them from sticking together, freeze arils in a single layer on a tray, then gently scrape them into an airtight container.
How to use:
First things first: How the heck do you get the arils out? To start, cut off the top of the fruit. Lightly score the skin into four quarters from end to end. Over a bowl of water, break each section off by bending back the skin. Scoop the seed clusters into the bowl. Remove any of the white pith that remains around the arils and then drain the water.
While fresh fruit may be the last thing on your mind from December to March, don't miss out on all the delicious produce this season has to offer.