Shaved Fennel and Orange Salad
In winter, when the citrus season is at its peak, this refreshing fennel and orange salad's bright notes are a beacon of the warmer months to come and the paper-thin shavings of fennel and onion make it a light counterpoint to heavier cold-weather dishes.
When the temperature does finally rise, this cool, crisp salad pairs well with grilled meats and vegan proteins as either a side dish or a creative topping for chicken, pork, or fish.
Composed of just three main ingredients, lightly seasoned with salt and pepper, dressed with olive oil, and garnished with delicate fennel fronds, this an elegant dish to serve to company, but easy enough to make on a weeknight.
If you haven't tasted fennel, buy one the next time you're at the grocery store. You have probably seen it before without even realizing, as fennel grows wild alongside many roads and even freeways!
It has a tight bulb base with layers like an onion and sturdy green stalks that look like celery tipped with feathery fronds. The entire plant is edible, but most recipes make use of the meaty bulb, which has a mildly sweet and distinctive licorice flavor.
(If you don't like licorice, don't worry, the other flavors in this dish tone that down!)
Fennel can be roasted, grilled, sautéed, or eaten raw. To enjoy it raw, remove any attached stalks, then slice across the width of the bulb as thin as you can using a knife or mandolin. Use your fingers to separate the layers of fennel into individual rings then dunk it in ice water for a few minutes to soften the licorice flavor and help keep it crisp.
The flavor combination of fennel and orange is a classic of Continental cuisine. Onions add a nice pungent note, and in this recipe, soaking them in orange juice mellows their flavor and removes any spiciness or bitterness. It also helps reduce lingering "onion-breath."
Want to tweak the salad? Make it your own by adding chopped kalamata olives, walnuts, roasted beets, or serve it over frisée or spinach. If you want a little more acidity, add a splash of white wine vinegar. Let us know what you do in the comments below!
Watch 21 Day Fix creator Autumn Calabrese and her brother, chef Bobby Calabrese make a similar version of this recipe for Shaved Fennel and Orange Salad on their healthy cooking show, FIXATE!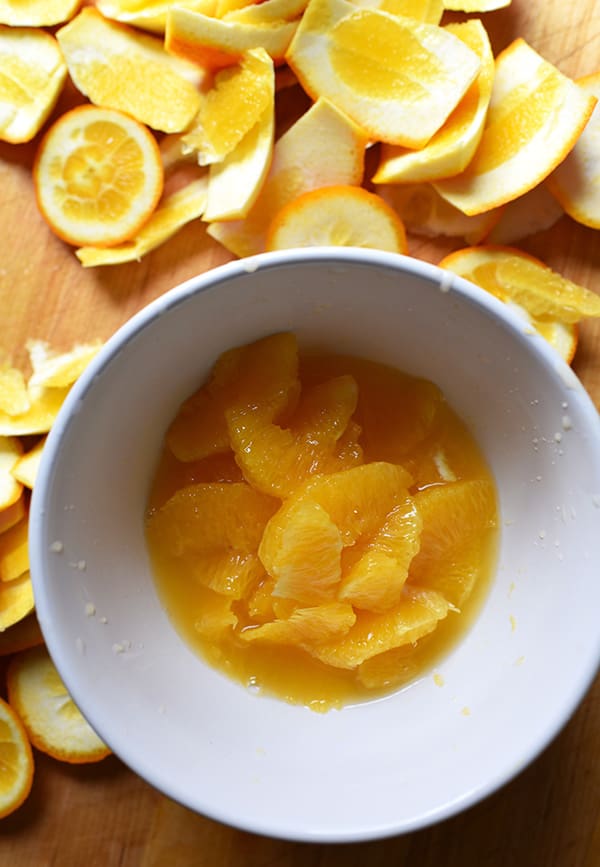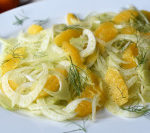 Shaved Fennel and Orange Salad
Composed of just three main ingredients, this fennel and orange salad is an elegant dish to serve to company, but it's easy enough to make on a weeknight.
Prep Time 15 mins
Cook Time 20 mins
Total Time 35 mins
Servings 4 servings
Calories 96 kcal
Ingredients
2 medium oranges
½ medium onion thinly sliced
2 medium fennel bulbs thinly sliced
2 tsp extra-virgin olive oil
Sea salt (or Himalayan salt) and black pepper (to taste; optional)
2 Tbsp chopped fennel fronds (for garnish; optional)
Instructions
Using a sharp knife, cut peel away from orange; discard peel. Working over a medium bowl, use knife to cut orange into sections, letting juices collect in the bowl. Add orange sections to bowl.

Add onion to oranges. Let sit for 5 minutes.

Add sliced fennel and oil to orange mixture. Season with salt and pepper (if desired); toss gently to blend.

Divide evenly between four serving bowls. Garnish with fennel fronds if desired.
Recipe Notes
The Nutrition Facts box below provides estimated nutritional information for this recipe.
Nutrition Facts
Shaved Fennel and Orange Salad
Amount Per Serving (1 serving)
Calories 96 Calories from Fat 27
% Daily Value*
Fat 3g5%
Sodium 133mg6%
Carbohydrates 19g6%
Fiber 5g21%
Sugar 11g12%
Protein 2g4%
* Percent Daily Values are based on a 2000 calorie diet.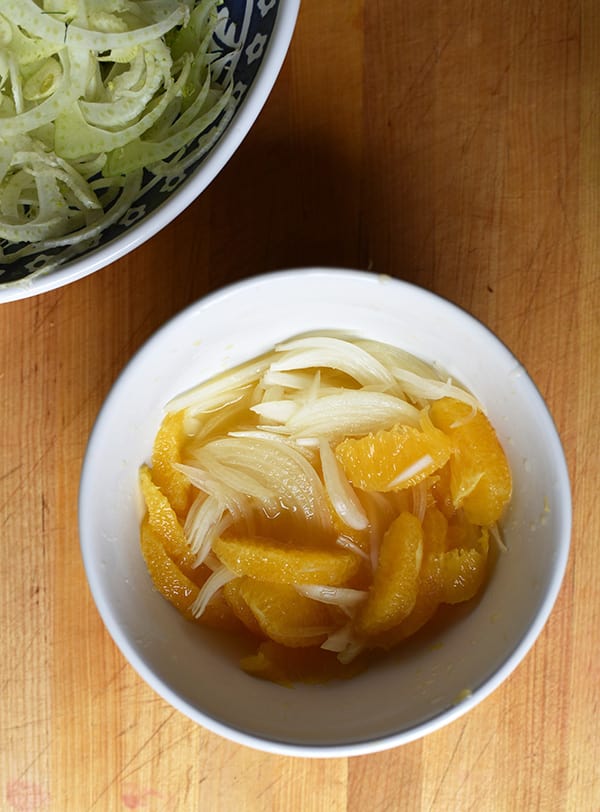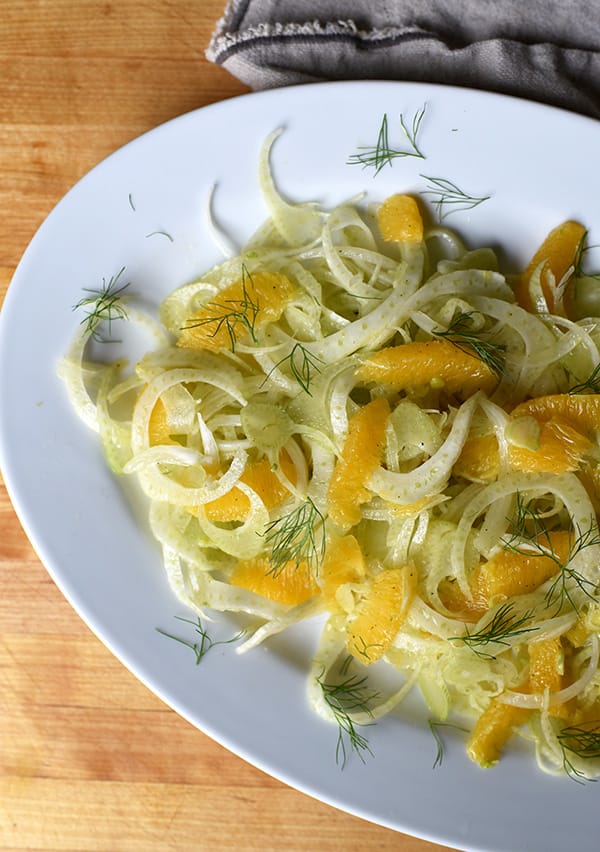 Portion Fix Containers
1 Green
½ Purple
½ tsp.
Not familiar with Portion Fix? Find out how Portion Fix can make losing weight simple.
If you have questions about the portions, please click here to post a question in our forums so our experts can help. Please include a link to the recipe.