Roast Chicken Quarters With Potatoes and Tomatoes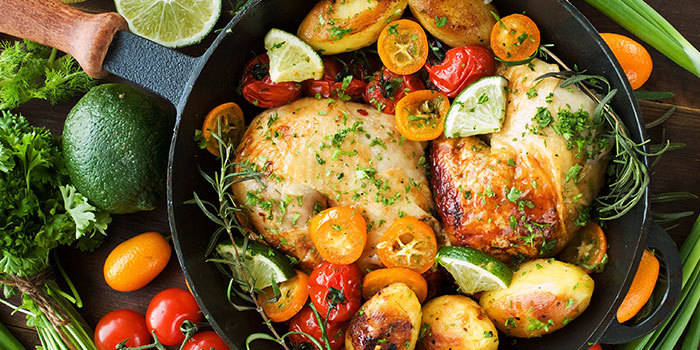 This succulent chicken recipe takes just 20 minutes to prep!
Chicken quarters are the whole leg with thigh and drumstick (or the breast with backbone and wing). If you like dark meat, this is a very healthy and flavorful way to prepare it.
Try the same recipe with smaller cuts of chicken and omit the first 15 minutes of cooking time.
Roast Chicken Quarters With Potatoes and Tomatoes
Prep Time 20 mins
Cook Time 55 mins
Total Time 1 hr 15 mins
Servings 4 servings
Calories 344 kcal
Ingredients
Nonstick cooking spray
4 6 oz. raw chicken leg quarters
¼ tsp sea salt
½ tsp ground black pepper
2 Tbsp fresh lime juice
¼ cup cup low-sodium organic chicken broth
1 medium lime, sliced
6 fresh rosemary sprigs, leaves removed and chopped, stems discarded (reserve 2 whole sprigs)
4 medium Yukon gold potatoes, cut in half lengthwise
15 cherry tomatoes, cut in half
5 kumquats, cut in half (or 1 lemon, sliced)
6 fresh parsley sprigs, chopped
Instructions
Place chicken in large oven-proof roasting pan lightly coated with spray.

Season with salt and pepper.

Drizzle with lime juice and broth; top with lime slices and chopped rosemary.

Add potatoes, tomatoes, kumquats (or lemons), parsley, and rosemary sprigs; bake for 30 to 40 minutes, or until chicken is no longer pink in the thickest part, juices run clear, and vegetables are tender.

Remove skin before serving.
Nutrition Facts
Roast Chicken Quarters With Potatoes and Tomatoes
Amount Per Serving (1 serving)
Calories 344 Calories from Fat 54
% Daily Value*
Fat 6g9%
Saturated Fat 2g13%
Cholesterol 109mg36%
Sodium 303mg13%
Carbohydrates 40g13%
Fiber 7g29%
Sugar 5g6%
Protein 32g64%
* Percent Daily Values are based on a 2000 calorie diet.
Not familiar with Portion Fix? Find out how Portion Fix can make losing weight simple.
Portion Fix Containers
1 Green
1 Red
2 Yellow
2B Mindset Plate It!
Add a side salad or more veggies to make this a great lunch option.
If you have questions about the portions, please click here to post a question in our forums so our experts can help. Please include a link to the recipe.