Zucchini Noodle Breakfast Bowl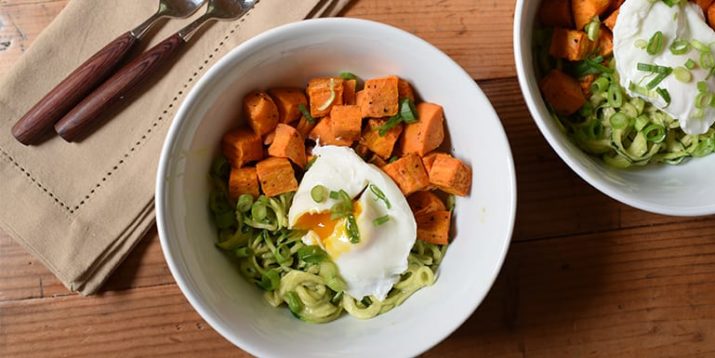 I get into a breakfast routine where I eat the same thing nearly every day for weeks — it just makes life easier, amirite?
It's usually Shakeology, but these days, it's this zucchini noodle breakfast bowl with poached eggs and roasted sweet potatoes.
It's great when I'm craving a savory knife-and-fork breakfast. Something that feels like a special occasion, even if that special occasion is Tuesday morning before rush hour.
To quickly turn zucchini into long strands of zoodles, I use a spiralizer. If you don't have one, the simple instructions in the breakfast bowl recipe below explain how to make zoodles with a vegetable peeler.
Once you've got your zucchini noodles, you can steam them in a steamer basket or gently sauté them in a nonstick pan coated with cooking spray for two to three minutes.
Toss your zoodles with so-good-you'll-want-to-lick-the-spoon garlic and avocado sauce.
Top each bowl with sweet potatoes, chopped green onions, and a poached egg. I like to finish mine with some freshly cracked pepper and a splash of hot sauce!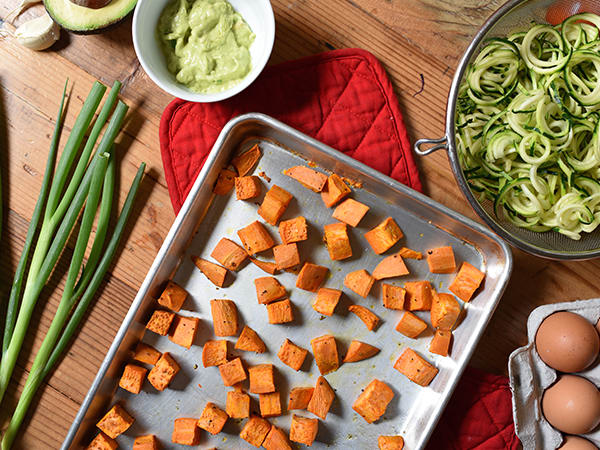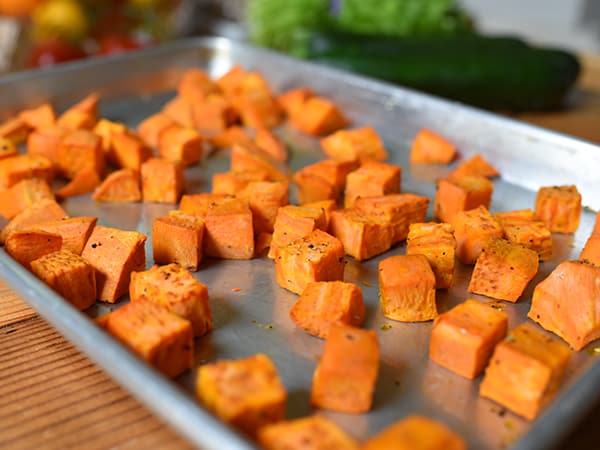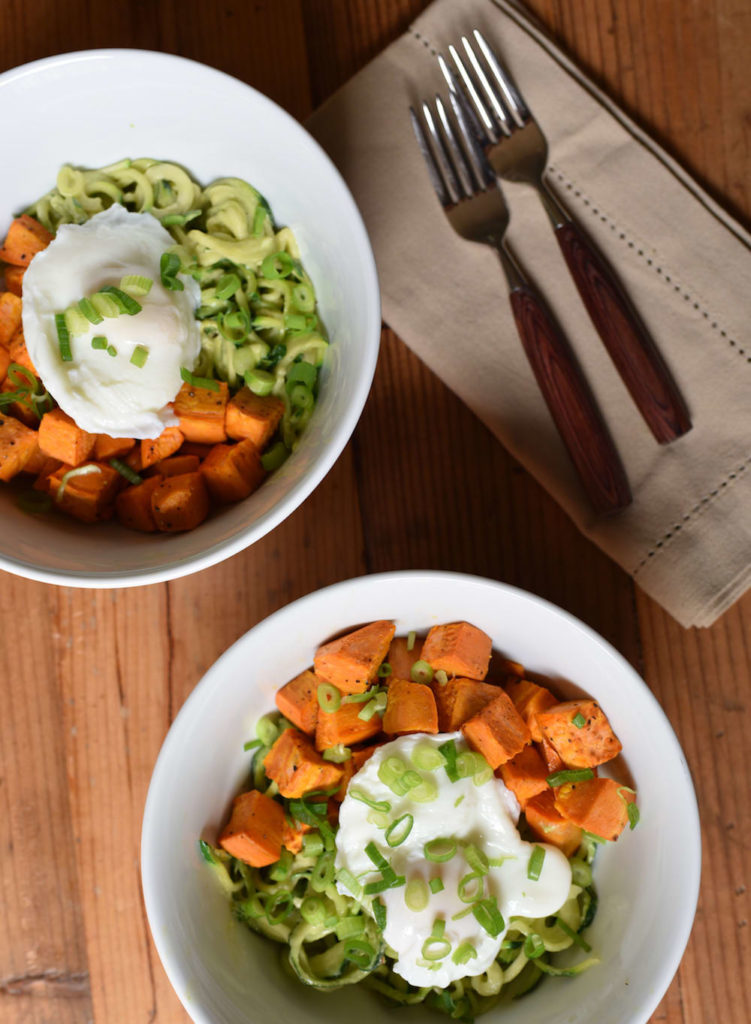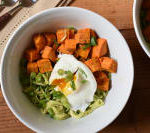 Zucchini Noodle Breakfast Bowl
This zucchini noodle breakfast bowl with poached eggs and roasted sweet potatoes is great when you're craving a savory knife-and-fork breakfast.
Prep Time 15 mins
Cook Time 43 mins
Total Time 58 mins
Servings 2 servings
Calories 342 kcal
Ingredients
2 small sweet potatoes, chopped
4 tsp. olive oil, divided use
½ medium ripe avocado, cut into chunks
2 cloves garlic, coarsely chopped
Water, divided use
3 medium zucchini
1 tsp. fresh lemon juice
2 large eggs
Sea salt (or Himalayan salt) and ground black pepper (to taste; optional)
2 medium green onions, finely chopped
Instructions
Preheat oven to 375º F.

Place sweet potatoes on a baking sheet. Drizzle with ½ tsp. oil; mix well. Bake for 20 to 30 minutes, or until tender-crisp. Set aside.

While sweet potatoes are baking, place avocado, garlic, 2 Tbsp. water, and remaining 3½ tsp. oil in a food processor (or blender). Pulse until well blended. Set aside.

Using a vegetable peeler, cut each zucchini into lengthwise strips about ⅛ inch thick. Turn each zucchini slightly after cutting each strip to work evenly around the outside, stopping when you hit the seeds at the core. Discard cores. Cut slices lengthwise into ½- inch ribbons. Set aside.

Place water in medium saucepan and bring to a boil over medium-high heat. Add lemon juice; reduce heat to maintain a gentle boil.

Break eggs into a small bowl. Hold bowl close to the water's surface and slip the eggs, one by one, into the water. Cook until whites are completely set and yolks begin to thicken, about 5 minutes. Gently lift eggs out of water; keep warm.

Boil water in steamer or large saucepan over high heat. Reduce heat to medium-high. Place zucchini in steamer basket; cook for 2 to 3 minutes, or until tender. Remove from heat.

Place zucchini in a medium serving bowl. Season with salt and pepper if desired. Add avocado mixture; toss gently to blend.

Divide zucchini between two bowls; top evenly with sweet potatoes, green onions, and an egg. Serve immediately.
Recipe Notes
Instead of noodles, you can also use a mandolin to slice the zucchini into very thin slices.
Use leftover cooked sweet potatoes to reduce the time to make this recipe!
Nutrition Facts
Zucchini Noodle Breakfast Bowl
Amount Per Serving (1 serving)
Calories 342 Calories from Fat 162
% Daily Value*
Fat 18g28%
Saturated Fat 3g19%
Cholesterol 183mg61%
Sodium 435mg19%
Carbohydrates 37g12%
Fiber 10g42%
Sugar 13g14%
Protein 13g26%
* Percent Daily Values are based on a 2000 calorie diet.
Love this recipe? You can get more delicious recipes like this, meal preps, and more with the 2B Mindset and Portion Fix nutrition programs on BODi.
Container Equivalents
1 Green
½ Red
2 Yellow
1 Blue
2 tsp.
2B Mindset Plate It!
Add more protein for a great breakfast option.
If you have questions about the portions, please click here to post a question in our forums so our experts can help. Please include a link to the recipe.
Photos by Kirsten Morningstar