XB Pilates vs. Lisa Hubbard Pilates: Which Workout Is Best for You?
Maybe you've heard all about the amazing benefits of Pilates — like flexibility, balance, core strength, and muscular endurance — and you want to give it a try.
Or maybe you're already hooked on Pilates, and now you're looking for an effective Pilates workout at home.
BODi includes XB Pilates with Andrea Rogers and Beginner Pilates with Lisa Hubbard. So which one should you start with?
Here's what you can expect from each — and how to choose the best fit for you.
What Are the Main Differences Between XB Pilates and Beginner Pilates?
Both XB Pilates and Beginner Pilates are three-week programs that can help you improve strength, flexibility, and mobility.
XB Pilates workouts are 30 minutes or less, and Beginner Pilates workouts range from 20 to 40 minutes — so no matter which workout program you pick, it's easy to fit it into your busy schedule.
However, there are a few key differences that can help you figure out where to start.
XB Pilates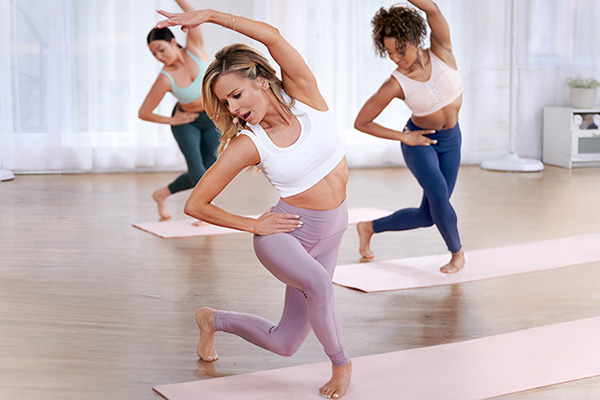 Created by Andrea Rogers, XB Pilates is a high-energy workout program that pairs traditional mat moves with calorie-burning cardio sequences, total-body strength moves, and targeted abs and booty exercises.
Proper form and modifications are clearly explained for every move, so if you're a beginner, you can learn at your own pace.
However, the fast-paced, fluid movements are geared more towards intermediate levels and above and may be too challenging for some beginners.
Beginner Pilates
In this three-week introduction to Pilates, Pilates expert Lisa Hubbard guides you through the fundamentals of Pilates, starting with simple floor movements and progressing week by week as you build strength and flexibility.
Lisa fuses Pilates, yoga, and dance in workouts designed specifically for Pilates beginners.
If you're feeling a bit intimidated by the idea of diving right into the fast flow of XB Pilates, this may be a good place to get your footing.
Do I Need Equipment for XB Pilates or Beginner Pilates?
When you think of a Pilates workout, you might picture the Pilates reformer — a specialized machine with a moving carriage attached to a system of pulleys and springs.
But don't worry — you won't need any fancy equipment for XB Pilates or Beginner Pilates with Lisa Hubbard. In fact, Lisa Hubbard Pilates workouts only require a mat.
For XB Pilates, Andrea incorporates light dumbbells, resistance bands, and sliders into some of the moves.
But if you don't have that gear on hand, or you're not quite ready to add resistance to your Pilates workout, there's always someone on-screen showing you how to modify the moves without equipment.
Which Should I Do First — XB Pilates or Beginner Pilates?
The answer ultimately depends on your skill level, your fitness goals, and the style of workout you prefer.
If you've never taken a Pilates class before, Beginner Pilates with Lisa Hubbard is the perfect introduction. This three-week program will help you master the fundamentals of Pilates while building confidence and a stronger mind-body connection.
If you already have Pilates experience — or you've built up a solid foundation of strength, flexibility, and mindful movement through yoga or barre — you may want to jump right into the more challenging pace of XB Pilates.
But ultimately, it's up to you!
If you're a beginner but the faster flow of XB Pilates appeals to you, you can always start there and follow the modifier (a cast member who performs easier versions of each exercise) until you feel comfortable with the movements.
And even if you've already completed XB Pilates, you may feel like you want to revisit and refine the basics.
Completing a round of Beginner Pilates can give you a chance to fine-tune your form and alignment — no matter how far along you are in your Pilates practice.
Which Pilates Program Delivers the Best Weight-Loss Results?
Because XB Pilates moves at a faster pace, you may burn more calories with these workouts — especially during the Cardio Fusion routines.
However, both of the Pilates programs offered on BODi can support your weight loss journey.
Whichever Pilates program you choose, you'll tone and tighten all over while improving mindfulness and body awareness.
The fun and challenging movements will keep you motivated — and the feel-good vibes you get from a Pilates workout can inspire you to make healthy choices throughout the rest of your day.