Get Pumped With Megan Davies' High Energy Workout Playlist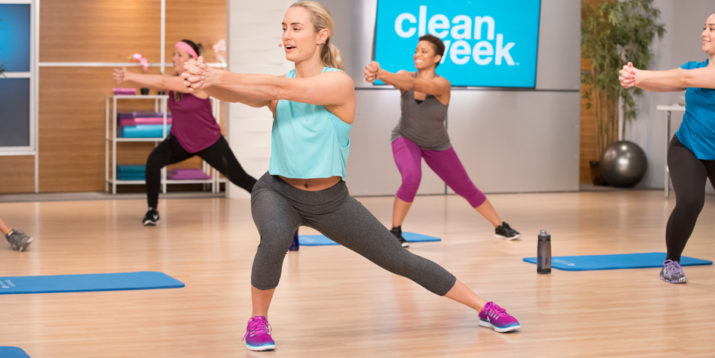 Fitness runs in the family with Megan Davies. She started weight training to prepare for gymnastics and fitness competitions when she was 14. Today, she helps run the Training For Warriors gym in Coral Springs with the people who have known her the longest. "I'm a trainer, my brother and dad are trainers, and my mom is like our office manager," she says. "We've been open for seven years now – it's awesome."
Although she loves working with her close-knit family at their gym, Davies broke into the Beachbody in world in 2016. She entered into the "The 20s" competition – a reality show on Beachbody On Demand aimed at finding the next Beachbody Super Trainer. She was at first resistant to the idea of trying out for a reality show, but she changed her mind when she realized that Tony Horton was involved. Davies admired him from his iconic P90X workouts, and "that's when I started to put in all my effort. I ended up getting on the show, and I ended up winning," she says.
"Clean Week" became Davies' first program as a Beachbody Super Trainer. "It's a week-long program designed to meet people at any fitness level," she explains. "We start with a base move, and then we have an intensifier if you want to take it up a notch. It's really made for somebody who wants to either start their fitness journey or get back into fitness." You can check it out for yourself by trying it for free on Beachbody On Demand today.
When Davies gets back to the gym at Training For Warriors, the entire family takes turns picking the music during the workouts. When it's her turn, you're likely to get a little bit of everything. "I think my music taste is pretty far and wide," she says. "I have a dance and gymnastics background, so I grew up liking pop music, but my brother really liked heavy metal and my dad liked country music, so I also listened to that. It'll go a little bit in every direction."
Listen to Davies' full Spotify playlist below, and follow Beachbody On Demand on Spotify for more great playlists to pair with any kind of workout.
Megan Davies' Empowered Pop Workout Playlist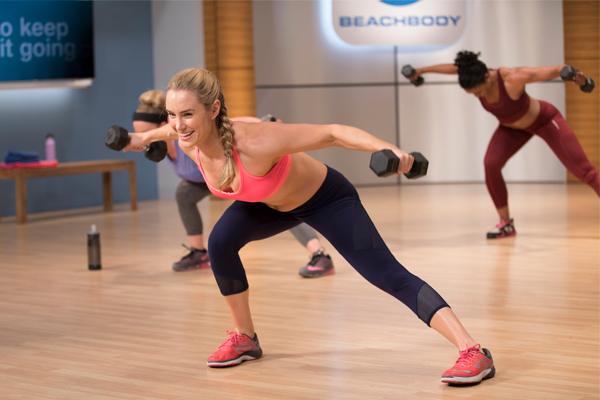 "Confident"
Artist: Demi Lovato
Album: Confident
"[Demi Lovato's] songs have a way of making you feel really empowered and ready to take on the world. And I think she's kind of gone through a big transformation herself, which comes out in her songs."
"Sorry Not Sorry"
Artist: Demi Lovato
Album: Tell Me You Love Me
"I think whenever you're listening to her songs, you feel amped up – like you could do anything."
"Thunder"
Artist: Imagine Dragons
Album: Evolve
"This is just catchy, and I don't know a single person who doesn't like it."
"B.O.B."
Artist: OutKast
Album: Stankonia
"This one just has so much energy, which is typical of OutKast and their songs. It's fast paced, gets you singing, and gets you working. That's why I love them."
"Born for Greatness"
Artist: Papa Roach
Album: Crooked Teeth
"I put this on my playlist not too long ago, and then Papa Roach came out with the music video. I'm not big into music videos, but there's an aerialist named Jen Bricker who's in it. She was born with no legs, but she's incredible at tumbling and aerial work, so I've been following her on Instagram and have been inspired by her since I was into gymnastics. Ever since I've watched the music video, I'm super amped-up to workout to this song."
"Don't Be So Hard On Yourself"
Artist: Jess Glynne
Album: I Cry When I Laugh
"It sort of has a fast-paced beat, but the lyrics of this song help remind you that you're getting the workout done and you're doing your best. It's a, 'get rid of any negative thoughts and don't hold yourself back,' kind of thing. I think the lyrics are really powerful – it's a reminder that a lot of people need."
"You Can't Stop Me"
Artist: Andy Mineo
Album: Never Land
"There's a bunch of parts where he stops and screams, 'You can't stop me,' and I think at that point, every single time I just want to scream along with him. 'You can't stop me!' It's a song that really gets me in the zone, and when I need to push through a difficult part of my workout, this would be the song I want to listen to."
"I Slept with Someone in Fall Out Boy and All I Got Was This Stupid Song Written About Me"
Artist: Fall Out Boy
Album: From Under the Cork Tree
"I just really like this song, and kind of for a corny reason. It's from the movie Stick It – a gymnastics movie that came out when I was in college. [The main character] is doing all these ridiculous tricks and stuff [during this song], and I always equate this song to that moment in the movie. It always pushes me."
"A Warrior's Call"
Artist: Volbeat
Album: Beyond Hell/Above Heaven
"This one is definitely inspired by my brother. It's some crazy metal music. I don't sit in my car and listen to metal music, but when I'm working out, sometimes this song just comes on, and it's a little edgier, and all of a sudden it's the thing that you need to get you through that workout."
"Till I Collapse"
Artist: Eminem featuring Nate Dogg
Album: Real Steel – Music From The Motion Picture
"Really, [I like] anything by Eminem. A lot of his songs talk about rising up from nothing, haters who are trying to hold you back, or mistakes you've made in your past that you're moving on from. He doesn't always say it in such a positive, rainbows-and-butterflies kind of way, but I think that's the overall message of his songs, and I think that's why people connect with them so well."
"Heartbreaker"
Artist: Mariah Carey featuring Jay-Z
Album: Rainbow
"This one is here to represent any '90s pop music that I can sing along to while I'm running. Even if it's a slower pop song from back then, I get into this happy singing mode and I push myself more. I don't really realize the pain of the workout or what I'm going through at that moment because I'm so uplifted and focusing on the music."