8 Virtual Back-to-School Tips to Help Balance Your Schedule
School is back in full swing, but chances are, you're not back to the same old routine.
If your family is following a fully remote plan or a hybrid schedule, one thing's for sure: This virtual back-to-school schedule has presented a whole new set of challenges.
How can you find time to work out? How can you avoid being glued to screens 24/7? How do you squeeze in time for family fun?
And above all — how do you balance school, work, and healthy living when they're all happening under one roof?
Here are some expert tips.
1. Hold a House Meeting
To get everyone on the same page, hold a family meeting to go over the virtual back-to-school schedule.
Look for areas where you can help each other out — for example, maybe older kids can help their younger siblings log in to their remote lessons.
The more everyone works together, the easier it'll be to stay on track, which will make life less stressful for everyone.
Ask your kids what would help them adjust to this new system.
"Remote schooling is stressful," says Erin Steele, Owner of Joyful Tidying, LLC, and Certified KonMari Consultant, so be sure to support each other as needed.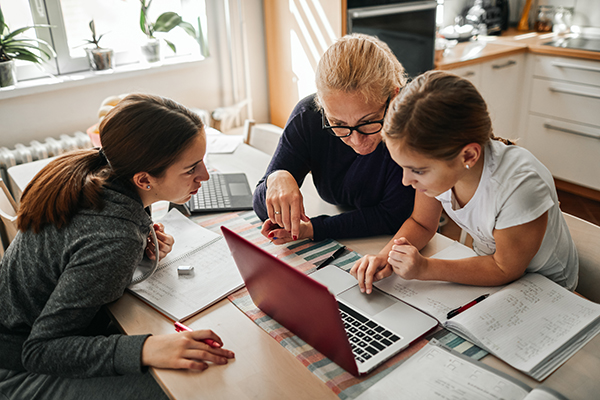 2. Get Obsessed With Schedules
In chaotic times, an organized schedule adds structure and balance. Be sure to keep your schedule somewhere visible — like a calendar on the fridge, or a whiteboard in the hallway — to maintain clear communication about what needs to get done.
Steele recommends a shared Google Calendar to make it easier for everyone to stay in sync.
And for her kids' day-to-day school schedules, she uses a paper calendar: "I print a blank one weekly and fill out what they have going on. That way, they can cross things off and have a bit of responsibility."
Make your calendar clear, consistent, and specific — so you don't have to waste precious brain power on trying to remember what needs to get done next.
Be sure to schedule time for:
Work
Online lessons
Homework
Projects
Exercise
Chores
Leisure time
Errands
Day trips or weekend getaways to recharge
3. Do a Weekly Meal Prep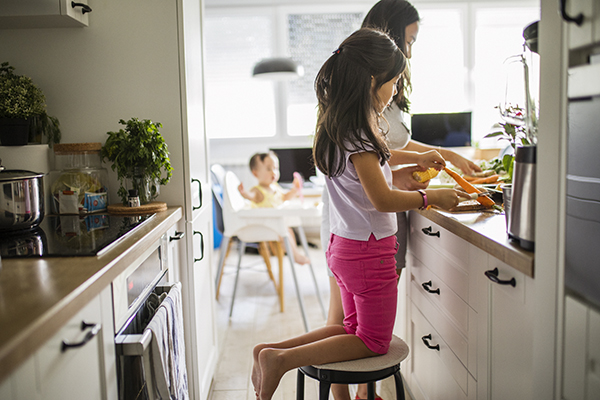 Virtual back to school schedules can be unpredictable, especially as you're settling into a new schedule.
So at the end of the day, you may feel too zapped to come up with a healthy dinner plan.
The less decision-making that's required at mealtime, the easier it'll be to stick to your healthy eating plan.
That's where meal prepping comes in.
Once a week, create a list of meals and snacks for the coming week. Shop for the ingredients you need, then batch-cook your meals in advance so you can just reheat and eat throughout the week.
Meal prepping as a family is also a great way to set an example and teach your kids about healthy eating.
4. Set Screen Time Limits
We're staring at screens more than ever these days, so set screen-time boundaries for your whole family — including you!
For example, after four hours of online learning, video games may not be the best way to unwind, so choose a screen-free leisure activity instead.
That could be:
Playing outside
Going for a walk
Hitting a nearby hiking trail
Going to the park
Reading a book
Listening to music or a podcast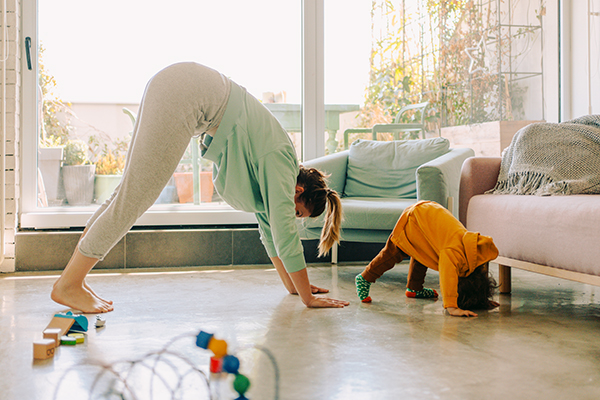 5. Try Quick At-Home Workouts
Not sure how you're going to find time for fitness in your hectic new schedule? At-home workouts to the rescue!
Burn calories in between virtual meetings or classes with workouts you can do in your living room.
If you're short on time, try the 10 Minute Trainer program, or do one of these workouts under 30 minutes.
6. Create a Designated Work Space
Creating separate physical spaces for work, school, and life can help you feel a bit more balanced.
"Make it a place you can comfortably sit with no distractions," Steele says, and keep the space clutter-free.
It doesn't have to be fancy — even a folding table in a quiet area of the house can make your kids feel like they have their own "office" setup, Steele adds.
7. Use Apps
Let technology be your friend. "There are a ton of apps that will help remind you to do things — apps to drink water, get up and walk, or even just breathe," Steele says.
Apps like Evernote, Wunderlist, and Todoist can help you keep track of your to-do list.
Even the simple Reminder app on your iPhone can help you structure your day and set alerts so your kids don't miss an important classroom Zoom or homework deadline.
8. Clear the Clutter
Research suggests your physical space influences performance and wellbeing. "If your outer world is calm, then your inner world will be, as well," Steele says.
She recommends you "tidy as you go" so clutter doesn't pile up.
Get the entire family into the habit: Wash your cereal bowl after breakfast. Throw dirty clothes in the hamper. Put textbooks away when you're done using them.
If everyone helps out, housework won't become a huge task on the family to-do list.