Vegan Spinach Artichoke Dip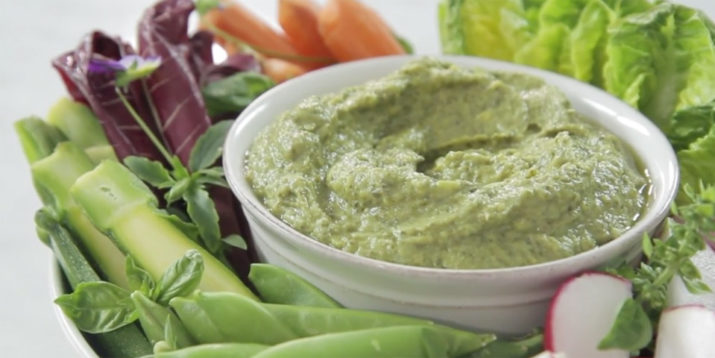 For a colorful platter that's sure to amp up the wow factor at your next gathering, whip up this healthier Spinach Artichoke Dip featuring creamy avocado, fresh spinach, and delicious artichokes.
Classic spinach artichoke dips made mostly of mayo and cream cheese are delicious, but should probably be avoided if you're a healthy eating plan.
This healthier version calls for wholesome replacements and maintains a classic consistency and flavor.
For their healthy cooking show FIXATE, Ultimate Portion Fix creator Autumn Calabrese and her brother, chef Bobby Calabrese, created this Vegan Spinach Artichoke dip recipe with flavor in mind.
A clove of garlic, onion powder, sea salt, and black pepper create that classic flavor profile and a buttery avocado gives this Spinach Artichoke Dip a rich and creamy consistency.
Instead of cream cheese, Bobby uses nutritional yeast, a flavorful, dairy-free ingredient that tastes similar to savory cheeses without the extra calories.
Since this recipe cooks up in minutes (the veggies just get a quick blanch and your food processor does most of the work from there), you'll have plenty of time to slice op a host of veggies like carrot sticks, jicama, endive, radishes, and sugar snap peas.
Together, they create a colorful, eye-catching platter fit for a holiday gathering or the next big game!
When compared to store-bought brands, this recipe boasts less than half the calories and 1/4 of the fat of the original, yet tastes so much like it that your guests will wonder where you got your recipe!
To get the recipe and find out the Container Equivalents and nutritional information, watch the FIXATE episode on BODi!