Tropical Fruit Salad with Vanilla Yogurt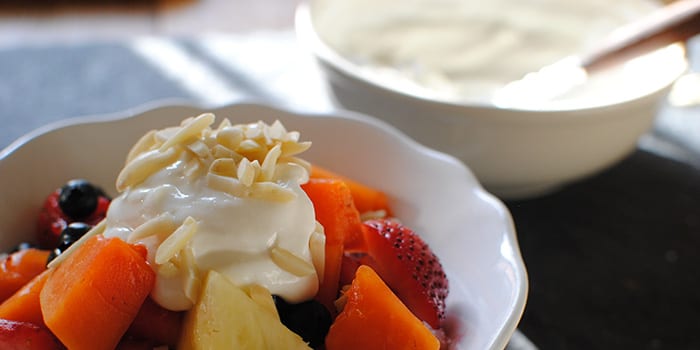 Cutting into a fresh pineapple is always a welcome task around our house. The sweet aroma fills the kitchen with tropical ambiance. Add a little papaya and strawberry to the mix and you've got a snack fit for a luau.  Our Tropical Fruit Salad with Vanilla Yogurt isn't purely morning fare. Serve this healthy, kid-friendly dish for breakfast or in the afternoon when the kiddos get home from school. It's a light healthy alternative to that store-bought fruit snacks loaded with artificial sweeteners and colors.
Got a summer event to attend? With a dollop of creamy vanilla yogurt on top a colorful array of delicious tropical fruit, this dish is a delightful sight at any potluck or summer BBQ. Top it all off with crunchy almonds and you'll have them coming back for more.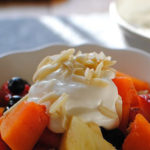 Tropical Fruit Salad with Vanilla Yogurt Sauce
Prep Time 15 mins
Cook Time 0 mins
Total Time 15 mins
Servings 14 Servings (½ cup fruit salad, and about 2 Tbsp yogurt sauce)
Ingredients
2 cups nonfat plain yogurt
1 Tbsp raw honey
½ tsp pure vanilla extract
1 medium pineapple
1 medium papaya peeled, cut into 1-inch cubes
1 cup fresh blueberries
1 cup quartered strawberries
¼ cup slivered raw almonds (1 oz.)
Instructions
Combine yogurt, honey, and extract in a medium bowl; mix well. Refrigerate, covered, until time to serve.

Stand pineapple upright; vertically cut about a third from one side, leaving the leaves attached. Remove fruit from large half, leaving a ½-inch thick shell. Discard outer peel from the smaller section. Cut fruit into ½–inch cubes.


Combine pineapple, papaya, blueberries, and strawberries in a medium bowl; toss gently to blend.


Serve fruit salad evenly topped with yogurt sauce and almonds.

Nutritional Information (per serving):
Calories: 84
Total Fat: 2 g
Saturated Fat: 0 g
Cholesterol: 1 mg
Sodium: 13 mg
Carbohydrates: 14 g
Fiber: 2 g
Sugars: 11 g
Protein: 4 g
P90X/P90X2 Portions
1 Single Serving Snack
P90X3 Portions
1 Carb
Body Beast Portions
1 Fruit
½ Protein
Portion Fix Containers
1 Purple
Not familiar with Portion Fix? Find out how Portion Fix can make losing weight simple.
If you have questions about the portions, please click here to post a question in our forums so our experts can help. Please include a link to the recipe.
Photo by Rebecca Swanner.