Transformation Tuesday: Daniel Lost 43 Pounds with INSANITY!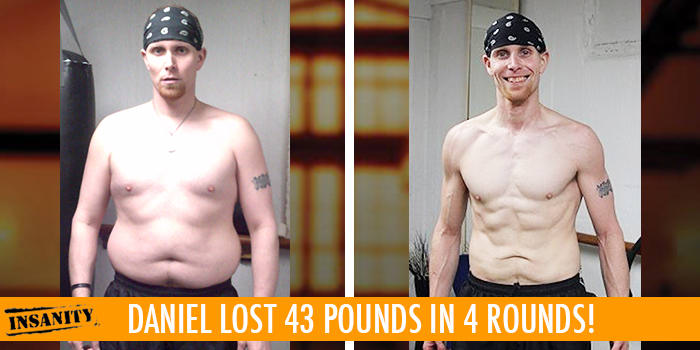 Daniel B. is a busy father of 5, who wanted to get fit and was inspired by the INSANITY infomercials. He completed 4 rounds of the program and lost 43 pounds! Check out his awesome story, in his own words, below:  
My life is very busy. I am a husband, and father of 5, as well as a full-time warehouse supervisor that works many hours. So time management has always worked against me. I heard about INSANITY from infomercials on Saturday and Sunday mornings. I was motivated to try INSANITY because I needed to get healthy and fit for me and for my family.
I have always envisioned myself looking a certain way, I just never had the proper knowledge of how to get there. I would try time and time again, but never stick to it. I tried going to the gym, lifting free weights at my home, and jogging for cardio. I was ashamed and embarrassed by my body and thought that some people are just blessed with the ability to have a great looking body, while genetics just work against others.  
I was a very active person, but cardiovascularly I was very out of shape. I was always busy doing something but had horrible eating habits: what I ate, when I ate it, and how much I ate at one sitting. My goals were to lose the belly and love handles, get a six pack and get off of my blood pressure medicine. I was successful in all of them. 
Shaun T is great! His motivation in the INSANITY videos is so encouraging, and the fact that he sweats it out with you is the definition of "leading by example." He really makes you feel like a part of the INSANITY group and truly cares about people's fitness and health. The intensity of his programs, specifically INSANITY, is the best and fits my work ethic to a T. I like the intensity of the workouts, the fact that the results came from body resistance, and the fact that the moves and combinations maximize your transformation process in the given time of the workouts. INSANITY was the only program I used for my transformation. When I won the daily prize, I had completed 4 rounds of INSANITY.
After completing 4 rounds of INSANITY, I am in the best shape of my life! I feel that in conjunction to what INSANITY did to my physical appearance, it also conditioned my heart to endure strenuous cardio activity. I can actually make it through Pure Cardio workout with taking an extra break! I remember on Round 1, I couldn't get through the first 3 minutes after the warm-up and stretch.
I did achieve my goals! All of them, and I'm still pushing and digging deeper to tighten and tone up even more. I lost a total of 43 pounds and have lost a couple more on my current round. Body fat went from 24.8% to currently 11.9% in my current round. I also was taken off my blood pressure medicine last month and am now medication free and feeling great! My friends and family are all amazed at what took place in my life. Everyone is very proud of me, and those involved in fitness said that I was motivation for them in their fitness journey. It's just a very good feeling. Now, I feel great and confident! I am very ambitious and like wearing clothes that actually fit, and are not a size bigger to hide the fat.
---
You can change your life, too. Take the Beachbody Challenge for the tools you need to Decide, Commit, and Succeed! Complete any Beachbody program, and enter your results for a free gift and a chance to win cash and prizes.