"My Results are Insane! Beachbody and INSANITY Made it Possible"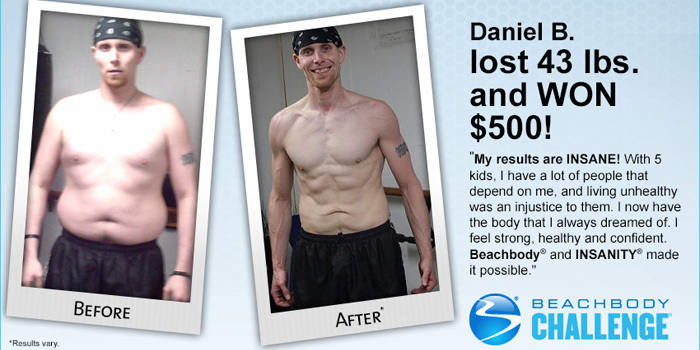 †Results vary depending on starting point and effort.
Meet Daniel B. She participated in The Beachbody Challenge® and won the $500 Daily Prize for January 28th!
Tell us about your life before you started the program. How did you feel about yourself and your body?
My life is very busy. I am a husband, and father of 5, as well as a full-time warehouse supervisor that works many hours. So time management has always worked against me. I have always had aspirations of being fit and in great shape, but I lacked the knowledge of how to get there in a healthy and proper way as well as the long-term commitment to get there. I would try time and time again, but never stick to it. I was ashamed and embarrassed of my body and thought that some people are just blessed with the ability to have a great looking body, while genetics just work against others.
What inspired you to change your life and begin your transformation journey?
My wife is a stay-at-home mom and with 5 kids, I have a lot of people that love me and depend on me. I felt that I owed it to my family as well as myself to get fit and healthy to be there for my family and feel the best I could while supporting them. They depend on me, and living unhealthy was an injustice to them and my own body. I began to see the INSANITY infomercial on TV on Saturday and Sunday mornings and listened to all of the testimonials of folks like myself that were not fitness experts, or those blessed with a naturally great physique, share their success with the program. I began to think that if these people can get these kind of results with INSANITY, then I could too. I was impressed with the idea of not using weights, but rather your own body as the tool to get lean and build muscle. That year for Christmas, my wife purchased Shaun T's INSANITY program for me, and life has been different ever since.
What is the greatest challenge you faced before beginning the program? How did the program and Beachbody® help you overcome that challenge?
I had two challenges prior to beginning INSANITY: time management and changing my eating habits. As Shaun T says, you have to change because you want to, and you have to love what you're doing for fitness. After embracing this concept, I decided fitness and health were going to be one of the priorities in my life, therefore arranging a time slot in my busy schedule to get the work done. With many thanks to my wife, I was afforded the time to reach my fitness goals, and with Shaun T's encouragement, I was able to stick to it. My second challenge was changing my eating habits. I felt that Beachbody and INSANITY helped out tremendously with the nutrition guide included with my INSANITY package. The nutrition guide taught me portion control and proper eating habits. The Michi's Ladder in the back of the guide was the biggest blessing to me because it helped me substitute the foods that I liked and would still work in assisting me to reach my goals.
What in particular did you like about the program you chose?
Shaun T's intensity was key. I thrive off of motivation, and Shaun T's "in your face" approach really got me pumped. I loved that he uses body resistance to reach your goals and that he helps motivate you to push your body to its limits to really get the most out of your workout. I feel like Insanity was meant for me.
Describe the results you achieved with your Beachbody program. Which achievements are you proud of?
My results are INSANE! This is something that happens to other people, but Beachbody and INSANITY made it possible for even me! I started at 186 lbs and lost 43 lbs and currently weigh in at 143 lbs. My body fat went from 24.8% to 12.1%, and I now have that body that I always dreamed of having. I feel strong, healthy and confident. I now enjoy healthy eating, and look forward to my workouts every day. I am proud that I set a goal for myself and actually achieved it. Personal dedication and commitment, in conjunction with Team Beachbody and Insanity, have transported me to where I want to be in life with my fitness and health!
How has your life changed since completing your Beachbody program?
I feel great! I feel comfortable in my own body now, and I feel like I have nothing to be ashamed of. I love the look of my body and every time I look in the mirror, I am still in disbelief of how I look. I don't have the junk food cravings that I used to have and feel like I have inspired others to get healthy and fit. A couple of friends have started T25 since they have seen my Insanity results. I have received so many compliments on my transformation. My family has a healthier me, and I feel like I've invested in our future. Overall, this has been one of the best decisions I have made in my life. Thanks, Beachbody, and Shaun T!
You can change your life too. Take the Beachbody Challenge for the tools you need to Decide, Commit, and Succeed. Complete any Beachbody program, and enter your results for a free shirt and a chance to win cash & prizes.