Transformation Tuesday: Chris Lost 27 Pounds with P90X3!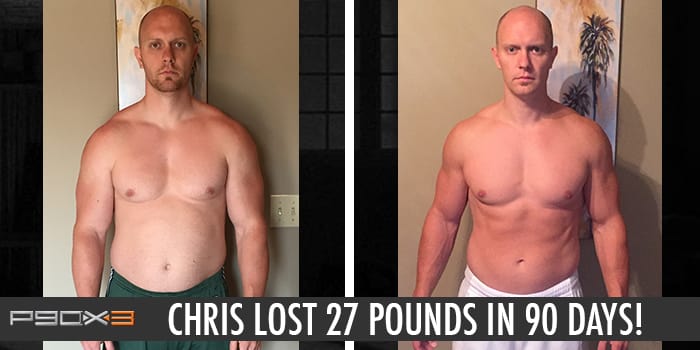 After a visit to his doctor, Chris was told that he needed to get back in shape or start taking medication.
He decided to take control and tried P90X3 despite being loyal to the gym in the past. He lost 27 pounds in just 90 days with P90X3, and his exercise routine was forever changed!
Read his amazing story in his own words below:
"In March 2015, I began to experience ongoing heart palpitations. After visiting a cardiologist, I learned that I had two underlying heart conditions. If left untreated, it would only continue to get worse.
My doctor suggested losing weight through diet and exercise or to begin taking daily medication.
At 32 years old, I didn't want to go down the medication path. I had always been athletic and active but had fallen into a busy time in my life and my health had taken a backseat. I've gone to the gym to work out for years and wasn't seeing results anymore.
I was ready for something new. My wife was a Beachbody Coach and suggested I give P90X3 a try. After the first workout, I was hooked!
With P90X3, I was able to fit in a workout whenever possible. I didn't have an excuse anymore. I could do a workout in the morning, at lunch, or after work and it didn't negatively affect my normal schedule.
I also liked that P90X3 offered a little bit of everything. I would have never experienced yoga or Pilates on my own. Now I look forward to fitting in a weekend session. Every day was something new, exciting, and challenging.
Physically, I feel healthier and five years younger than I did before the program. Emotionally, I am happier and more confident with myself.
My friends and family are all amazed at how quickly I started to show results. They can't believe it only took 30 minutes a day.
I started the program hoping to lose 5 to 10 pounds. After just 30 days, I had already hit my goal and ended up losing an amazing 27 pounds!
I went years thinking that the P90X programs wouldn't work for me. I always thought you had to go to a gym to get a good workout. Well, I was wrong.
When I learned that I could get an amazing workout from home in just 30 minutes, all the excuses stopped. I got better results from P90X3 than I ever have from going to the gym and in less than half the time!
I have a new outlook on life. I feel better, I look better, and more importantly, I haven't had a heart palpitation in over two months!
---
You can change your life, too. Take the Beachbody Challenge for the tools you need to Decide, Commit, and Succeed! Complete any Beachbody program, and enter your results for a free gift and a chance to win cash and prizes.