Transformation Tuesday: Ben Lost 33.8 Pounds with P90X3!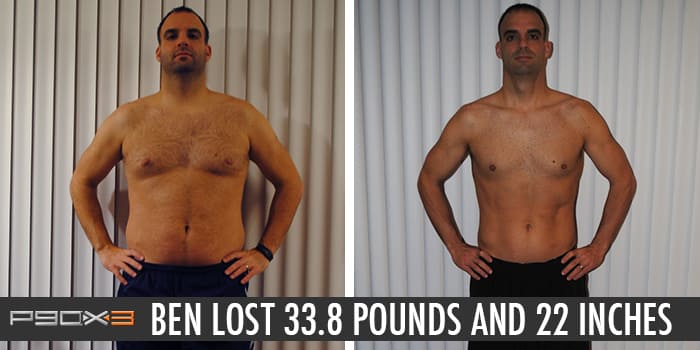 Ben decided to get into the best shape of his life before he turned 40, so he started P90X3 and got great results in 90 days! He lost 33.8 pounds and 22 inches, and was even able to push play when he went out of town thanks to Beachbody On Demand. Here's his story in his own words:
I was the king of losing and gaining weight. Every year I would lose and then gain back 20 pounds. I could never stick with it. I did not recognize the person in the mirror. I fooled myself that I was a healthy weight. I am turning 40 next year and wanted to get in the best shape I could. Of course I wanted to lose weight and build muscle, but mainly I wanted to just finish the program. I wanted to see just how much I could change my body if I finished. 
For equipment, I used weights and a pull-up bar. I modified some moves. I did use a pull up assist band, but had to use it less at the end. I also went to my knees during push-ups when I had to in the beginning. I no longer have to do that anymore. 
I am blown away with my results! Being just 30 minutes long, it allowed me to finish every workout. On the last week of the program, I had to go out of town. I could not take the DVD's with me since my wife needed them, too. So, I streamed a couple of workouts in my hotel room. Thanks for that feature – it was a life saver. 
Almost everyone noticed my results and could not believe the difference. What amazed them more was when they asked what I did and I told them P90X3, which is only a 30-minute workout. They could not believe I had those kinds of results only working out for 30 minutes a day! 
I have always been pretty athletic, but I have never felt so flexible and ready to move so easily. I am more confident. I like how my clothes fit. I can now tuck in all my shirts. And I have a sense of pride that I set out to accomplish something and followed through. 
P90X3 gave me the power to take control of my body. What made this transition so special is I was able to complete it with my wife. Watching our success grow together helped us get through the tough days and brought us closer together. We are now one hot couple! 
---
You can change your life, too. Take the Beachbody Challenge for the tools you need to Decide, Commit, and Succeed! Complete any Beachbody program, and enter your results for a free gift and a chance to win cash and prizes.