INSANITY MAX:30 Results: Nicole Lost 10 Pounds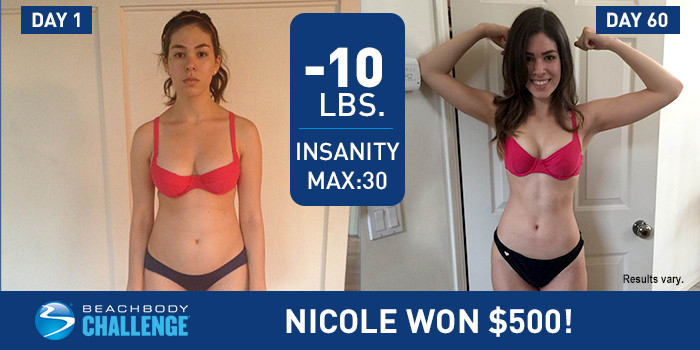 Meet independent Beachbody Coach Nicole H. She lost 10 lbs in 60 days with INSANITY MAX:30. She entered her results into The Beachbody Challenge, and won the $500 Daily Prize for July 15th!
Tell us about your life before you started the program. How did you feel about yourself and your body?
When you are young, it is easy to fall into the trap of eating whatever you want because you're young and can eat a lot. But, I learned the hard way and gained the freshman fifteen quick. After struggling with food and trying to figure out workouts, I was finally able to streamline my life with the Portion Fix containers and the INSANITY MAX:30 Program. Ten pounds later I am much happier!
What inspired you to change your life and begin your transformation journey?
Realizing that even in my twenties my metabolism is much different than it was in high school.
What is the greatest challenge you faced before beginning the program? How did the program and Beachbody® help you overcome that challenge?
The greatest challenge was staying disciplined and staying on track with my workouts. Thankfully the two rest days allowed me to be flexible with my schedule.
What in particular did you like about the program you chose?
I particularly liked how I was literally pushed to the MAX and was getting the most intense workout I could in that time frame.
Describe the results you achieved with your Beachbody program. Which achievements are you proud of?
I received a flatter tummy and boosted confidence.
How has your life changed since completing your Beachbody program?
I am just a more active person. I genuinely enjoy working out and staying healthy has allowed me to be much more confident about my body and self-esteem.
†Results vary based on starting point and effort.
You can change your life, too. Take the Beachbody Challenge for the tools you need to Decide, Commit, and Succeed! Complete any Beachbody program, and enter your results for a free gift and a chance to win cash and prizes.