INSANITY MAX:30 Results: This Military Wife Lost 53.3 Pounds While Her Husband was Deployed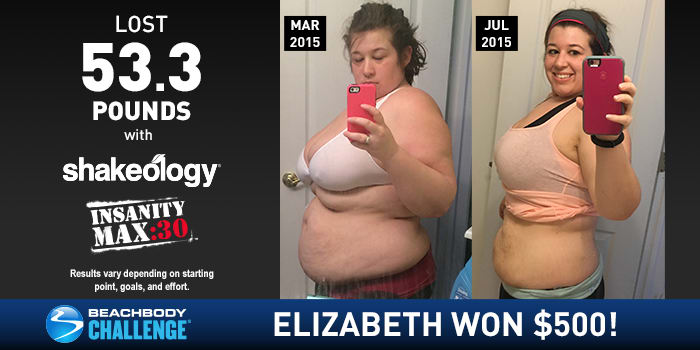 Elizabeth Parsley lost 53.3 lbs. with INSANITY MAX:30 and Shakeology. She entered her results into the Beachbody Challenge, and won the $500 Daily Prize for May 14th!
Tell us about your life before you started the program. How did you feel about yourself and your body?
Before having my daughter, I lost 50 lbs. Then I became pregnant and my hypothyroid was uncontrolled. Fast-forward to being induced early due to severe pre-eclampsia, I had my daughter 64 lbs. heavier than pre-pregnancy, and was the heaviest I'd ever been! My husband was able to be home for the birth, but he left for deployment two weeks later. Our daughter was still in the NICU. Coming home with a newborn, being out of shape, and my husband gone for almost a year was hard. I needed something to help me get through it. In March 2015, I was four months postpartum, and ready to start my journey to the better me, and better yet, surprise my husband for his homecoming!
What inspired you to change your life and begin your transformation journey?
Before getting pregnant, I had lost 50 lbs. I gained 64 lbs. due to pre-eclampsia and my hypothyroid being uncontrolled. My husband was deployed, and I wanted to impress him when he came home.
What is the greatest challenge you faced before beginning the program? How did the program and Beachbody help you overcome that challenge?
Just being extremely busy. I'm a full-time student and a mother, and my husband was deployed. My PCOS and hypothyroid were also factors.*
What in particular did you like about the program you chose?
The program looked intense, and I loved original INSANITY! I really enjoyed Shaun's energy and his way of motivating, even through a TV.
Describe the results you achieved with your Beachbody program. Which achievements are you proud of?
I dropped 53.3 lbs., and I weigh 15 lbs. less than my pre-pregnancy weight. I feel stronger; my stomach became smaller; I feel better in my clothes; and some of my pre-pregnancy clothes are too big now.
How has your life changed since completing your Beachbody program?
It helped change my perspective on working out. Fitness has become one of my biggest enjoyments, and has helped me have my whole family live a healthier life.
How did participating in a Challenge Group help you reach your goals? How did your group support you and keep you accountable?
It helped me find recipes and motivation to Dig Deep when I wasn't feeling it.
How did your Team Beachbody Coach support you on your journey?
My Coach's wife, who is his upline, helped me amazingly. Thank you, Jamie! She helped push me to my max, talked to me regularly, and helped troubleshoot when I was having issues.
How did a Beachbody supplement, nutritional product, or program (such as Shakeology or Beachbody Ultimate Reset) support your transformation? What are the greatest benefits you gained? Did you see benefits to your energy, sleep, mood/mental clarity, or digestion/regularity?
Shakeology gave me energy and reduced my cravings.
You can change your life, too. Take the Beachbody Challenge for the tools you need to Decide, Commit, and Succeed! Complete any Beachbody program, and enter your results for a free gift and a chance to win cash and prizes.

Results vary depending on starting point, goals, and effort.
*Always consult with your physician about your unique medical needs before starting any fitness program or nutrition product.