This Mom of 3 Lost 43 Pounds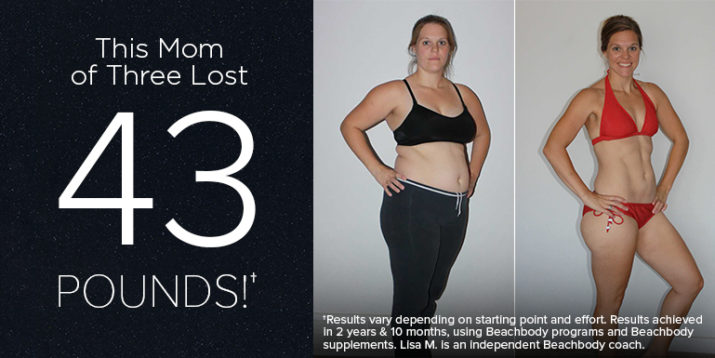 Lisa M. was used to taking care of her three kids; learning to take care of herself changed everything.
In 2013, this mom of three had a million things on her mind other than herself. Between cooking for her family, feeding her newborn, playing referee between her older kids, and dealing with the busyness of everyday life, she put her own health on the back burner.
While Lisa never thought of herself as overweight, she knew her health wasn't where it should be. She couldn't run for more than a few minutes without feeling like her legs were going to fall off. Mentally, she felt stuck in an "I can't" mindset.
She'd often begin to try and live a healthier lifestyle, but then quit before she saw results. Her confidence was low, and she felt like she didn't measure up to healthy, fit people.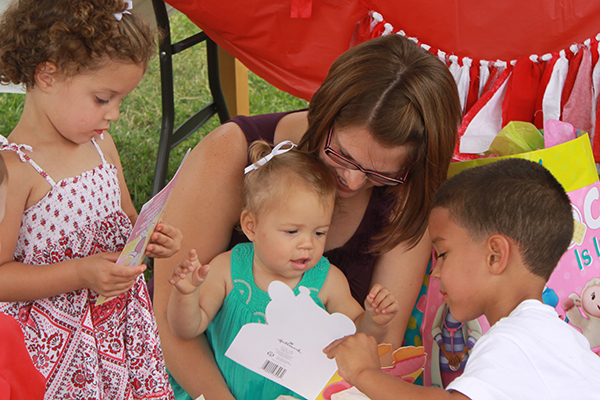 Her energy levels were at an all-time low. Nap time for the kids had become her nap time, too. And when she started getting winded walking up the stairs and lost the motivation to run around with her kids, she knew she had to change something to be the mom she wanted for her kids.
She decided that she needed to find a workout that was fast and effective, and ideally, one that she could do from home. She had tried home videos before, but never found one she really loved, and didn't want to spend money on a gym membership.
A friend suggested adding Shakeology to her diet and completing a Beachbody program (now BODi), the strategy she herself had used to lose 20 pounds after pregnancy.
At first, the cost seemed prohibitive. Three young children aren't cheap, and Lisa was hesitant to spend money on herself. "There was definitely the thought that I couldn't spend money on me because there was always something else that needs to be paid or bought," she says.
So, funnily enough, it was her own mother's generosity that got Lisa started with Beachbody programs. She had asked Lisa what she wanted for Christmas, and Lisa knew exactly what to ask for: FOCUS T25.
The Change
Taking only 25 minutes per day, T25 seemed like a perfect fit for the busy mom. She enjoyed it because it was fun and worked her muscles without making her feel like she was exercising.
It ended up helping her build the confidence and momentum to make other healthy changes for herself. After completing T25, she moved onto 21 Day Fix, another program with slightly longer workouts (usually 30 to 40 minutes).
Over the next three years, Lisa continued to work out regularly, completing various Beachbody programs, including two rounds of Focus T25, four rounds of 21 Day Fix, and three rounds of 21 Day Fix EXTREME.
In the fall of 2016, Lisa began doing Country Heat, a line-dance inspired program by Autumn Calabrese, in an effort to maintain her weight loss and build more muscle. By using Beachbody On Demand to stream the workouts, she was able to easily switch up her routine without leaving her home or spending additional cash on new classes.
"Each time, I was ready for a new program that gave me new challenges," says Lisa, who thrives on constantly setting new goals. Once barely able to get through a few knee push-ups, she can now do push-ups on her toes, and she went from running for a few minutes max to running for five miles straight.
She learned to do pull-ups and push-ups, and completed INSANITY MAX:30, a program that previously intimidated her. "I love to see how far I come even in just a matter of a few months," she says.
At the same time, she focused on eating a cleaner diet, even when that meant avoiding the temptations of foods her kids loved, like grilled cheese, French fries, and chicken nuggets.
To sneak in extra greens, Lisa regularly drinks Shakeology shakes. They're quick and easy to whip up before driving her kids to school, and make her feel way better than the bagel she used to grab, if she ate anything for breakfast at all.
Eating clean has helped Lisa simplify her mornings and feel energetic enough to power through the day, no nap necessary.
The Reward
Today, at age 34, Lisa has lost 43 pounds, reaching her goal weight of 130 pounds. More importantly, she learned to prioritize her own health and wellness for a change.
For her, feeling tired and embarrassed has given way to feeling fit, healthy, and confident — so confident that she decided to become a Beachbody coach, so she could inspire other young moms who were looking to make a change in their lifestyle.
Her goal is to help them get the results she did, and see that prioritizing their own health helps women better moms for their children.
After all, she also found that in the end, putting herself first for a change wasn't selfish: It's actually made her a more active, patient, happy, and participatory mom.
It also allows her to model true self-care and wellness to her kids, showing them "what being healthy is all about."
Lisa's Tips for Getting Fit and Healthy:
1. Avoid the comparison trap. "It's hard as women not to compare yourself to other women, but it's not helping you at all to be where that other mom is at," says Lisa, who warns against getting sucked into the perceptions that social media puts out there.
Social media makes it easy to see what everyone else's highlight reel looks like, but it rarely encompasses the day-to-day struggles of improving your health or being a mom. Focus on following body-positive moms who aren't afraid to get real.
2. Reward yourself with something healthy. For Lisa, that meant new clothes and new sneakers. For you, maybe it's a piece of workout equipment or a healthy cookbook. Whatever it is, make sure it's something that will further your progress rather than set you back.
3. Keep setting new goals. At first, Lisa wanted to fit into the clothes she had been storing in her closet for years. Then, she wanted to be able to do full push-ups; after that, it was pull-ups.
Setting new goals helps you stay excited to work out and eager to get stronger, and, when you reach those goals, it's a serious confidence boost.
"If you stay inside your comfort zone you will be just that comfortable, but you won't grow," Lisa says.