13 Best Running Belts to Hold All Your Stuff
Running is an easily accessible workout that requires very little to get started, aside from a great pair of running shoes.
The only problem is finding a secure way to stash your stuff — and that's where a running belt comes in.
"A running belt is a great item to store any small items you might need while outdoors, such as car keys or a phone," explains Cody Braun, CPT, Assistant Manager of Fitness at Beachbody.
More versatile and compact than armbands, belts are not only compact but also stay out of the way. They're designed not to move, even if you shift from running or walking to a dynamic warm-up or weight training routines.
For shorter runs, Braun suggests a belt that holds your keys and your phone, but a larger one that holds water canisters "so you can stay hydrated and comfortable" for your longer routes.
This list includes both options so you can find the perfect one.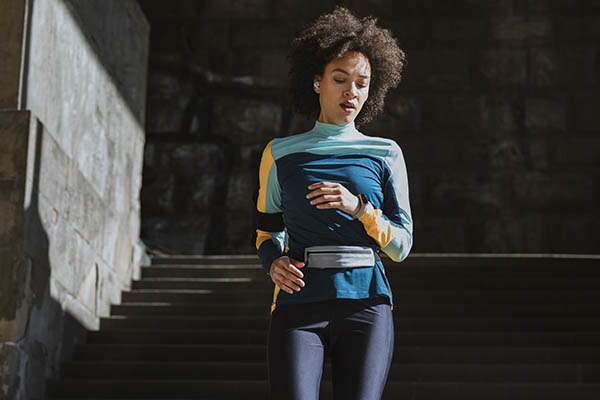 1. CamelBak Flash Belt 17 oz. Hydration Belt
As you might have guessed based on the brand, this running belt comes with storage for your water bottle so you can stay hydrated throughout your run, walk, or hike.
The angled bottle storage keeps it out of your way for unencumbered movement. It's not all about that bottle storage, though.
This bag — which comes in teal, burgundy, and black — also has a zippered pocket to securely store items like your phone and credit card.
Price: $40
Available on Amazon.
2. Rhino Valley Running Belt Waist Pack
Constantly flipping through your phone to get to the right song or podcast? This is the best running belt for you.
Rather than a zippered pocket, this belt has a clear, touchscreen-compatible compartment that allows you easy access to your phone. It's only made for iPhone 11/11 Pro Max/X/8 and Galaxy Note 10/S20, but exercisers with those phones will love it.
An extra zippered pocket stores your valuables, like your keys and credit card.
Price: $7.99
Available on Amazon.
3. NATHAN Running Belt Waist Pack 5K with Reflective Detail
This company claims their running belt won't bounce during your workout — and reviewers swear it lives up to the promise.
A large zippered pocket holds a wide range of phone models and sizes with room to spare for an energy bar or gel pack. Your valuables fit perfectly in the smaller zippered compartment.
Fans of this pack swear the lightweight neoprene allows them to forget they're wearing this pack, even on long runs.
Price: $12.38
Available on Amazon.
4. FlipBelt Zipper
FlipBelt is one of the most popular brands of running belts — and for good reason. Fans of this version, which comes with a zipper compartment for added security, say the seamless design prevents chafing from buckles and straps.
It's one of the more stylish options available, too, and you can choose from solid colors or bold designs.
Price: Varies by size ($24-$45.67)
Available on Amazon.
5. Fitletic Running Belt
This option is for the competitors out there. It's the best belt on this list for those who know they'll be entering an event.
It has easy-access storage for six energy gels to keep you going and toggles that attach your competitor bib. Silicon nubs on the underside ensure your pack doesn't bounce around as you jet toward the finish line.
Price: $27.98
Available on Amazon.
6. URPOWER Upgraded Running Belt with Water Bottle
Two smaller water bottles evenly distribute weight to keep you balanced as you run. Since they're smaller, they also sit closer to this running belt.
That means there's little risk of them getting in your way as you tackle that new running route.
Price: $15.99
Available on Amazon.
7. Running Buddy Magnetic Buddy Pouch
This pouch isn't quite a belt, but it makes running with a phone and your keys far easier. Magnets essentially turn this zippered pouch into a belt by securely holding onto the waistband of any workout pants or shorts.
It also comes in three sizes so you can nab one that fits your phone.
Price: $19.99-$24.99 (varies by size)
Available on Amazon.
8. Fast and Free Run Belt
This low-bounce running belt keeps things minimal, perfect for those who love to get up and go. Throw it on with your phone and keys tucked inside for a quick jog around the neighborhood, or load it up with energizing snacks for long-distance runs.
Price: $38
Available at Lululemon.
9. Nike Slim Waistpack
Nike's slim belt stretches slightly as you move, preventing chafing or rubbing. It's a no-nonsense pack for someone who just needs the essentials out of the way as they log miles.
Price: $20
Available on Nike.
10. The Original SPIbelt
The Original SPI is a good running belt if you can zip up your essentials and head out on your run without needing anything until you're done.
With one main zippered pocket, it isn't easy to access things as you're moving, but you can run or hike confidently knowing your things are secure the whole time.
Price: $22.99
Available on Amazon.
11. Stashbandz Running Belt
Keep your valuables close to you on walks or jogs with this belt that holds your items flat around your waistline. It's one of the larger belts on this list and doesn't taper at the back, which means you can stash a wide assortment of running accessories and larger phones.
Price: $22.99
Available on Amazon.
12. AIKENDO Running Pouch Belt
This belt is not only sweat-wicking to prevent chafing (perfect for running in the heat) but also water-resistant so you can focus on your run and not how your phone's faring, even in rainy weather.
A reflective strip is a bonus for those who love early-morning or late-night running.
Price: $10.98
Available on Amazon.
13. FILA Accessories Stash It Running Pack Storage Belt
One of the slimmest of the bunch, this running belt holds just enough to free you up to focus on hitting a new PR or powering through some hill sprints.
If needed, the pocket expands to make room for a little extra storage.
Price: $13.43
Available on Amazon.