Red Velvet Shakeology Waffles
Who needs Red Velvet cupcakes when you can make Red Velvet Shakeology WAFFLES?!
These wonderfully delicious waffles have a crispy exterior, with a tender and fluffy interior. A touch of maple syrup and you have perfection on a plate.
Chocolate Shakeology provides the rich, chocolatey flavor for these waffles and a couple of drops of red food coloring creates the fun, deep-red hue.
Pro tips:
You can also use a 4-inch (10-cm) waffle iron to make 3 small waffles.
You can swap food coloring for 1 medium canned (or cooked) beet.
Add Shakeology, baking powder, almond milk, egg, and beet to a blender; cover. Blend until smooth. Cook as directed in step 3.
Remember to add ½ Green container if you are following the Portion Fix eating plan.
Questions about cooking with Shakeology? Check out this FAQ.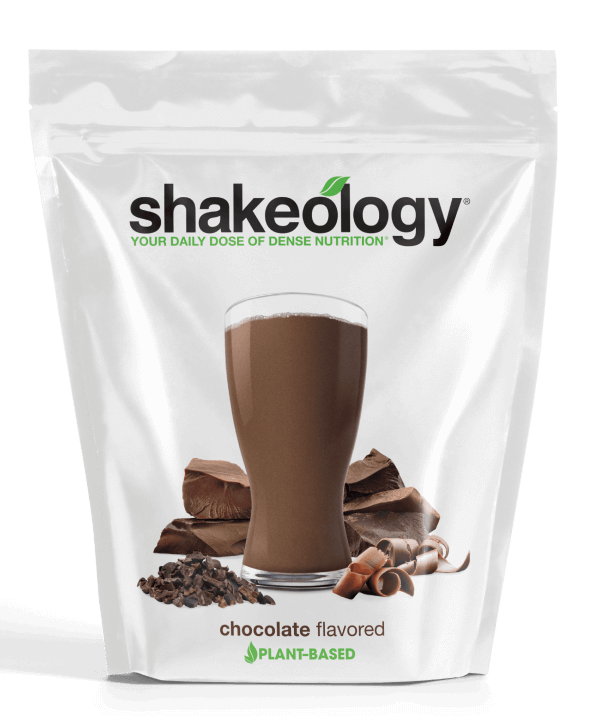 Chocolate Shakeology
Satisfy your cravings with a deliciously decadent chocolate-flavored superfood dessert.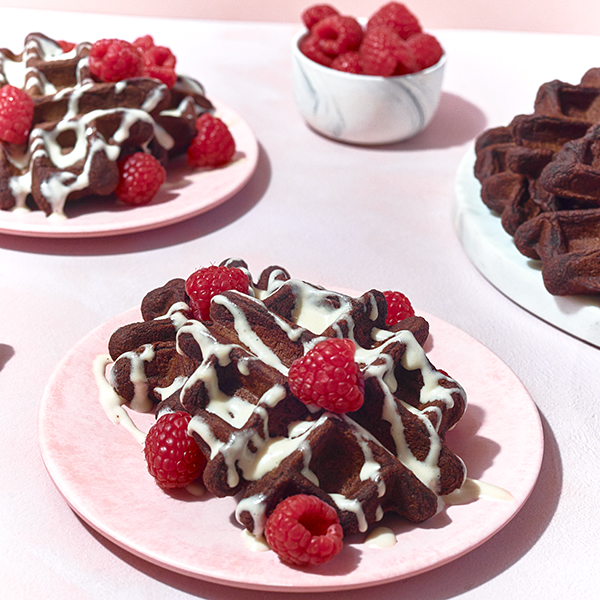 If you love these, try these other Shakeology waffle recipes next:
Mocha Latte Shakeology Waffles
Cookies & Creamy Shakeology Waffles
PB&J Chocolate Shakeology Waffles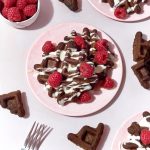 Red Velvet Shakeology Waffles
These Red Velvet Shakeology waffles have a crispy exterior, with a tender and fluffy interior.
Prep Time 7 mins
Cook Time 8 mins
Total Time 15 mins
Servings 1 serving
Calories 384 kcal
Ingredients
1 scoop Chocolate Shakeology 
½ tsp. baking powder
¼ cup / 60 ml unsweetened almond milk (or water)
1 large egg
3 drops plant-based red food coloring
Nonstick cooking spray
2 Tbsp. cream cheese, softened
1 tsp. pure maple syrup
½ cup / 60 g fresh raspberries
Instructions
Add Shakeology and baking powder to a small mixing bowl. Stir until combined.  

Add almond milk, egg, and food coloring; stir until combined.   

Preheat an 8-inch (20-cm) waffle iron; lightly coat with spray. Pour in half of batter; cook until steam stops emitting from waffle iron. Place on a serving plate. Repeat with remaining half of batter. 

While waffles cook, add cream cheese and maple syrup to a small mixing bowl; stir to combine.  

When waffles finish cooking, place on serving plate; drizzle with cream cheese mixture. Top with raspberries.  
Recipe Notes
Fantastic Fiber (F), Gluten-Free (GF), Protein Power (P), Quick 'n' Easy (QE), Vegetarian (VG) 
The Nutrition Facts box below provides estimated nutritional information for this recipe.*
* Total Sugar 13 g, Added Sugar 7 g
Nutrition Facts
Red Velvet Shakeology Waffles
Amount Per Serving (1 serving)
Calories 384 Calories from Fat 171
% Daily Value*
Fat 19g29%
Saturated Fat 8g50%
Cholesterol 244mg81%
Sodium 483mg21%
Carbohydrates 30g10%
Fiber 10g42%
Sugar 13g14%
Protein 25g50%
* Percent Daily Values are based on a 2000 calorie diet.
Container Equivalents
½ Purple
1½ Red
1 Blue
2B Mindset Plate It!
This recipe makes a great breakfast.