INSANITY Results: This Dad Crushed 38 Obstacle Races… and Counting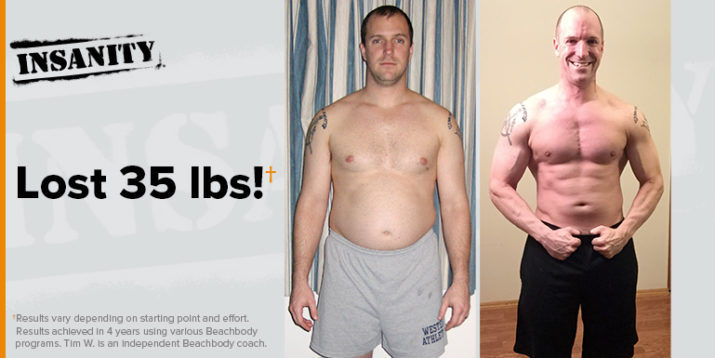 Training for obstacle races helped Tim W. become the real-world athlete his life needed.
Health and fitness was always his passion. That is, until he went in for reconstructive elbow surgery, was forced to take time off the dumbbells, and gained 25 pounds in five short months. "Needless to say, my health turned very poor very quickly," Tim says.
Fast-forward a few years, and things weren't getting any better. Sure, his elbow fully recovered, he had built up a significant collection of at-home fitness equipment. But it was also about that time that he got his first hernia. Then, after his wife gave birth and he became a busier-than-ever dad, hernia number two hit. His workouts and health were sidelined in a big way.
"I was working 60 to 70 hours a week at Home Depot, owned my own landscaping company, and had a three year old. I was focused on providing for my family and didn't take care of myself, says Tim, noting that he struggled with seasonal depression that led to extreme weight gain, yo-yoing, and burnout.
"My son had a ton of energy, and I couldn't keep up with him or with housework," he says. "I felt like a fat, lazy, blob. I was depressed and had no desire to do anything. My house and marriage were falling apart and I didn't care about any of it. My health and lack of energy was ruining all of the things that had I worked so hard for."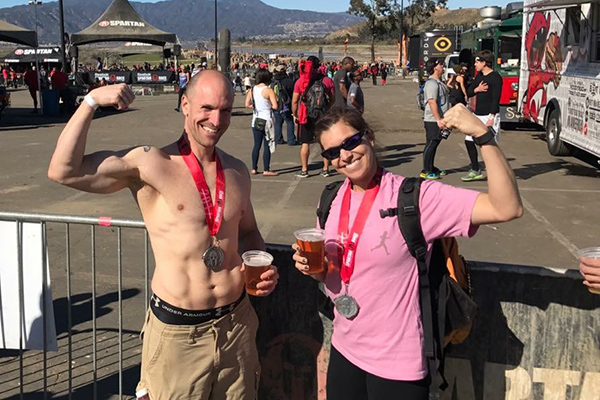 The Change
In the summer of 2011, finding himself amid depression and, eventually, divorce, Tim's life was upside-down.
"I found a small apartment and all I had was a mattress on the floor and a TV and DVD player," he recalls. "I made a small purchase for myself, INSANITY. Well, talk about getting exactly what I needed."
For two months straight, he did INSANITY workouts in his empty apartment. Every. Single. Day. "After week one, I thought my calves were going to explode. Just standing at work was miserable, but by week three I was feeling pretty good about myself and noticed a couple non-flabby ripples showing up again around my abs," he says.
So, when a friend told him about Tough Mudder, he wondered if his spouting six-pack (two months in, he was already 25 pounds down!) would help him surmount the challenge — one that, years earlier, his former wife had banned him from attempting because he "would get hurt."
To test out his cardio, Tim went on a 30-minute test run. "It felt good, so I downloaded an app for my phone to track my pace," he says. "I was completely shocked when I saw that I ran three miles at a 6:30 per mile pace. I thought my phone was wrong until it said the same thing the following day. It was at that moment that I knew INSANITY was legit."
He progressively ramped up his exercise routine, combining INSANITY workouts with hard uphill runs. In six months' time, he was able to run 12 miles uphill twice per week — thanks in part to his improved fueling strategy. Tim began integrating Beachbody Performance Energize and Recover, and Shakeology into his nutrition plan.
"My life took a turn in a direction I never thought possible," he says. All my weights went up and I no longer took breaks. Two weeks after using Shakeology, my insides felt like my outside looked," he says. "I knew this was something that would be a staple in my diet for the rest of my life."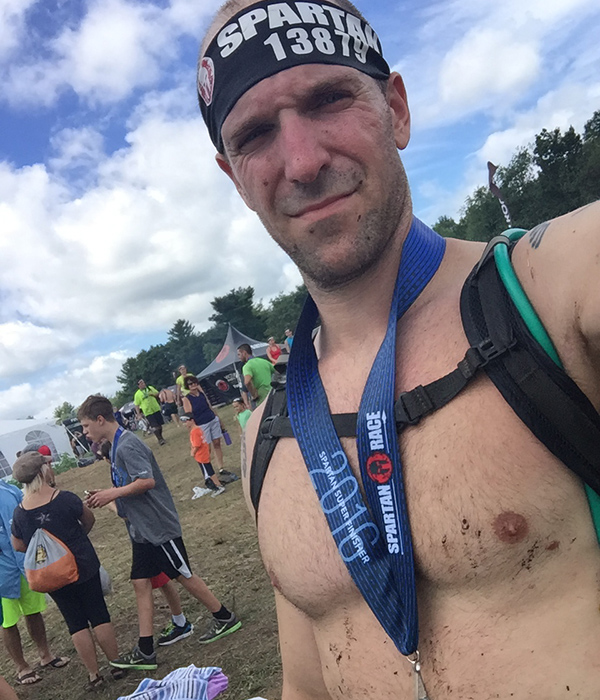 The Reward
A year later, in the summer of 2012, it was race time. "Finishing my first Tough Mudder was like having a huge weight lifted from my shoulders. All the challenges I had been through over the past year had just become insignificant compared to the challenge of this race. And doing it back to back days helped me prove to myself that I can accomplish so much more than I ever thought possible."
Today, at 37 years old, Tim has successfully completed 16 Tough Mudders and 22 Spartans. That tally includes including one Spartan Trifecta, which involves finishing one Spartan Sprint, Super, and Beast, the latter covering more than 13 miles and 30 obstacles, in a single year. He's currently training to participate in the Spartan Ultra World Championships.
"I have been through the gamut of life's trials and can relate to most obstacles anyone has to overcome," Tim says. "I have become a much better father and have become more successful in my career. In retrospect, it saved my life."
"The joy I feel inside myself, knowing everything I have overcome to get to where I am, is the same joy I want to help others feel," says Tim, who became a Beachbody coach in late 2013. "I find no greater joy in life than seeing the look on someone's face when they hit their goal on the scale or the measuring tape — but most importantly, when they find the strength within themselves to overcome their own obstacles."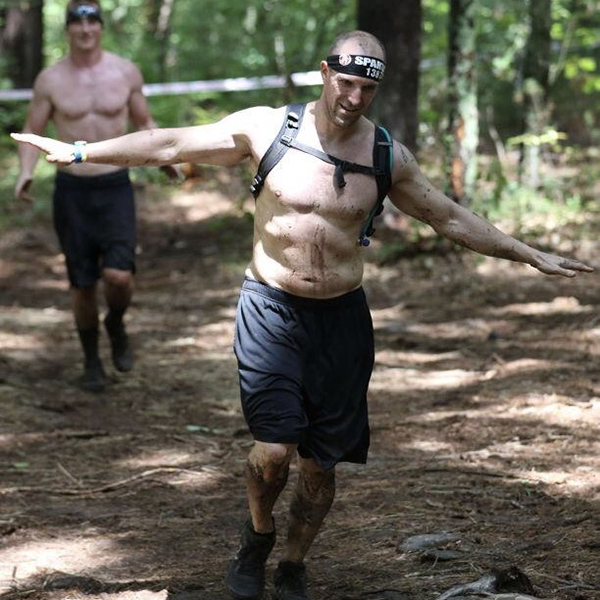 Tim's Tips:
1. Start with a small goal
"If I had tried to run that big hill on my first try I wouldn't have ever tried again," Tim says. "Start with taking one small step ahead of where you are. Do the small things until you don't find them challenging any more then push yourself just a little bit more. And every once in a while, test yourself with something bigger than you think you can handle. Even if you fail you will have done more than you thought possible and have now set the new bar for yourself."
2. Be selfish
"You need to search deep within to find that selfish reason to keep going," says Tim, explaining that getting fit can't be about making anyone other than yourself happy. It's only when you tap into your true "why," that you'll have the motivation you need.
3. Find a routine and stick with it
"My schedule involves me waking up at 3am, food prepping for the day, working out, getting ready for work, then heading out the door by 5:30am. On normal days, I don't even get home until 6:30 pm. A couple nights a week, I get my son from soccer practice and on those nights I don't get home until 9:30 pm," Tim says. "So when people tell me they are busy, I just tell them to stop making excuses. Whatever is going on in your life, you've just go to make it happen."