21 Day Fix EXTREME Meal Plan for the 1800-2100 Calorie Level with Tempeh and Baked Trout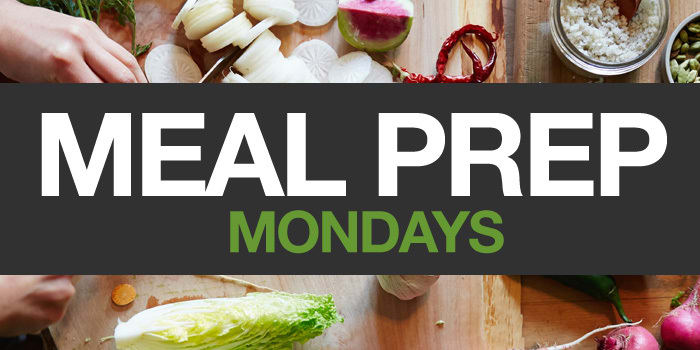 Almost every weekend, Social Media Specialist (and fitness fanatic) Amanda Meixner preps her meals and shares her photos on her Instagram account. Her simple photos remind us meal prep doesn't have to be hard. Follow her on Instagram and check out her blog, Running Wild. For three weeks she's following the portion plan for 21 Day Fix EXTREME. In order to maintain her weight, she falls in the 1,800–2,099 calorie bracket. Of course, it's not necessary to prepare this much food at once, but Amanda does it to save herself time later in the week. Plan your meals on Sunday? Save this for the weekend!
Next week, we'll be sharing a week of meal prep from someone else! Want to be featured? Email your healthy meal prep photos to Editors@Beachbody.com and you could be next!
Amanda's meals for the week (only one day shown)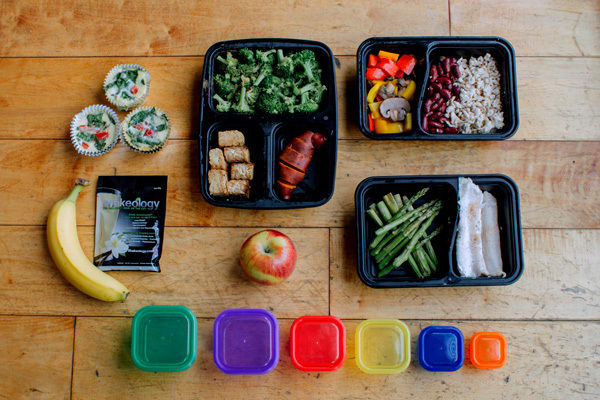 Breakfast: Shakeology with a banana, flax seeds, and 3 tsp. almond butter (1 red, 2 purple, 1 orange, 3 tsp.)
Snack: Two egg muffins (every 3 is equal to about 1 egg, 4 egg whites, with spinach, & red bell peppers) & oatmeal (not shown) (1 red, 1 green, & 1 yellow)
Lunch (Mon/Wed/Fri): Chicken, sweet potato, and broccoli (1 red, 2  yellow, & 1 green)
Lunch (Tue/Thur) – seen above: Tempeh, sweet potato, and broccoli (1 red, 2  yellow, & 1 green)
Snack: Trout with 1 tsp. olive oil, asparagus, and a small apple (1 red, 1 green, 1 purple, & 1 tsp.)
Dinner (Mon/Wed/Fri): Cooked shrimp,  bell peppers, & mushrooms sautéed in 1 tsp olive oil, edamame, and ¼ an avocado (1 red, 2 greens, 1 yellow, 1 blue, & 1 tsp.)
Dinner (Tue/Thur) – seen above: Ground turkey, kidney beans, bell peppers, & mushrooms sautéed in 1 tsp olive oil, and ¼ an avocado (not shown) (1 red, 2 greens, 1 yellow, 1 blue, & 1 tsp.)
Grocery List
• 1 pound shrimp
• 1 pound chicken
• .75 pounds turkey
• 1 container tempeh
• 1.75–2 pounds trout
• 5 large sweet potatoes
• 1.5 cups edamame
• 5 bananas
• 5 apples
• 5 cups broccoli
• 50 large asparagus spears
• 4 cups mushrooms
• 5 red bell peppers
• 4 yellow bell peppers
• 2 avocados
• 1 10-oz bag spinach
• 5 packets Shakeology
• 1 can kidney beans
• Olive oil
• Flax seeds
• Almond butter