#mbf Muscle Burns Fat With Megan Davies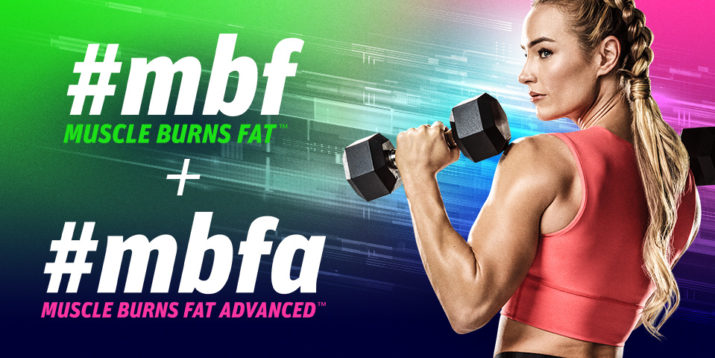 Growing up at her family's gym, Super Trainer Megan Davies learned a few insider tricks to help her clients build lean muscle, burn serious calories, and get the body they've always wanted.
She incorporated her best routines in two three-week programs designed to be done back-to-back: #mbf Muscle Burns Fat and #mbfa Muscle Burns Fat Advanced.
"People are always asking me the secret to losing weight for good and getting a seriously toned physique. The answer is easy because it's so simple — no matter your goals, you need resistance training. Using weights will challenge your body, causing it to consume more energy and, in turn, burn more fat," says Megan.
Muscle. Burns. Fat. This simple yet incredibly effective philosophy is what #mbf and #mbfa are all about.
Pro tip: Once you finish #mbf and #mbfa, try Megan's #mbf Super Block! Learn more about Super Blocks here.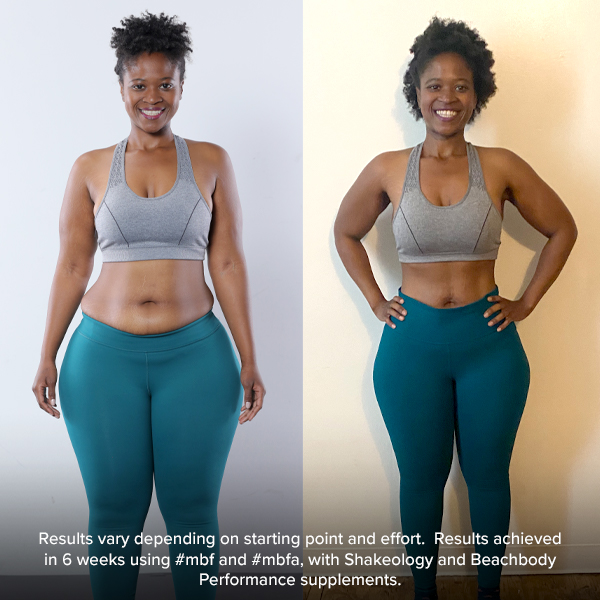 So, What is #mbf and #mbfa?
#mbf Muscle Burns Fat and #mbfa Muscle Burns Fat Advanced are two three-week programs that incorporate strength training and cardio to help you build muscle and burn fat, with full-body workouts that are set to the beat of the music.
With simple moves you'll learn quickly, you can let the tempo set your pace and drive your intensity for a total-body burn that will get you sweaty and spent.
"I created both programs to be done back-to-back," Megan explains. "Ideally, you'll start on a Monday, and commit to finishing 21 workouts. Crush the first three weeks, and you can move on to #mbfa, where I dial-up the intensity and really push your results to the next level — plus there's a whole new challenge called Megan Minutes. Your goal is to do a set number of reps in 1 minute using your heavy weights. Don't quit on me!"
Nutrition is a key part of all six weeks.
"Here's the catch," Megan says. "You can't starve yourself. Building muscle and getting toned takes FUEL. I know it sounds counterintuitive, but you have to eat to lose weight. That includes healthy meals and your daily Shakeology and Beachbody Performance supplements."
What Kinds of Workouts Are in #mbf and #mbfa?
Strength training happens on Monday, Wednesday, and Friday, and includes asymmetrical moves where you'll use one weight instead of two.
Cardio workouts are Tuesday and Thursday.
You'll need light, medium, and heavy dumbbells, and the BOD Rope, the Cordless Indoor Jump Rope.
Saturday workouts also feature EMOMs (every minute on the minute) that will push you to give everything you've got.
And don't worry — this isn't about bulking up. Megan designed these workouts to get you lean and toned for your strongest body ever.
Here's how:
"I'm including asymmetrical training along with symmetrical training for a reason. When you're lifting one weight, your body is forced to compensate for the imbalance, which engages your core," says Megan. "By challenging your body, you'll burn more calories and get the most out of each workout."
For the cardio workouts, the emphasis is on fat-burning, so get ready to work. You'll do AMRAPs (as many rounds as possible) that incorporate the BOD Rope.
Sunday recovery workouts will stretch and revitalize your muscles so you're rested and ready for Monday.
"Your body will need it!" says Megan.
"Progress isn't always pretty, so get ready to be drenched in sweat and working hard to give me everything, every move. If at the end of three weeks you don't feel ready to step up to #mbfa, do #mbf again all the way through, and then take on #mbfa," she adds.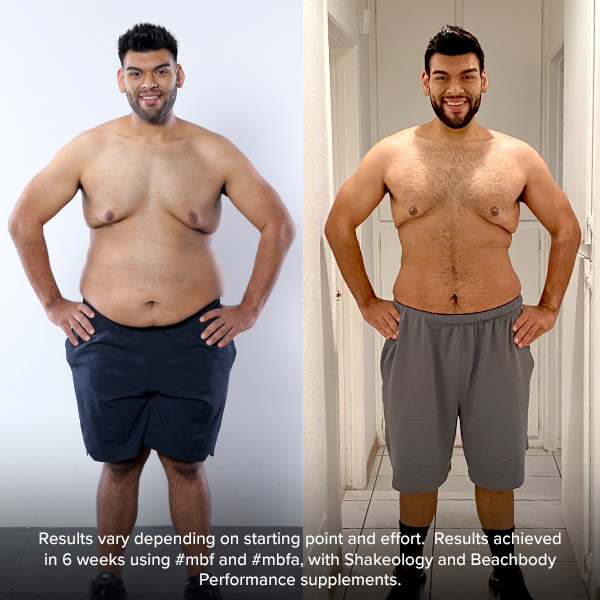 How Does Nutrition Fit Into #mbf and #mbfa?
Feeding your body well can help facilitate fat loss and improve training performance and recovery, so it's critical to dial-in your eating habits and fuel your body in a way that supports your goals.
Daily Shakeology is a crucial component to help provide nutritional support for your weight loss program.
Packed with the nutrients your body craves, each shake can help provide healthy energy†, satisfy your sweet tooth, and make sure your body has the fuel it needs to thrive.*
For workouts, you'll want the firepower of Beachbody Performance supplements — Energize before you work out, Hydrate during, and Recover after you finish.‡
The Beachbody Guide to Nutrition will show you how to eat healthfully for every meal, including snacks and desserts, with delicious recipes and useful tips to stay on track throughout #mbf and #mbfa.
If you're looking for a long-term solution to healthy eating and weight loss, there are two comprehensive premium nutrition programs that work seamlessly with #mbf and #mbfa, and can help you get even better, lasting results.
2B Mindset is a positive approach to eating that lets you eat the food you love and STILL lose weight.
Portion Fix uses color-coded portion-control containers to help you create delicious, perfectly sized meals, every time.
†Phosphorus contributes to normal energy-yielding metabolism.
‡ All products, flavors, and configurations may not be available in your market.
Who Is #mbf and #mbfa for?
#mbf Muscle Burns Fat is a beginner program that features simple, easy-to-follow moves and 25- to 35-minute workouts.
You'll have fun and work hard, with Megan and the cast giving you all the encouragement you need to get you across the finish line.
#mbfa Muscle Burns Fat Advanced is an intermediate program with longer 25- to 40-minute workouts that build on the moves you learned in #mbf and includes Megan Minutes, which are 1-minute challenges using heavy weights and low-rep burnouts.
Who Is Megan Davies?
Wherever you are in your fitness journey, Megan will meet you there. She's an experienced personal trainer whose simple workout style and motivating, upbeat personality will help turn your health and fitness goals into reality, one step at a time.
She's spent years training clients and expanding her skills, earning certifications from NSCA and CPTS, and opening her own gym.
After winning the Beachbody fitness reality show, THE 20s, Megan created Clean Week, a program that helps you create healthy fitness and nutrition habits in just 7 days.
With #mbf and #mbfa, Megan will keep you focused and committed.
"We're going through this together. You'll push. You'll work. You'll fight. And you know what? I know you can reach your goals."
Where Can I Stream #mbf and #mbfa?
*These statements have not been evaluated by the Food and Drug Administration. This product is not intended to diagnose, treat, cure, or prevent any disease.