Male Beachbody Challenge Winners, March 2018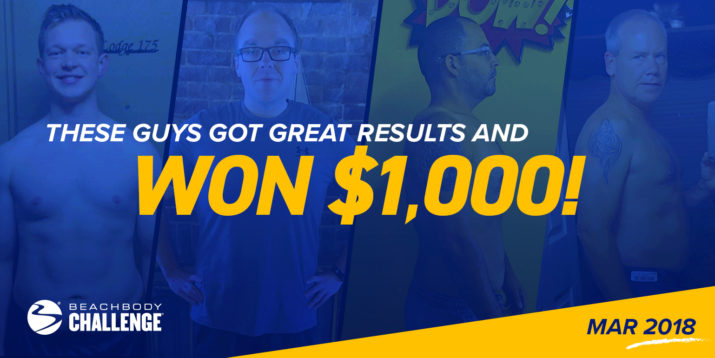 Guys of all ages are transforming their bodies and their lives at home with Beachbody's system of fitness, nutrition, and support.
In the month of March 2018 alone, more than 2,000 satisfied customers submitted their inspirational transformation stories to the Beachbody Challenge, where healthy lifestyle changes are rewarded with prizes all year long.
In addition to the free gifts that all qualifying contestants receive, these four diligent dudes (below) recently won $1,000 each as a reward for their hard work and their inspirational stories.
Check out their mind-blowing "before" and "after" photos…
Tommy Mason Lost 77 Pounds
When Tommy noticed the scale tipping 290, he knew it was time for a change. He got Beachbody On Demand, got serious, and got down 77 pounds with P90X2 and X3!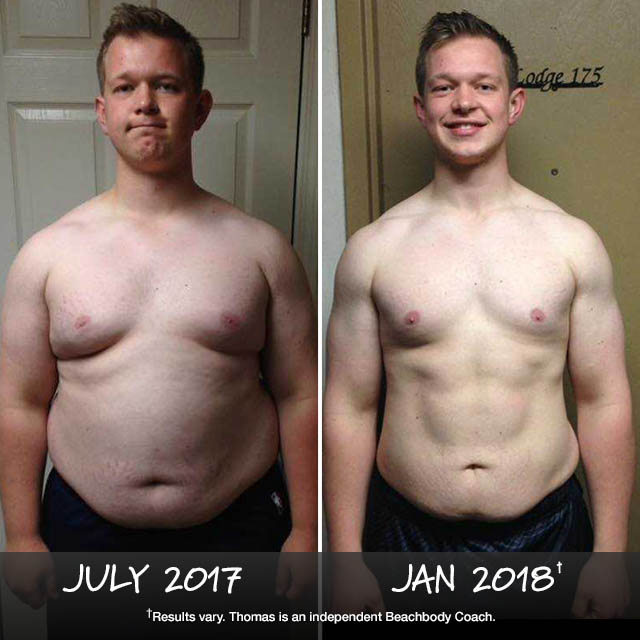 "After having great success with P90X and P90X2 in high school, I had let myself go living outside of the country for a few years.
When I noticed that my scale was tipping 290 pounds, that was quite a red flag for me.
I was not going to let myself get to 300 pounds. P90X3 was great for me because I really like Tony's programs but the workouts were all only 30 minutes.
I was able to achieve great results with X3, took those right into P90X2, and have lost a total of 77 pounds after completing both.
I think that it is amazing that I can fit into clothes that I used to wear in high school five years ago! I have a ton of energy now and I can fly up the stairs instead of panting my way up each step.
I've even inspired my mom and best friend to start P90X3. I can unicycle again and I am learning to dance again. I would never have taken a dance class when I was 290! I am also getting involved in rock climbing, which is totally new to me.
When I look in the mirror, I realize that I have changed a lot.
Adam Snook Lost 226 Pounds
Armed with the best tools in-home fitness, Adam shed 226 pounds and shows no sign of stopping!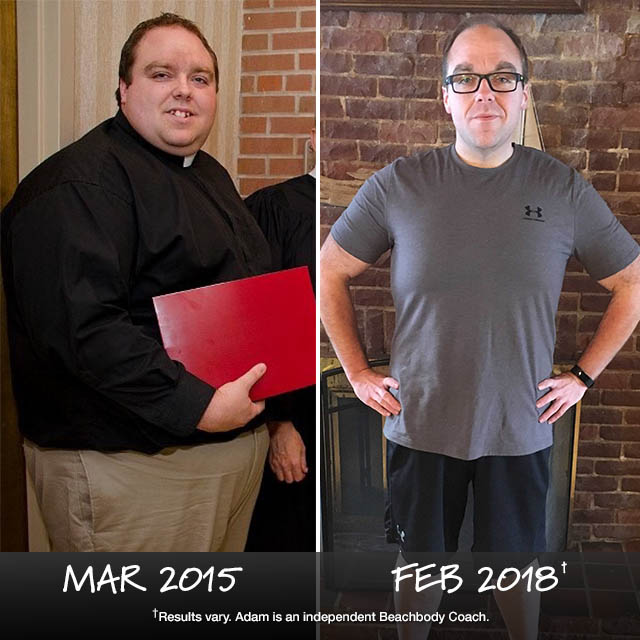 "Beachbody changed my life. Honestly. Before I began this journey I weighed 460 lbs. 460! I was ashamed of myself.
I continually bought clothing that I thought was hiding my body, tried to stay away from large crowds, and shied away from gatherings with friends. My wife and I welcomed our son into the world on March 3, 2015 — and that changed everything.
I knew that I wanted to teach my son how to respect his body, how to eat right, how to live healthy, and how to stay active.
I didn't want him to end up like me. Since beginning my Beachbody journey, I have lost a cumulative total of 226 pounds, but that is just a number.
I now hike (before I could barely walk!), I play soccer with my son, I work effectively, I am more focused, and I walk with my head held high! When I catch a glimpse of myself in a mirror or a store window… I smile!
I can walk into nearly any shop and find something that will fit me. I am confident in my appearance, and keep my head up when I walk through a crowd of people.
I rest better, do not feel physically ill from eating too much, and am able to get on the floor and play with my son. I know that I am the kind of person that he can look up to… and that feels amazing!
I'm not done yet either — I've set new goals and the work continues. I'm pumped!
Josh Kingery Lost 84 Pounds
Josh wanted to get an MMA-style workout without being punched in the face – enter CORE DE FORCE. Now 84 pounds later, he's still kicking butt.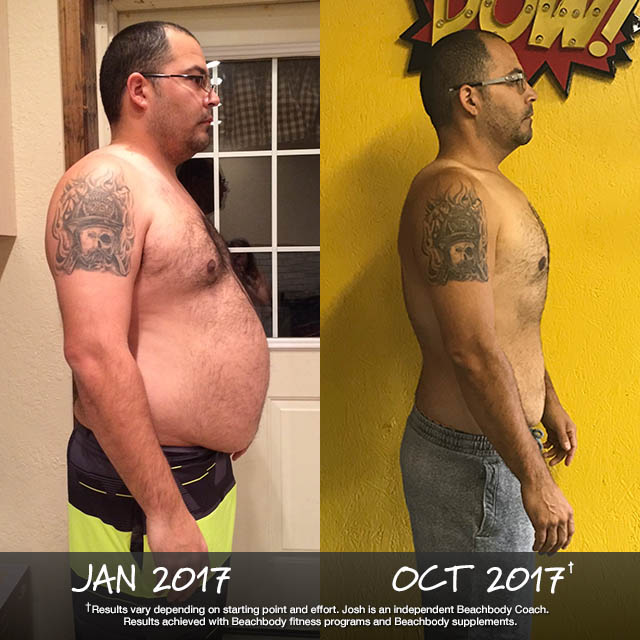 "I started this year at the heaviest that I have ever been in my life. My wife and I were tired of feeling like crap, hated always going to the doctors and being on medication, sad because we were missing out on our kids growing up, and just simply tired of who we had become.
We decided to make a change and quit feeling sorry for ourselves and do something about it.
We had done Beachbody programs in the past with some success, but could never maintain the weight loss. I had looked on the Internet again about Beachbody and seen that there was an MMA-styled program out at the time called CORE DE FORCE.
I always found MMA to be inspiring and wanted to train like all the fighters did, so I thought this was the perfect program to start with.
The excitement of the program was just what I needed to push myself to get off my butt and do something and so began my fitness journey.
I have always be inspired by the conditioning of MMA fighters and always wanted to train like them and this program allowed me to get as close to that as I could without coming out of the ring looking like fighters do at times, LOL!
When I finished a workout with this program, I always felt like a badass afterward. It helped raise my confidence in myself and always kept me motivated to continue on to the next day."
Jeff Sims Lost 13.4 Pounds
In just 21 days of the SHIFT SHOP, Jeff got rid of his gut and looks great.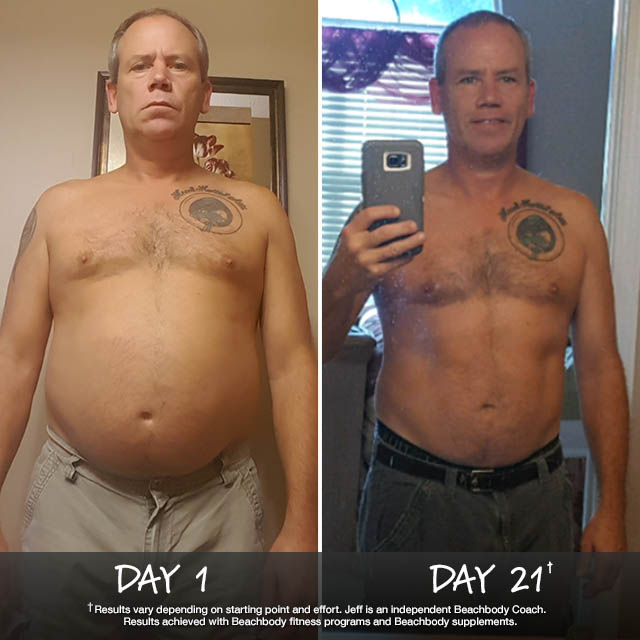 "One day I stepped on the scale and I weighed 180.8 pounds. Never in my life have I weighed that much. I watched my friend, and now Coach, Chelsey Harness, develop over a year.
Not only did she change physically, but mentally and spiritually. She was using Beachbody programs, so I decided to jump on board and give them a try.
She set me up with SHIFT SHOP. It was really challenging, but with the support and accountability with all the team members, and Chris kicking my butt during the workouts, I started noticing results.
The thing I think really helped the most was drinking Shakeology every day. It gave me the energy and nutrition combined to make it a complete workout package.
In just 21 days I lost 13.4 pounds. I love my transformation and will never, yes, I said it, never get back to 180 without being fit again. This is just the beginning for me. It is life-changing and will continue to grind."
You can change your life, too. Get started here for the tools you need to Decide, Commit, and Succeed! Complete any Beachbody program, and enter your results for a free gift and a chance to win cash and prizes. Ready to pick a program and get started?

The Beachbody Challenge contest is currently open only to legal residents of the 50 United States (incl. DC), Puerto Rico, Canada, and the UK who are at least 18 or the age of majority at time of entry.