5 Lunches to Make With Portion-Control Containers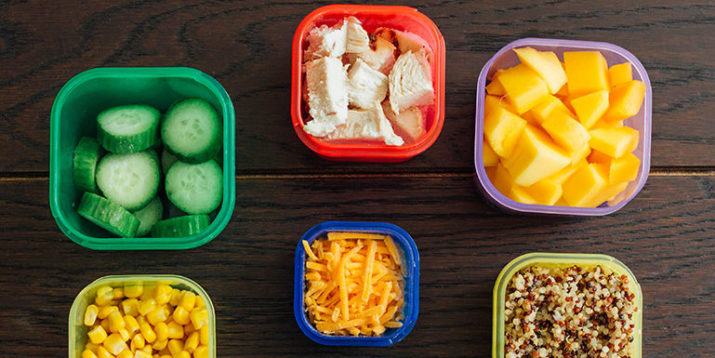 Lunchtime is about to get a whole lot easier and healthier, and more delicious!
Simply combine a few healthy ingredients to make inspired meals that will keep you satisfied all afternoon and help you avoid the infamous 3pm energy slump.
These lunches show exactly how you can build a balanced meal in no time using Portion-Control Containers.
They use a combination of raw and easy-to-cook ingredients that make meal prep fast.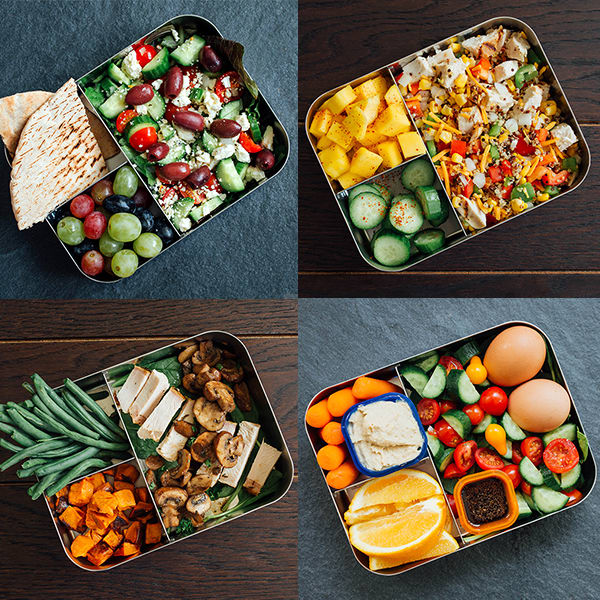 Portion Fix began as the easy, color-coded way to control portions.
It tells you how much fruits, veggies, fats, protein, and carbs you should eat every day, so there is no need for counting calories or deciphering macronutrients.
With Portion Fix, creator Autumn Calabrese fine-tuned how to get the most from these containers with new recipes, strategies, and healthy hacks so that the container system is easier to follow, more effective, and customizable to go with any fitness program and any goal.
Make Healthy Lunches That You Want to Eat
One of the best parts about these containers is that you get to choose what goes in them.
If there's an ingredient below that you don't like, or don't have on hand, simply swap it out for another food in the same category.
Don't have quinoa? How about brown rice or black beans instead? Do you turn up your nose at mushrooms? You can replace them with any other vegetable you prefer.
Not into dairy? Swap cheese for avocado or hummus.
No-Cook Salads and Snacks
Packed with protein, fresh fruit, and crisp veggies, this colorful lunch is as appealing to the eyes as it is to your stomach.
It's a perfect no-cook meal — or several healthy snacks — for people on the go.
Save time by buying pre-cooked eggs, or use this simple technique to hard-boil your eggs in just a few minutes.
What's in our Portion-Control Containers:
1 Green: cherry tomatoes and sliced cucumber
½ Green: baby carrots
½ Green: spinach
1 Purple: medium orange
1 Red: hard-boiled eggs
1 Blue: hummus
1 Orange: balsamic dressing
Put all of these containers together to create this brightly colored salad and healthy snacks or sides.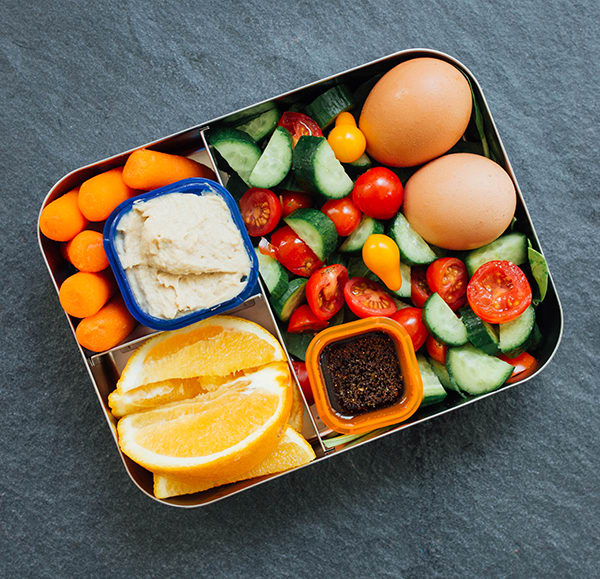 Mediterranean Lunchbox
Give yourself a Mediterranean staycation with this Greek-inspired lunch you don't have to leave the country to enjoy. The best part? It comes with pita.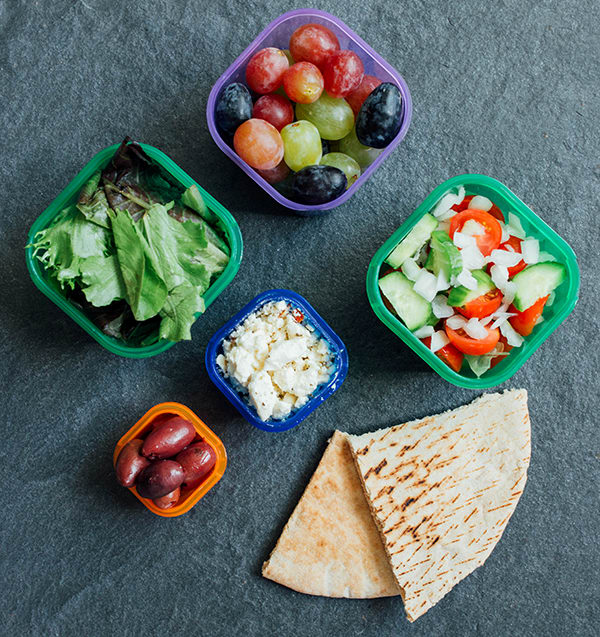 What's in our Portion-Control Containers:
1 Green: mixed greens
1 Green: a mixture of cherry tomatoes, chopped onion, and sliced cucumber
1 Purple: grapes
1 Yellow: whole wheat pita bread
1 Orange: kalamata olives
1 Blue: feta
Free food: balsamic vinegar (not pictured)
Put them together, and you have this tantalizing lunch with fiber-rich pita and healthy fats to keep you feeling full.
You can also stuff the salad ingredients inside the pita bread for a meal you can eat with your hands.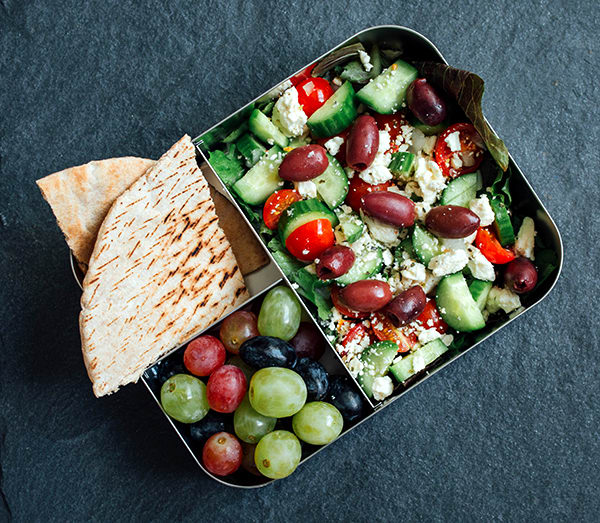 Southwestern Chicken and Quinoa Power Lunch
Use shredded rotisserie chicken breast and leftover quinoa to make this meal-prep lunch in minutes.
It combines our favorite Southwestern flavors with refreshing cucumber and sweet mango.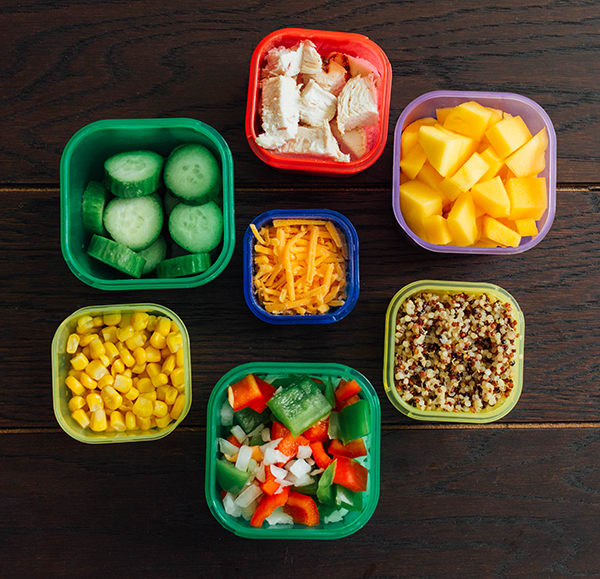 What's in our Portion-Control Containers:
1 Green: mixture of chopped green and red bell peppers and white onion
½ Green: sliced cucumbers
1 Purple: mango
1 Red: boneless, skinless chicken breast
1 Yellow: quinoa
½ Yellow: corn kernels
1 Blue: shredded cheddar cheese
Free food: cilantro, lime wedge (not pictured)
Combine the peppers and onion, chicken, corn, quinoa, and cheese for a bold and colorful salad — no lettuce or dressing needed.
Tuck a wedge of lime in your lunchbox to squeeze over the mango and cucumber slices and give them a light dusting of chili powder (trust us on this one) — you can even mix them together!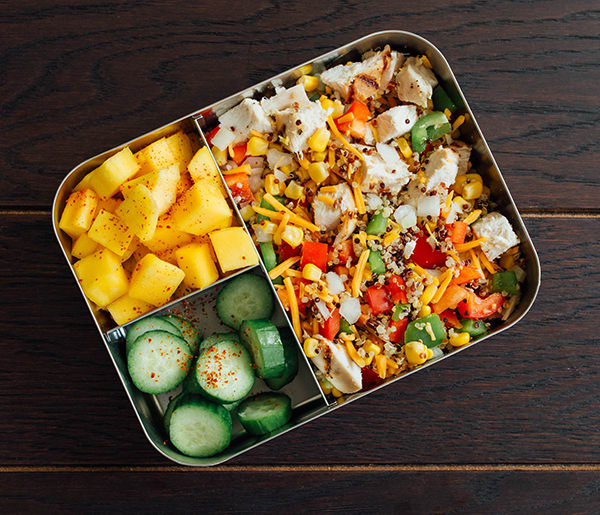 Roasted Turkey Breast and Vegetables
No sad desk lunch here. With a little bit of cooking, you can make a hearty meal that tastes as grand as Thanksgiving dinner. It's easy to prep enough to make several lunches at once.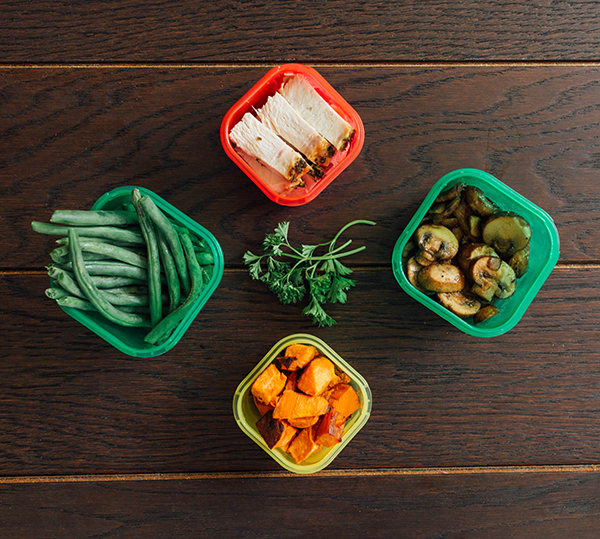 What's in our Portion-Control Containers:
1 Green: steamed green beans
½ Green: sautéed mushrooms
1 Red: roasted turkey breast
1 Yellow: baked sweet potato
2 tsp.: olive oil (not pictured)
Free food: parsley
Buy cooked turkey breast in the deli or prepared foods section of your grocery store, or use this recipe for Brined Turkey Breast.
We served ours on a few leaves of spinach for extra color (if you use a full cup of spinach, you can count an extra Green container for the day!).
Sauté chopped mushrooms in a teaspoon of oil, bake a sweet potato or make Sweet Potato Bites, and steam green beans (you can dress them up with a drizzle of olive oil, lemon zest, and chopped parsley).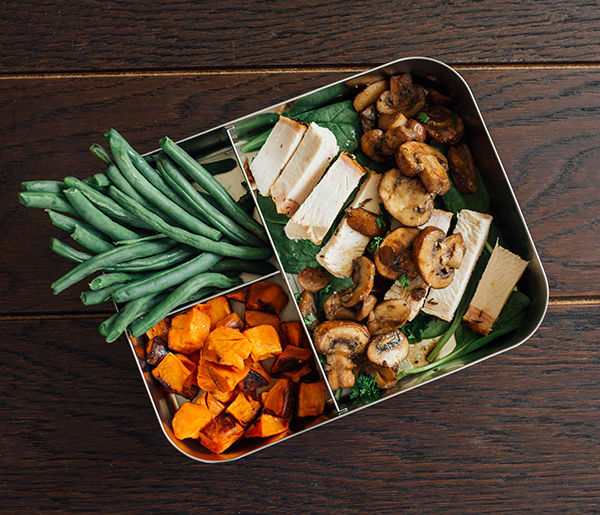 Simple Spaghetti Squash Pasta — and Dessert!
It's hard to believe that a few simple ingredients can combine to make a meal that will leave you feeling full for hours. (Did we mention that it includes chocolate?)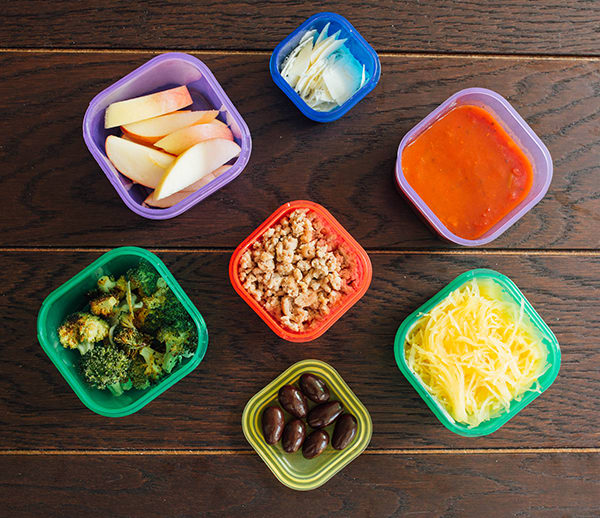 What's in our Portion-Control Containers
1 Green: spaghetti squash
½ Green: roasted broccoli
½ Purple: marinara sauce
½ Purple: apple
1 Red: ground turkey
1 Yellow: chocolate-covered almonds
1 Blue: Parmesan cheese
1 tsp.: olive oil (not pictured)
Roasted spaghetti squash stands in for pasta topped with jarred, all-natural marinara sauce and cooked ground turkey.
We roasted broccoli with a teaspoon of olive oil for about 15 minutes and finished it with shavings of Parmesan cheese (you could sprinkle some of the cheese over the pasta, too).
End the meal with apple slices and chocolate-covered almonds — a dessert we can get behind!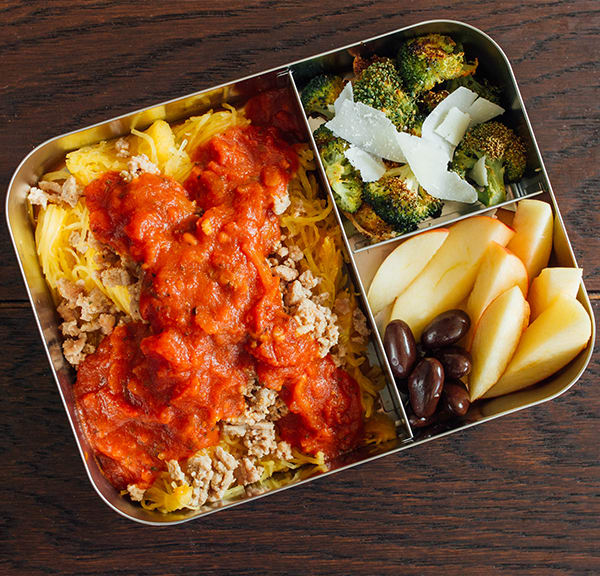 Save