Let Your GAINS Begin With LIIFT MORE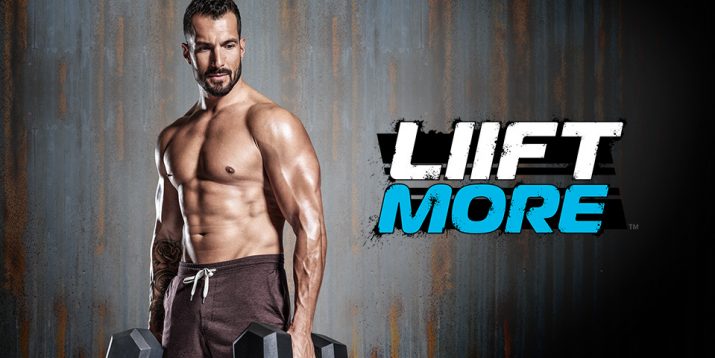 LIIFT4 brought together the perfect balance of approachable strength training and HIIT, making it one of the most popular programs ever on BODi. And you've made one thing clear.
You want MORE.
Super Trainer Joel Freeman heard you loud and clear, and now he's back with the follow-up you've been waiting for: LIIFT MORE.
It's everything you love about the megahit LIIFT4, but this time the focus is on more muscle, more days of lifting, and more moves for even bigger results.
Commit to 35–45 minutes a day, 5 days a week, for 8 weeks to help you build strength, burn major fat, and see a powerful total-body transformation.
What Is LIIFT MORE?
This is a true full-body program made for those who love to lift.
LIIFT MORE pumps up the volume of strength training, mixes in calorie-burning HIIT, and ends every workout with core moves designed to build muscle, lose weight, and get that shredded body in just 8 weeks.
To get the most variety and maximize the effectiveness of each move, you'll need an adjustable bench — a real game-changer for your home gym that can help you see more results in less time.
But the simplicity of LIIFT4 is still at this program's core — no-nonsense moves, perfectly paced, paired with the right combo of classic resistance training and HIIT to help get results for everyone, whether this is your first go at strength training or you're a seasoned lifter.
What Kinds of Workouts Can I Expect From LIIFT MORE?
There are 40 unique real-time workouts in LIIFT MORE with exactly the right amounts of variation and progression to keep your muscles challenged week to week.
You'll go all out 5 days a week for less than 45 minutes a day over the course of 8 weeks.
The program is broken down into 2 phases, 4 weeks each: Phase 1 helps you build strength and mass, and Phase 2 pumps up the volume and intensity with more combinations and reps to get you ripped.
Joel walks you through each move to help you perfect your form and maximize your results from every rep.
In addition to targeting every muscle group with heavy lifting, you'll regularly incorporate total-body HIIT and core-focused burnouts to rev up your fat loss and enhance definition.
As a bonus, Joel developed 20-minute LIIFT Express workouts for when you're tight on time or on the go — or if you really want to go all out, you can challenge yourself to an express workout after a regular session.
Every week, you'll get two rest days to give your muscles a chance to repair and recover fully for the following week.
What Equipment Do I Need?
You'll need a set of light, medium, and heavy dumbbells — keeping a range nearby will help you choose the right weights for each muscle group and increase your load as you gain strength.
Joel also incorporates an adjustable bench — essential for key compound lifts such as the bench press, bent-over row, and step up.
And for added resistance during burnouts on leg days, you can use optional Power Loops.
Who Is LIIFT MORE For?
Anyone who is looking to gain muscle and lose fat or has been clamoring for a strength-training program like Body Beast will want to try LIIFT MORE.
Even beginners can go at their own pace and benefit from Joel's easy-to-follow cues.
You can start with weights that suit your strength level and build from there.
How Do Nutrition and Supplements Fit Into LIIFT MORE?
To really succeed with LIIFT MORE, you'll need a nutrition plan that's as powerful and straightforward as your workouts.
That's why Joel recommends following either 2B Mindset or Portion Fix, two proven nutrition programs that can help you stay on track and reach your goals without counting calories or depriving yourself of the foods you love.
If you're not sure which nutrition option is right for you, visit FindMyProgramTool.com to find out.
Good nutrition is an essential part of your fitness results, and overall health and wellness. When you fuel your body right, it can help you look and feel your best.*
And since Joel really wants you to get more out of every workout, he especially recommends the "Joel Stack."
Start with Energize before your workouts to help sharpen your focus and push through every rep.††
On HIIT days, Hydrate can help replenish electrolytes lost through sweat and improve endurance. Together, they'll help make sure you always perform at your peak.*
To take advantage of the post-workout muscle-building window, reach for Recover after every single session.
Your body will practically beg for it to help jump-start recovery, build lean muscle, ƒ and increase strength.
The important thing is to keep your body nourished throughout LIIFT MORE while giving yourself some flexibility so you don't feel overwhelmed.
Joel is the first to admit he enjoys a good old-fashioned burger now and then.
It might not be the healthiest high-protein meal but it keeps his cravings satisfied without derailing his goals when enjoyed in moderation.
What If I Want to Build Even MORE Muscle?
If your primary goal is to pack on lean mass — what trainers call "bulking" — you'll want to make a few strategic tweaks to your diet.
Joel and team will outline what you need to do to pack on even more muscle and offer specific guidance for following the 2B Mindset or Portion Fix eating plan.
To learn more, visit 2B Mindset or Portion Fix on BODi.
In the "Lose Weight and Build Muscle with 2B Mindset" video, Ilana explains how to adjust your meals for her program.
If you're using Portion Fix to put on muscle mass, watch the "Find Your Calorie Bracket" video and choose "Muscle Building."
How Is LIIFT MORE Different From LIIFT4?
Joel gives you more of what you need to help you get more results, faster.
That means 5 days of workouts instead of 4 (hello, extra leg day), and simple-but-effective sessions that are a tad longer but still only 35–45 minutes so you can get on with your day.
To help maximize your muscle gains, you'll have more days dedicated to lifting.
And while the moves remain uncomplicated, you'll see an uptick in the number of reps and variety. Burnouts and core segments jump from 30 seconds to 45.
Equipment-wise, you'll be using an adjustable bench to expand your exercise options and optimize your muscle-building.
LIIFT4 fans are sure to love everything about LIIFT MORE, but you definitely don't need to do LIIFT4 before jumping into this program.
Who Is Joel Freeman?
Super Trainer Joel Freeman leads live classes regularly on BODi, like the popular BODi BURN CRUSH and LIIFT4 workouts.
He's also the creator of LIIFT4 and 10 Rounds, and co-creator of CORE DE FORCE.
Working for over 15 years in the health and fitness industry, he's currently a National Academy of Sports Medicine (NASM) certified personal trainer and behavior change specialist.
Joel is no stranger to fitness, having worked in almost every capacity within the fitness industry.
He's done it all — from running day-to-day gym operations in Olympia, Washington, to becoming a national presenter to directing Group X programming for the world-famous Gold's Gym Los Angeles franchise.
*These statements have not been evaluated by the Food and Drug Administration. This product is not intended to diagnose, treat, cure, or prevent any disease.
Beachbody Performance Mixed Berry and Strawberry Lemonade Energize, Hydrate, and Orange Recover are not available in the UK or France.
†Magnesium contributes to normal energy-yielding metabolism.
ƒProtein contributes to a growth in muscle mass.
‡Calcium contributes to the normal function of digestive enzymes.
††Contains caffeine, which enhances mental alertness during intense muscular activity.