Who Is YOUv2 Trainer Leandro Carvalho?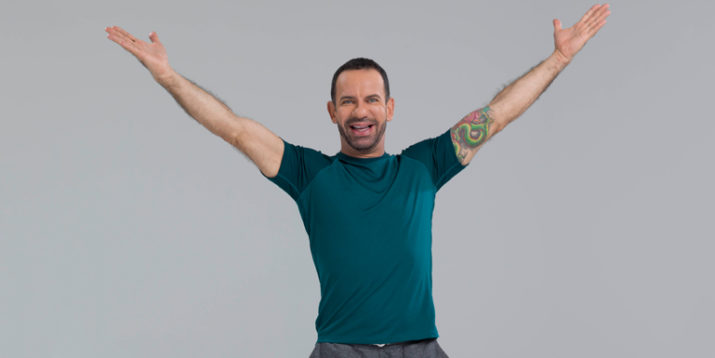 What makes Beachbody's beginner program YOUv2 so enjoyable is the vivacious Super Trainer, Leandro Carvalho.
A professional dancer from Brazil, Carvalho is internationally known for fusing Latin dance with fitness, training Victoria's Secret models, and sculpting the perfect booty with his other Beachbody (now BODi) program, Brazil Butt Lift.
Read more to see what Leandro Carvalho is all about:
A Dance Background
I grew up in Brazil in the 1970s. In a small, colonial baroque town called Sao Joao Del Rey. It is a very beautiful, artistic place.
When I was 12, I starred in a musical with 500 kids and a band. I was the character of the crazy professor and we had a show every week. That's when I started dancing.
At age 15, I moved to Belo Horizonte (Brazil) to go to school for dance. I was performing all the classic ballets, like "The Nutcracker."
That's when I knew dance was what I wanted to do with my life.
I earned a full scholarship to Federal University of Minas Gerais, located in Belo Horizonte. They didn't offer a degree in dance, so I chose to major in physical education and specialize in helping people who are overweight.
While in school, I started teaching aerobics. It was the 1980s, so step aerobics was big. Since I loved dance, I combined dance with fitness, and no one was doing that yet. I created a class called "Diet Dance."
At that time, "diet" was the popular word: Diet Coke, diet this, diet that, so I created "Diet Dance" with the idea to have fun while working out, but not to learn how to be a dancer. To enjoy getting a workout and have some fun. And it was very popular.
New York, New York
I always had a dream to be in a dance company in New York City. So, I was a fitness trainer for policemen and firemen in Brazil and saved money until I could afford to buy a plane ticket.
After three years, I arrived at JFK Airport in New York City. I did not know one word of English. I didn't know where I was going to live; I didn't know anything.
The only thing I knew was that I had an audition at a dance company at 4 p.m. that afternoon. And that was my dream.
I got into the dance company and then eight months later, I got a full scholarship to New York University for a master's degree in dance therapy. After starting work with a non-profit that worked in schools and hospitals, I got my green card and started teaching at gyms all around New York City.
I was teaching something new: Latin aerobics. Dance as fitness. Before this, dance was separate from fitness, so this was a new thing. Along with private clients, I taught at Equinox, Chelsea Piers, all over. I became popular for my dance class called Brazilian Groove.
In the year 2000, Sting's wife, Trudie Styler, hired me to do a special event in the backyard of their Malibu beach house.
There were many celebrities there and New York Magazine ran a story about the event. I also started doing more press gigs for Equinox for my unique classes.
The Model Life
At a party in New York, I met Victoria's Secret model Alessandra Ambrosio, who is also from Brazil.
She was not happy with her personal trainers, who were American, because she wanted to build her butt and her trainers kept her butt small since that was popular in the U.S. at that time.
She knew I was from Brazil, where having a bigger butt was considered sexy, so she hired me. After I started training her, other models started contacting me from all over the world. And, then actresses, like Blake Lively, started calling, so all of this gave me a lot of press.
The "Butt Master"
Around eight years ago, Glamour Magazine took a photograph of a bunch of Victoria's Secret models in white pants showing off their butts, and I'm in the middle.
The headline of the article was "Who is the Butt Master?"
Someone at Beachbody saw the article and invited me to Los Angeles to teach a class. (Beachbody CEO) Carl Daikeler was in the class and he made me an offer to create a program.
I had never done videos and I was very nervous to shoot the videos because of my English. And I'm very free-spirited when I'm teaching classes — I go with the flow, I pick up on the energy of the people.
But video could not be like that. Everything had to be pre-planned. So, it was a challenge, but we did it. We shot in Miami and created 12 videos in one week.
For the first round of videos, the goal was both to lose weight and to build the butt. But the participants lost weight in their butts, too, so it was a challenge.
So, the next year, we shot a second round of videos [Brazil Butt Lift Carnivale on Beachbody On Demand] and made some changes.
We focused on making it fun and changing the shape of the butt — from square to round and lifted, or from pear-shaped to more slim.
And we got great results! The second round was very popular.
I really like this program. It's going to help a lot of people. The cast was a group of wonderful women — so much energy, so beautiful. We had so much fun. Everything went so well.
I'm so happy to help people lose weight and inspire them to work toward that goal. It's so rewarding to me. When you lose a lot of weight, it's like getting your life back.
Some Beachbody programs may be too hard for beginners — especially overweight beginners. Our goal was to create something that's easy to follow, fun, and can open the door to fitness.
I think it's a long haul for someone really overweight to start different habits, to change everything about their lives.
So, we wanted to do something that was about feeling good, because that is the start of the road and that's what will help people stay on track. And this program is something that makes you feel good — it's fun and people enjoy it.
And maybe after doing this program a few times, they will be able to do other Beachbody programs, like Brazil Butt Lift or 21 Day Fix.
YOUv2 just opens the door. It's the first step.
With YOUv2, it's all about the music. Workout videos usually use music that is instrumental, but I thought we should use music with lyrics to make it more fun.
Also, when the dance steps are too difficult, people get frustrated, lose confidence and stop doing it. So, we also made the steps easy to follow so that people can just enjoy the dancing, the music, and how good it feels to move their bodies.
I make working out positive and fun! I motivate my clients by reminding them to stay positive with their thinking.
I tell them, "If you're going to work out with me, you are not allowed to talk bad to yourself." I say that all the time.
You left your home, you came here, you did it, you're here. So, give yourself some credit. You could be sitting on your couch and just feeling bad.
Once you take that first step and press play on the YOUv2 video, nothing should be negative in your head — there's nothing wrong with your weight or your clothes or how you look.
Once you press play, it's all about feeling good and having fun and being proud of yourself that you've made a great choice to do something healthy.
I tell my clients all the time, "Be patient, be consistent, and love yourself."
Save