5 Best Fitness Tools for The Master's Hammer and Chisel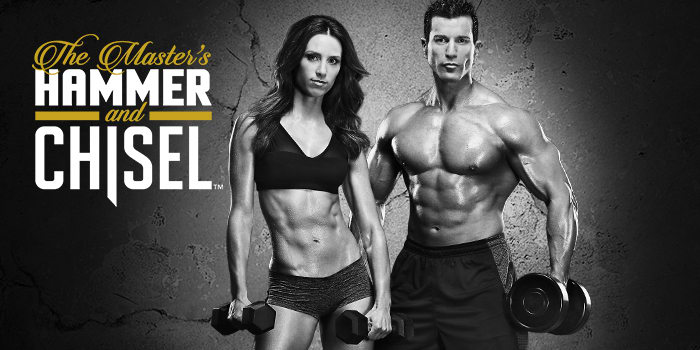 Any trainer who knows his craft will tell you that buying equipment for a specific program doesn't make sense. Not only is it a waste of money, but it also becomes a waste of space when you're done.
That's what makes the following 5 fitness tools so effective — for a minimal upfront investment, you'll have everything you need to tackle not only The Master's Hammer and Chisel but most other fitness programs as well.
If you're looking for the secret to setting up the ultimate home gym, that's it: equipment versatility.
You want gear that allows you to perform the broadest array of exercises possible, so you can pursue any fitness goal imaginable — whether it's slimming down, bulking up, getting ripped, or becoming more athletic and functionally fit.
Think of it this way: By purchasing the following gear, you're not only enabling a 60-day transformation with The Master's Hammer and Chisel — you're also giving yourself the tools you need to stay fit, lean, and strong for life.
And if you want to take the minimalist approach, you don't even need all 5 — you can complete the entire The Master's Hammer and Chisel program with just a stability ball and resistance bands with a door attachment.
5 Best Fitness Tools for The Master's Hammer and Chisel

1. York Flat-to-Incline Bench
Flat benches cost less, but adjustable benches give you access to a far greater number of exercises. We like York's commercial grade Flat-to-Incline Bench because it can take years of abuse and still look new.
Eleven gauge steel construction makes it nearly indestructible, while high density foam makes it comfortable without being too "cushiony." Plus, it's adjustable to six positions.
If the upfront cost of a bench makes you cringe, you can modify the bench exercises in The Master's Hammer and Chisel with the BODi Premium Stability Ball. (York Flat-to-Incline Bench: $399.99, FitnessGiant.com; BODi Premium Stability Ball: $36.95, Beachbody.com)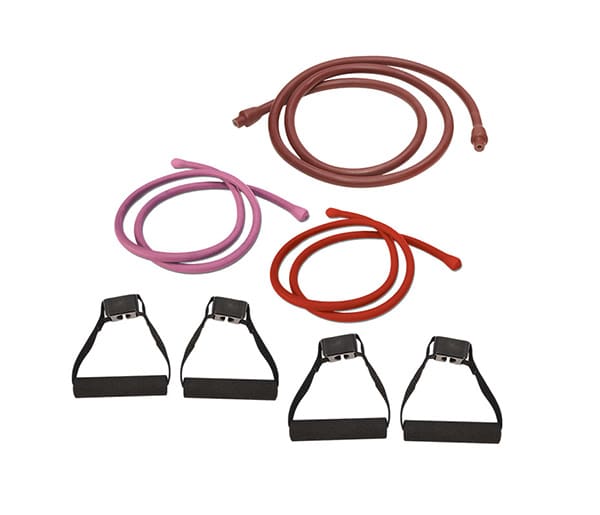 2. B-Lines Standard Kit of Resistance Bands
Make no mistake: Resistance bands aren't just for beginners and older folks; they're for anyone interested in packing on muscle or losing unwanted fat.
Unlike free weights, bands provide resistance through an entire range of motion, forcing you to maintain muscular tension during both the contraction and extension phases of a lift.
The result: More strength in less time.
But don't just take our word for it: In a study of elite soccer players, those who trained their legs with bands built 30 percent more muscle than those who did not.
Our favorite resistance band package is the B-Lines Standard Kit ($39.95, Beachbody.com). Three sets of bands provide three levels of resistance equivalent to 15-, 20-, and 30-pound weights.
Need more of a challenge? Buy the B-Lines Super Kit. It costs the same as the Standard Kit, but includes bands equivalent to 20-, 30-, and 40-pound weights.
Added bonus: If you want to save money, all of the dumbbell moves in The Master's Hammer and Chisel can be modified with resistance bands.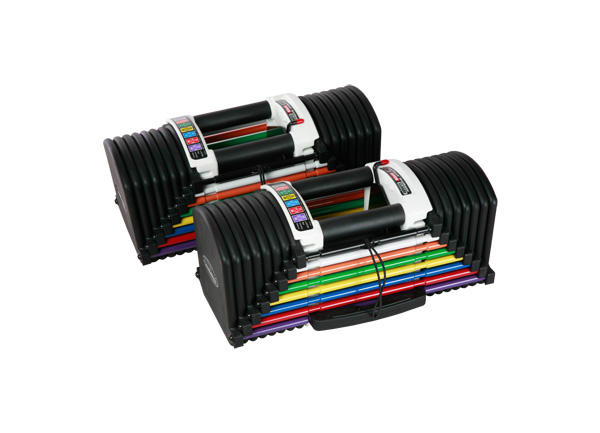 3. PowerBlock Dumbbells
If you want to use dumbbells, you only need a couple of pairs to start your transformation with The Master's Hammer and Chisel. But to optimize your results, you'll need to buy more as you become stronger.
Another option: Purchase "Selectorized" dumbbells. Our favorite brand is PowerBlock. Men should opt for the U90 Stage II model, which allows you to select from 5 to 70 pounds in each hand, replacing almost an entire dumbbell rack for a fraction of the money and space.
Women will be fine with the U90 Stage I model, which adjusts from 5 to 50 pounds in 2.5-pound increments. ($379 and $518, PowerBlock.com)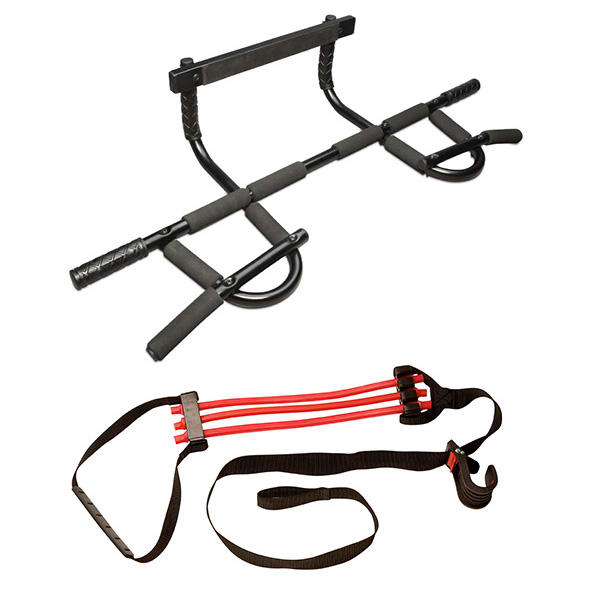 4. P90X Chin-Up Bar
There's a reason why trainers consider chin-ups and pull-ups two of the best exercises you can do: When done right, they hit just about every muscle in your body.
If you have a door frame with sturdy trim, invest in the P90X Chin-Up Bar. Its heavy gauge steel construction can support up to 300 pounds, and its multiple grip positions allow you to perform more exercise variations (and target more muscles) than a basic straight bar.
Plus, it's not permanent — installation and removal take just a few minutes. If you find unassisted chin-ups too difficult, pick up the Chin-Up Max. When secured between the bar and your foot, the adjustable rubber tubing will provide a gentle lift to help you bang out more reps.
Another option: Skip the bar entirely and use your B-Lines resistance bands with a door attachment (available in the Upgrade Kit). That will allow you to perform easier chin-up alternatives — like the lat pull-down — that target the same muscles. (P90X Chin-Up Bar: $59.95; Chin-Up Max: $39.90; B-Lines Upgrade Kit: $9.95 — all available on Beachbody.com).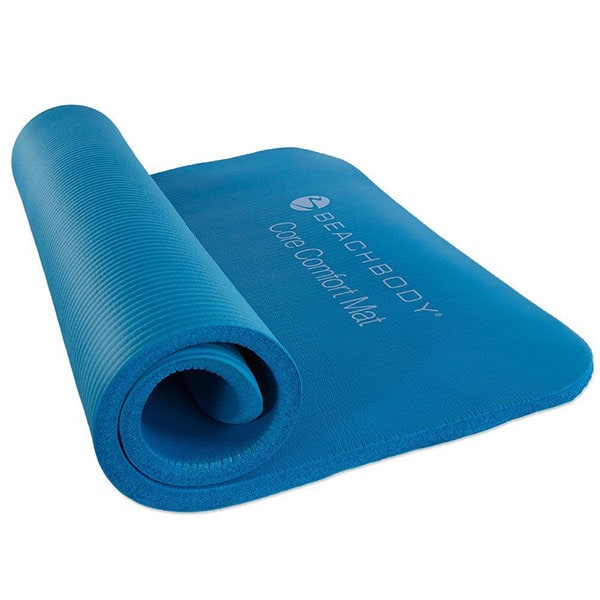 5. BODi Core Comfort Mat
You don't need a fitness mat to tackle The Master's Hammer and Chisel (or any other workout program for that matter), but if you use one, your joints will thank you — especially if you do plyometric exercises.
The BODi Core Comfort Mat puts 15mm of pliable foam between you and the ground, shielding your body from jarring impacts, and your floor from sweat and scuffs. ($29.95, Beachbody.com)