How to Meal Prep for Ultimate Reset (Phase One)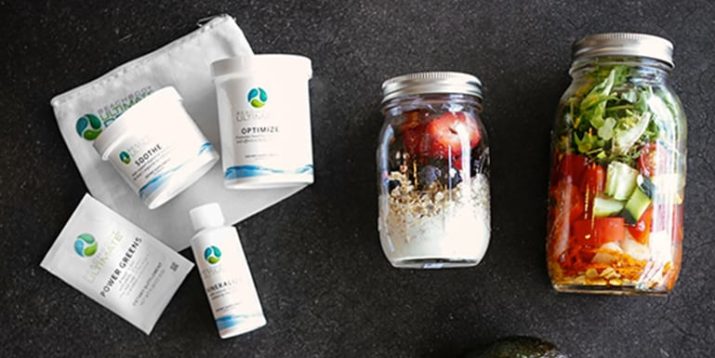 You know the feeling: You fell off the healthy eating wagon, you're not eating well, and you just want to hit the "Reset" button to get back on track.
Whether you're looking to get back on track or you want to take your fitness regimen to the next level, Ultimate Reset is designed to support and restore your body and help you move forward toward reaching your goals.
This unique nutrition program supports digestive and overall health and is designed to improve energy and moods.
Completing the 21-day program also helps active individuals get even more out of their workouts because it helps restore the body and makes it more efficient.
Everything you need to know about Ultimate Reset is detailed in the program guide, which you should read thoroughly before starting, and refer to often throughout the process.
Following Ultimate Reset is an opportunity to focus on your health, and the kinds of foods and drinks you put into your body.
In just three weeks of eating and moving more gently, you can establish new healthy habits that will support your health going forward.
Your mind and body will be doing a lot of restorative work during those 21 days. You'll be eating, drinking, sleeping, breathing, and exercising differently.
As you release toxic habits, you may experience tiredness, irritability, and many emotions. There is a regimen of supplements included in your Ultimate Reset kit and several meals to plan each day.
With so much change happening all at once, it can be helpful to conserve energy and support yourself by preparing your meals ahead of time for days when you'll be too busy to.
To help you get started, here's a sample Meal Prep for Ultimate Reset (Phase One). It's based on the Reset in a Crunch plan towards the end of the Ultimate Reset Program & Nutrition Guide. If you can, we recommend eating as laid out in the main plan, but if you're short on time, this is a great solution. 
Get help with the next two phases of the Ultimate Rest with our other meal prep guides:
How to Meal Prep for Ultimate Reset (Phase Two)
How to Meal Prep for Ultimate Reset (Phase Three)
Here are what your meals look like for the week: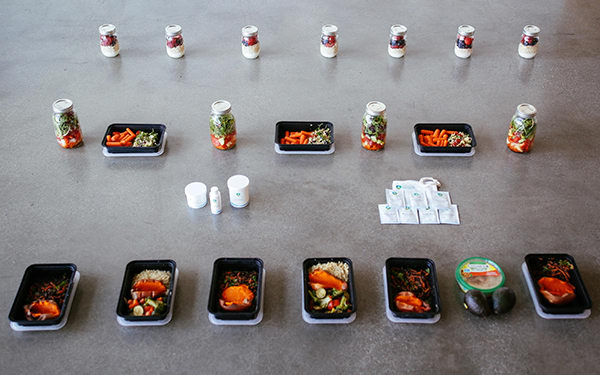 Breakfasts: Overnight Oatmeal Jars
Lunch M/W/F/Sat: Microgreens Salad with Toasted Pumpkin Seeds and Avocado
Lunch T/Th/Sun: Quinoa Salad with Hummus and Baby Carrots
Snack Every Day: Chocolate Vegan Shakeology or Tropical Strawberry Shakeology
Dinner M/W/F/Sat: Lentil Lime Salad with Baked Sweet Potato and Miso Soup
Dinner T/Th/Sun: Stir-Fried Veggies with Baked Sweet Potato and Quinoa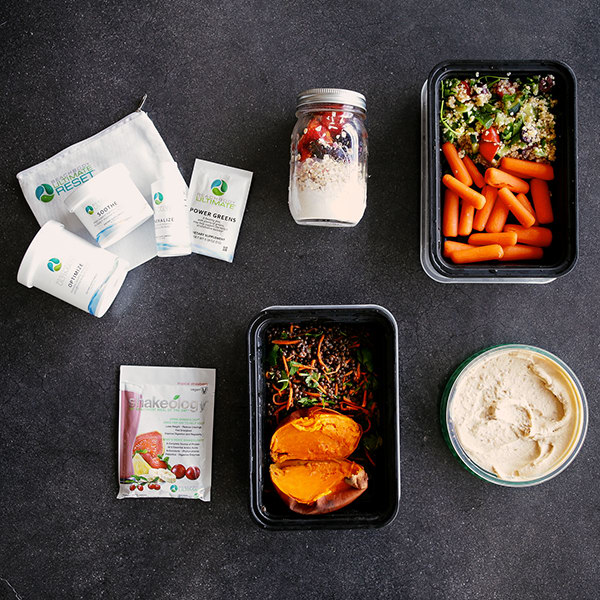 Here are the meals and Ultimate Reset supplements you'll enjoy on T/Th/Sun: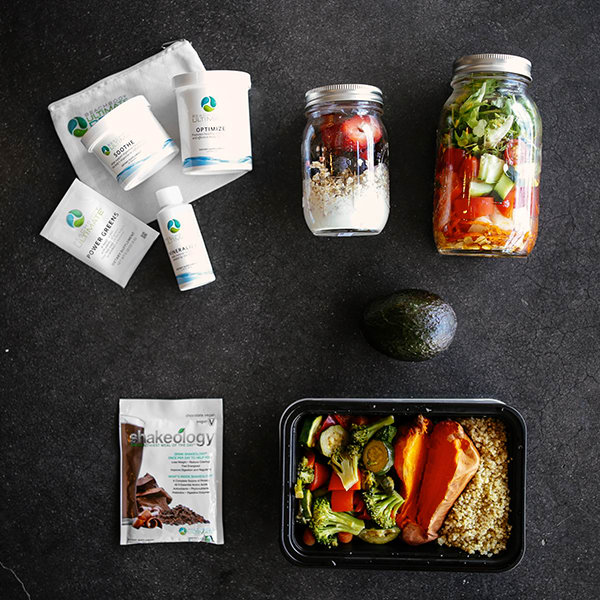 Instructions:
1. Start by baking the sweet potatoes. Preheat oven to 450° F. Wash and scrub seven sweet potatoes. Pierce each one several times with a fork and place them on the center rack in your oven. Bake for 35 to 45 minutes, or until tender when pierced with a fork. Remove from oven and set aside to cool.
2. A rice cooker will make quick work of cooking the quinoa, and will shut off automatically when it's done. If you do not have a rice cooker, cook quinoa on the stovetop using this method. Cook 1½ cups quinoa in 3 cups water and then set aside to cool. To cool it quickly, remove it from the rice cooker or pan and spread it out on a baking sheet to expose more of its surface area.
3. If you bought dry lentils instead of pre-cooked, cook them next. Sort through the lentils to make sure there are no small stones, then rinse them in a colander under cool water. Bring 3½ cups water to a boil in medium saucepan over high heat; add 2 cups dry lentils. Bring the back to a boil, cover the pot, and reduce heat to maintain a gentle boil for about 20 minutes or until lentils are tender. Set aside to cool.
4. Make the vinaigrette. Place ½ cup olive oil, ¼ cup red wine vinegar, 1 tsp. salt, 1 tsp. honey, 2 Tbsp. lemon juice, and 2 tsp. parsley in small bowl and mix well. Set aside.
5. Next build the Microgreen Salad Jars. Rebecca bought pre-chopped and shredded vegetables to save time. Set out four large Mason jars (or food storage containers). Add 2 Tbsp. dressing to the bottom of the jar (if you're not using jars, reserve the dressing until just before serving). To each jar add ¼ cup chopped jicama, ¼ cup shredded carrot, ½ red bell pepper, ½ cucumber, ½ tomato, ¼ cup sprouts, 1 Tbsp. cilantro, and 3 cups salad greens. Cover and place in refrigerator.
6. Make the Stir-Fried Veggies. Add 1½ Tbsp. coconut oil and 1 Tbsp. sesame oil to a large skillet or wok over medium-high heat. Add two chopped carrots and cook, stirring constantly, for two minutes. Add one cup broccoli and continue to cook, stirring frequently, for four minutes. Add one chopped red bell pepper and one chopped zucchini. Cook two to three minutes or until tender-crisp. Turn off heat. Add two Tbsp. Bragg Liquid Aminos, and mix well. Set aside to cool. When stir-fried veggies have cooled, divide them evenly between four food storage containers. To each container add a baked sweet potato and one cup quinoa. Place in refrigerator.
7. Rebecca made her miso soup just before eating it, but you can prepare a large batch for the week all at once. Bring eight cups of water to a boil, then turn off the heat. In a small bowl mix four Tbsp. of miso paste with ½ cup of the hot water until blended. Add the miso and water mixture to the pot along with ½ cup seaweed and four chopped green onions. Let cool. Stir well, then divide evenly between four food storage containers. Place in refrigerator.
8. When quinoa has cooled, prepare the Quinoa Salad. Combine 1½ cups cooked quinoa, 3 Tbsp. olive oil, salt to taste, Bragg Liquid Aminos to taste, and 3 Tbsp. lemon juice in a bowl and stir. Add 1½ chopped tomatoes, 1½ peeled and chopped cucumbers, ⅓ cup chopped olives, ⅓ cup parsley, and 3 Tbsp. mint. Stir gently to combine. Divide evenly between three food storage containers. Place in refrigerator. Serve with ⅓ cup hummus, 10 baby carrots, 8 cherry tomatoes, 10 slices red bell pepper, and 5 green beans.
9. When lentils have cooled, make the Lentil Lime Salad. Combine 4 cups lentils, 4 shredded carrots, 1 cup cilantro, 2 Tbsp. sesame oil, ½ cup lime juice, Bragg Liquid Aminos to taste, salt and cumin to taste. Toss gently to combine. Divide evenly between four food storage containers and place in refrigerator. Serve with a baked sweet potato, and two cups of miso soup.
10. Last, prepare the oatmeal jars. Set out seven pint-sized Mason jars. To each add ½ cup oats, ½ cup yogurt, 1 tsp stevia (if desired), and 1 cup berries. Cover and place in refrigerator. The oats will absorb the yogurt, and will become soft enough to eat. Serve cold.
Ultimate Reset (Phase One) Grocery List 
Produce
12 cups baby salad greens
6 medium carrots (or 2 bags shredded carrots)
2 medium cucumbers
4 red bell peppers
1 cup sprouts (like radish, alfalfa, or broccoli)
2 medium tomatoes
7 small sweet potatoes
1 small jicama (or 1 cup chopped)
1 bunch green onions
1 cup broccoli florets (or 1 bunch broccoli)
1 medium zucchini
1 bag baby carrots
1 bunch cilantro
1 bunch parsley
1 bunch mint
7 cups fresh berries
6 medium limes (or enough for ½ cup fresh lime juice)
4 medium lemons
Dairy
32 oz. plain, unsweetened yogurt
Dry Goods and Deli
3½ cups old fashioned rolled oats
4 cups cooked lentils (or 2 cups dry lentils)
1½ cups dry quinoa
1 container miso paste
½ cup wakami seaweed
⅓ cup chopped Kalamata olives (or about 16 olives)
1 cup prepared hummus
Pantry
Extra virgin olive oil
Extra-virgin coconut oil
Sesame oil
Red wine vinegar
Bragg Liquid Aminos
Maple syrup (or stevia)
Cumin (optional)
Himalayan pink salt
Are you ready for a Reset?  Get your Ultimate Reset kit here!
Photos by Rebecca Gutierrez