Lentils are filling because they are packed with protein and fiber.
This simple preparation is inspired by a recipe in the Ultimate Reset clean eating plan, but you can enjoy this Lentil Lime Salad any time. Serve it as is, mound it atop leafy greens, or pair it with lean protein.
Tip: Learn how to cook lentils here.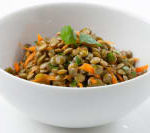 Lentil Lime Salad
Prep Time 5 mins
Cook Time 0 mins
Total Time 5 mins
Ingredients
1 cup cooked green lentils (see Lentils recipe pg. XX)
1 medium carrot , shredded
¼ cup finely chopped fresh cilantro
1½ tsp . sesame oil
2 Tbsp . fresh lime juice
Braggs Liquid Aminos
Himalayan salt (to taste; optional)
¼ tsp . ground cumin (to taste; optional)
Herbal seasoning blend (to taste; optional)
Instructions
Combine lentils, carrot, cilantro, oil, lime juice, Braggs Liquid Aminos, salt (if desired), cumin (if desired), and seasoning blend (if desired) to lentils; toss gently to blend.

Let salad marinate, covered, in refrigerator for 2 hours before serving.
Nutritional Information (per serving):
Calories: 326
Total Fat: 8 g
Saturated Fat: 1 g
Cholesterol: 0 mg
Sodium: 335 mg
Carbohydrates: 49 g
Fiber: 18 g
Sugar: 7 g
Protein: 19 g
Containers
2 Yellow
1 Green
1½ tsp.
If you have questions about the portions, please click here to post a question in our forums so our experts can help. Please include a link to the recipe you're asking about.