How to Meal Prep for Ultimate Reset (Phase Two)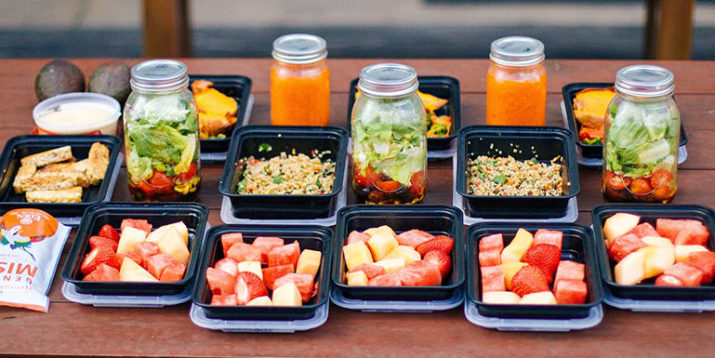 If you have already completed Phase One of Beachbody's Ultimate Reset, congratulations! You're well on your way to a fresh start in your health and fitness journey, and closer to reaching your goals. After just two more weeks of eating and moving more gently, you will have laid a foundation of new habits that will support your health going forward.
In the second week, Phase Two, you'll continue to refine your diet, and will now be eating completely vegan meals (don't worry, we made them delicious). This simple meal prep plan will guide you through making your meals for the next five days. It includes the time-saving menu options listed in the Reset in a Crunch section of the program guide. If you can cook daily, we recommend doing the main plan as laid out in the guide, but if you're short on time, the plan below will get the job done!
Everything else you need to know about Phase Two is detailed in the program guide, which you should have read thoroughly before starting, and continue to refer to often throughout the process. To share your experience with others, ask questions, and get support, join our Ultimate Reset: Phase Two Release Facebook Group.
If you haven't yet started your Ultimate Reset, learn more about this 21-day nutrition program designed to support and restore your body here, and check out our guide for How to Meal Prep for Ultimate Reset (Phase One).
Here are your meals and supplements for the week: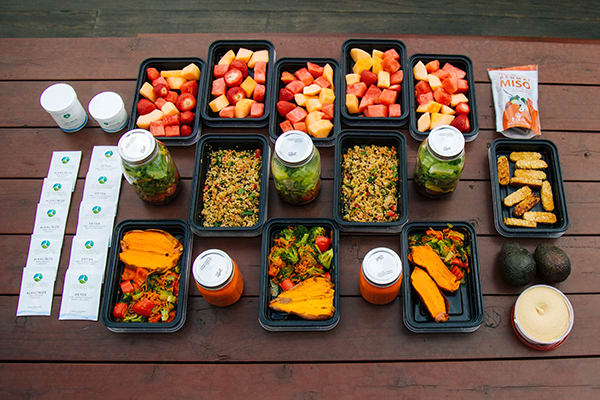 Breakfast M/T/W/Th/F: 3 cups of fresh fruit
Lunch M/W/F: Greek Salad with 2 tsp. pine nuts, ⅛ avocado, and Greek Dressing
Lunch T/Th: Quinoa-Lentil Pilaf with ¼ cup hummus
Dinner M/W/F: Asian Stir-Fry with ½ medium Baked Sweet Potato* and 2 cups Miso Soup (*Our photographer used one small sweet potato)
Dinner T/Th: Sweet Potato and Roasted Red Pepper Bisque with 2 oz. Baked Tempeh and two thin slices of avocado
These are the meals and Ultimate Reset supplements you will enjoy on M/W/F: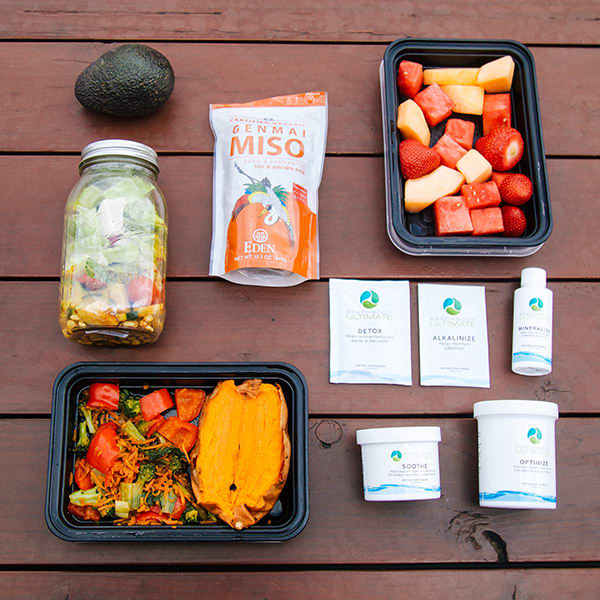 These are the meals and Ultimate Reset supplements you will enjoy on T/Th:
Instructions:
1. Start by baking the sweet potatoes. Preheat oven to 450°F. Wash and scrub 2 medium (or 3 small) sweet potatoes. Pierce each one several times with a fork and place them on the center rack in your oven. Bake for 35 to 45 minutes, or until tender when pierced with a fork. Remove from oven and set aside to cool. Reduce oven temperature to 350°F.
2. A rice cooker will make quick work of cooking the quinoa, and will shut off automatically when it's done. If you do not have a rice cooker, cook quinoa on the stovetop. Cook ½ cup quinoa in 1 cup water and then set aside to cool. To cool it quickly, remove it from the rice cooker or pan and spread it out on a baking sheet to expose more of its surface area.
3. If you bought dry lentils instead of pre-cooked, cook them next. Sort through the lentils to make sure there are no small stones, then rinse them in a colander under cool water. Bring 1¼ cups water to a boil in medium saucepan over high heat; add ½ cup dry lentils. Bring the water back to a boil, cover the pot, and reduce heat to maintain a gentle boil for about 20 minutes or until lentils are tender. Drain excess water if needed. Set aside to cool.
4. Next make the Baked Tempeh. Combine 2 Tbsp. apple cider vinegar, 2 Tbsp. Bragg Liquid Aminos, 1½ tsp. sesame oil, 1½ tsp. pure maple syrup, and ½ clove chopped garlic in a small bowl; mix well. Slice 4 oz. of tempeh into ½-inch strips, and place them in a shallow dish; pour marinade over tempeh. Marinate for 1 hour in the refrigerator, turning once to get marinade on both sides. Place dish in oven and bake for 10 to 15 minutes on each side. Remove from oven and set aside to cool.
5. To make the Sweet Potato and 
Roasted Red Pepper Bisque, bring 2 cups of water to a boil in a saucepan over medium heat. Add two medium sweet potatoes (peeled and cubed) and cook for 5 to 7 minutes, or until soft when pierced with a fork. Drain the potatoes and set aside. While the potatoes cook, roast a bell pepper under a broiler or on the flame of a gas stovetop. Turn the pepper frequently until its skin is evenly charred. Place the pepper in a medium bowl covered with a kitchen towel for 10 minutes. The pepper's skin should now be easy to remove using your fingers under running water. Slice the pepper in half, remove the seeds and chop into ½-inch cubes (Reserve half of the bell pepper for future use.). Place cooked sweet potatoes, ½ of the roasted bell pepper, 2 tsp. finely grated ginger, 3 tsp. extra-virgin olive oil, 4 tsp. miso paste mixed with 4 Tbsp. hot water, and 2 cups vegetable broth in a blender or food processor in 2 or more batches if necessary. Cover the lid with a kitchen towel and blend until smooth. If the consistency is too thick, add a little more water. Add Bragg Liquid Aminos and herbal seasoning blend to taste. Divide evenly between two pint-sized Mason jars, and set aside to cool. When cool, seal jars and place in refrigerator.
7. Our photographer made her miso soup just before eating it, but you can prepare a large batch for the week all at once. Bring 6 cups of water to a boil, then turn off the heat. In a small bowl, mix 3 Tbsp. of miso paste with ½ cup of the hot water until blended. Add the miso and water mixture to the pot along with 6 Tbsp. dried wakame seaweed and three chopped green onions. Let cool. Stir well, then divide evenly between four food storage containers. Place in refrigerator.
8. Make the Asian Stir-Fry. Heat 3 Tbsp. extra-virgin coconut oil in a large skillet or wok over high heat. Add 6 cloves of chopped garlic, 3 Tbsp. grated fresh ginger, and 1½ medium carrots (peeled and cut into thin diagonal slices). Cook, stirring constantly, for 1 minute. Add 1½ cups broccoli florets and cook, stirring frequently, 4 to 5 minutes more. Add ¾ chopped red bell pepper and 3 small heads of bok choy chopped into bite-sized chunks. Reduce heat to medium. Cook until tender-crisp, about 2 to 3 minutes more. Turn off heat. Add 4½ tsp. sesame oil and 3 Tbsp. Bragg Liquid Aminos and mix well. Set aside to cool. When cool, divide evenly between three food containers. Add ½ medium (or one small) baked sweet potato to each container and place in refrigerator.
9. To make the Greek Dressing, place ½ cup extra-virgin olive oil, ¼ cup red wine vinegar, 1 Tbsp. balsamic vinegar, ¼ cup fresh lemon juice, 2 tsp. dried oregano, 1 clove crushed garlic, 1 tsp. Dijon mustard, ½ tsp. Himalayan salt, 1 tsp. herbal seasoning blend, and 2 Tbsp. fresh parsley in a blender or food processor; cover and blend until smooth. Transfer dressing to a jar or other container and store in refrigerator. Stir before serving. If the dressing solidifies when cold, hold at room temperature for 30 minutes before serving. This recipe makes eight servings, 2 Tbsp. each.
10. Next, build the Greek Salads. We made ours in three Mason jars, but you can use any suitable container. Fill the bottom of each jar with 2 Tbsp. of Greek Dressing. In each jar, layer one medium cucumber (peeled and sliced), one medium tomato cut into wedges, five sliced kalamata olives, and a head of chopped romaine lettuce. Seal jars and place in refrigerator. If you are using another type of container, add the lettuce before the other ingredients, and keep the dressing separate until you are ready to serve.
11. When the quinoa and lentils are cool, make the Quinoa-Lentil Pilaf. Heat 3 tsp. olive oil in saucepan over medium-high heat. Add 3 tsp. olive oil, 1 diced carrot, 1 diced stalk celery, ½ chopped onion, ½ diced red bell pepper, ½ tsp. smoked paprika, ¼ tsp. ground cumin, ½ tsp. ground turmeric, and cook, stirring frequently, for 5 minutes. Add 1 ½ cups quinoa, ½ cup lentils, 3 tsp. grated lemon zest, 3 tsp. fresh lemon juice, and ¼ cup parsley. Remove from heat and set aside to cool. When cool, divide evenly between two containers and place in refrigerator. Fluff with a fork before serving. Serve with ¼ cup hummus.
12. Chop cantaloupe, watermelon, and strawberries. Combine in a large bowl, cover with plastic wrap, and place in refrigerator, or divide evenly between five containers.
GROCERY LIST
Fruits and Vegetables
1 medium Watermelon
1 medium Cantaloupe
5 cups strawberries
2 avocados (technically you only need one, but once opened, they tend to spoil quickly)
4 medium or 6 small sweet potatoes
1 head garlic
1 knob fresh ginger
1 small onion (white or yellow)
3 stalks green onions
3 medium carrots
1½ cups broccoli florets (or 1 small head broccoli)
3 red bell peppers (or two, see tip below)
3 small heads bok choy
3 heads romaine lettuce
3 medium cucumbers
3 medium tomatoes
1 bunch celery (or 3 stalks)
1 bunch parsley
⅓ cup fresh lemon juice (or 3 lemons)
Packaged or Bulk Items
16 oz. vegetable broth
½ cup dry quinoa (or 1 ½ cups cooked)
¼ cup dry lentils (or ½ cup cooked)
4 oz. tempeh
¼ cup miso paste
6 Tbsp. wakame seaweed
2 Tbsp. pine nuts
15 pitted kalamata olives
1 package prepared hummus
Pantry
Bragg Liquid Aminos
coconut oil
sesame oil
extra virgin olive oil
olive oil
balsamic vinegar
red wine vinegar
apple cider vinegar
pure maple syrup
Dijon mustard
smoked paprika
ground cumin
dried oregano
ground turmeric
herbal seasoning blend
Tip: If you buy three bell peppers, there will be ¾ bell pepper left over. If you prefer to buy two peppers, substitute the remaining half roasted pepper from the Sweet Potato and Red Pepper Bisque for the half raw bell pepper in the Quinoa and Lentil Pilaf. Instead of cooking the roasted bell pepper in the first step, add it at the same time as the quinoa and lentils.
Are you ready for a Reset?  Get your Ultimate Reset kit here, and save up to $81!

Photos by Rebecca Gutierrez