Step-by-Step Guide to Delicious Homemade Soup
Canned soup is just a crank away, but learning how to make soup from scratch is even better.
Homemade soup tastes unbeatably fresh and flavorful and you call the shots on what goes in it.
Planning to put soup on the menu?
We can help streamline the cooking process with this easy 5-step formula!
Pro tip: If you're short on time, you can make delicious homemade soup in an Instant Pot, too.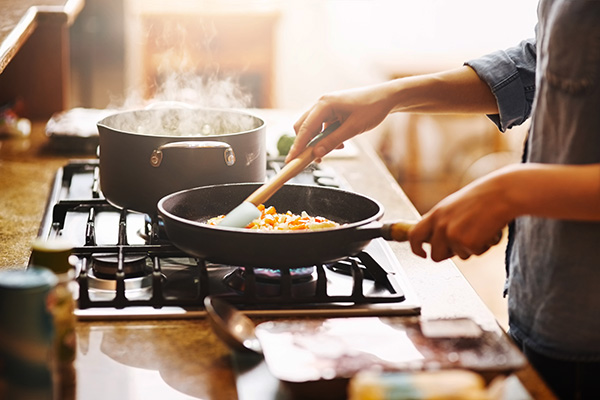 Step 1: Brown the vegetables, herbs, and spices
Choose your starting vegetables — standard picks include onion, carrots, garlic, and celery. In a large soup pot, saute these veggies along with some butter or olive oil.
Flavor the soup with a light pinch of salt plus herbs and spices.
Some classic ideas for getting started:
Chicken & beef soups: basil, rosemary, thyme, oregano, marjoram, sage, bay leaf, parsley, savory
Bean or lentil soups: chili powder, cumin, curry powder, garlic, onions, sage
Tomato soups: basil, bay leaf, chives, fennel, garlic, oregano, rosemary, tarragon, thyme
Step 2: Cook the protein
Time to cook your chicken, beef, or seafood along with the vegetables, herbs, and spices.
The meat doesn't have to fully cook since it'll keep simmering in the pot.
An important distinction when learning how to make soup is that if you're using a plant-based protein like tofu, beans, lentils, or chickpeas, then those go in at the simmering step (see Step 4).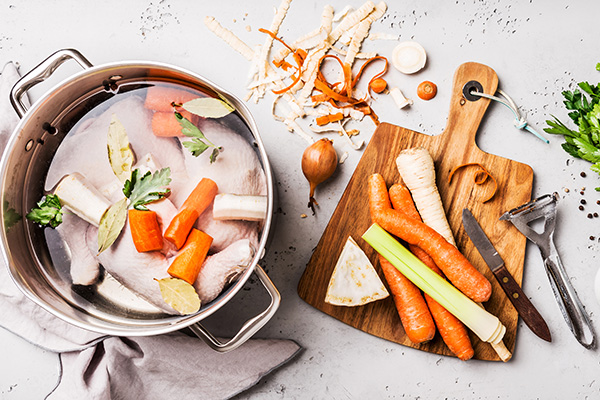 Step 3: Add your broth
Choose a base of chicken, beef, or vegetable broth. Feel free to mix in other bases like tomato sauce or puree, or fish stock.
"You can make any soup creamier without adding a ton of calories by adding milk or almond milk with the cooking liquid," says Kirsten Morningstar, BODi senior manager of culinary content.
Should you make broth from scratch?
"Homemade broth isn't necessary but worth the effort!" says Morningstar.
"I like to keep a freezer bag of kitchen scraps like bones from cooked chicken or beef, onions and garlic skins, the discarded bits of celery and carrots and fresh herbs that are past their prime. When it's full, toss everything in a stockpot with water and boil between 2 and 24 hours."
Is it possible to make soup from water?
"You don't need broth to make a great soup. You can use water and staples from your pantry," says Morningstar.
"Add flavor with sauteed aromatic ingredients (onions, garlic) and amp up the seasoning with soy sauce or Worcestershire sauce. Add umami with mushrooms miso paste or tomato paste. Spices like curry powder, ground ginger, and cumin can wake up a simple soup. Or, you can squeeze some lemon, sprinkle fresh herbs or add a few drops of sherry vinegar before serving," she explains.
Step 4: Simmer remaining vegetables and grains
For filling soup, Morningstar advises, "My go-to ingredients are beans or lentils of any variety. They're high in fiber and have enough protein to make any soup more filling. One of my favorite ways to make filling soup is to add a ton of veggies!"
Load up your soup pot with hearty chunks of carrots, sweet potatoes, beans, corn, squash, grains, whole-grain pasta, and whatever else you prefer.
As mentioned above, consider the cooking time of these ingredients before you add them.
At this stage, you sit and simmer. Maybe give the pot an occasional stir.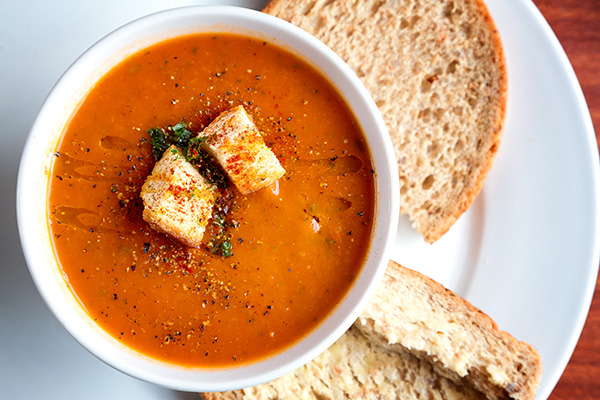 Step 5: Taste, adjust, and garnish!
Soup's almost done — taste it and add more salt if needed.
Perhaps you'll notice that your grains soaked up too much liquid, and you may need to top off the pot with broth or water.
For vegetable-only soups, this is when you decide to puree (or not).
Another option: Take out half (or a quarter or so) of the soup, puree it, then pour back into the pot. This way, your soup is a little thicker, but you still get the texture of the chopped vegetables.
Creamy, pureed soups are easy to eat and best made with seasonal vegetables, like Spicy Butternut Squash Soup for the Fall and Melon Mint Soup for the summer.
Finally, if the soup is to your liking, sneak in a fresh squeeze of lemon and get ready to get your sip on!
If you decide you still want structured recipes, head over to 25 Healthy Soup Recipes to score ideas for every season.
Mistakes to Avoid
Before you go reaching for your soup spoons, let's go over a few common soup slip-ups to avoid.
Learning what not to do is as important as learning how to make soup.
Mistake 1: Adding ingredients all at once
This can lead to overcooking some vegetables while undercooking others. To achieve perfectly cooked soup, layer the ingredients.
Sauteed aromatics (onions, garlic) go in first, then your liquids, proteins, and other vegetables.
Cooking time for veggies depends on the vegetable type and how big or small you've chopped them.
Generally speaking, add carrots, potatoes, and squash in the last 30 minutes. Add broccoli, cauliflower, beans, or peas with 10 minutes to spare.
Mistake 2: Adding pasta and grains too early
This is related to the first mistake and can result in mushy and overcooked pasta and grains.
An easy way to prevent this is to cook pasta and grains separately, then scoop them into the soup when ready to eat.
This strategy works well, particularly if there lots of leftover soup; it prevents the pasta from sitting in broth for too long and getting soggy.
While it's trickier to cook grains in the soup, it's doable! Remember to add more liquid into the pot.
Then, add the grains with just enough time to cook. Keep in mind this is different depending on the grain.
Barley or wild rice can take up to an hour. Brown rice can go in with about 25 minutes remaining, and pasta only needs about 10 minutes.
Mistake 3: Adding too much salt
As soup cooks, some of the liquid will evaporate, concentrating the saltiness of your ingredients.
To prevent over-salted soup, add just a small amount of salt to season ingredients at the start. Once the broth (another salt source) is in, taste and adjust accordingly.
"If you're watching your sodium intake, it's wise to season soup just before serving. And try to avoid adding other high-sodium ingredients," says Morningstar.
"Canned beans or veggies can add a lot of sodium to a dish, which can be reduced by rinsing in a strainer before adding to the pot. If you over season your soup, adding unsalted liquid, like water, almond milk, or lite coconut milk will help dilute it," she adds.
Mistake 4: Boiling instead of simmering
Slow and simmer-y wins the soup race.
A rolling boil is too aggressive for soup-making and can break down your vegetables and toughen up your meat.
A low simmer helps draw out the natural flavors of your soup ingredients, so be patient.
Mistake 5: Forgetting to add garnish
We tend to eat with our eyes as much as our mouths, so don't neglect the garnish.
Elevating your soup is as easy as a sprinkle of fresh herbs, a dash of fresh-ground pepper, a pinch of cheddar cheese, or a handful of crispy croutons.