8 Tips for the Best Grilled Salmon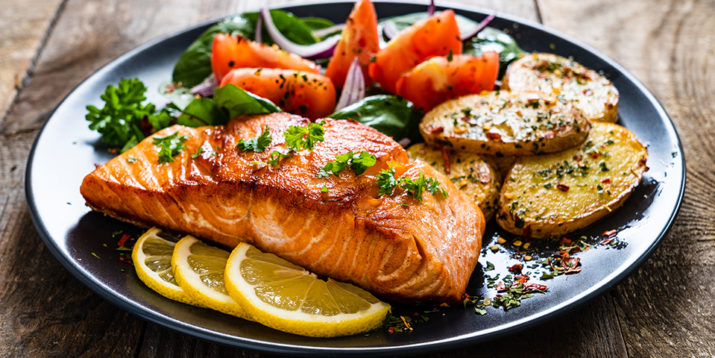 There are plenty of opportunities to show off your grilling prowess with burgers, brats, and hotdogs, but we suggest branching out and learning how to grill salmon this year.
There's plenty to love about grilled salmon.
Salmon is a meatier fish, which means it holds up well to the higher temperatures of the grill than more delicate white fish.
It's also easy to infuse flavor into salmon fillets with various methods (we'll get to those in a minute).
No matter what flavor you choose, you need to have the steps down.
Here's your guide to how to grill salmon that's perfectly moist and flaky.
1. Choose the right salmon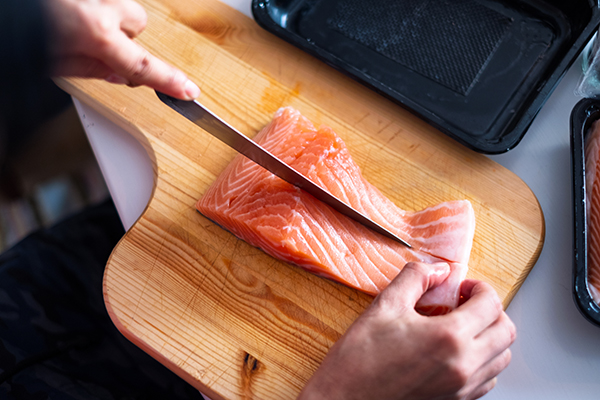 Ashley Nader, R.D.N., founder of Be Well by Ashley Noelle, suggests trying to find a wild-caught salmon, ideally from a local fish market.
Wild salmon fillets tend to have less fat than farm-raised salmon.
Although farm-raised salmon has slightly higher heart-healthy omega-3 content than wild salmon, it also has significantly more omega-6, a less healthy fat.
2. Decide how you're going to cook it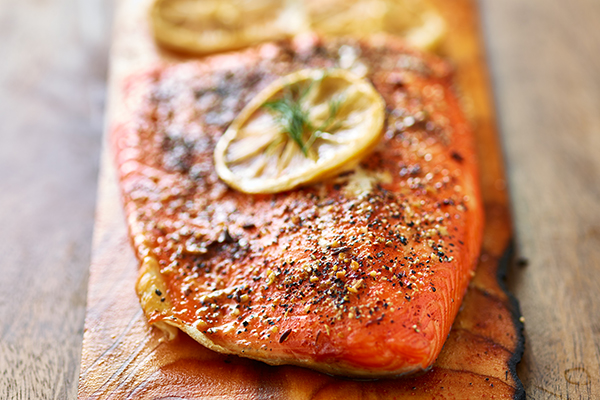 Specific salmon recipes require some planning.
If you want to cook your salmon on planks, don't forget to soak them in water for at least an hour before placing the plank on the grill,  says Holly McKee-Clark, former culinary specialist at BODi.
If you're curious about using planks, try our Cedar Plank Salmon with Maple Glaze.
If your salmon filets don't have skin, and you're not using a plank, use foil so you're not placing the fish directly on the grill.
3. Clean your salmon and pat dry
When you're ready to start prepping your salmon, Nader recommends rinsing it in the sink and patting completely dry before marinating or seasoning.
It's not a step you want to skip, either, if you're working with salmon with the skin.
The filets have to be completely dry to get a nice crispy skin, she says.
4. Clean your grill
Scrape down your grill before placing your salmon, even if you're using foil packets.
It's better to do the work upfront than to lose a crispy salmon skin or fight with a foil packet because it sticks to the grill.
5. Flavor your salmon
If you're going for a marinade, you'll need to add more prep time.
Nader suggests adding the marinade to the fish and place it in the fridge for a few hours before grilling.
Her preferred marinade combines coconut aminos (a gluten-free soy sauce substitute) and honey to balance the aminos' tanginess.
But you can also sprinkle the salmon with salt and spray with oil, then let it rest at room temperature for 30 minutes before grilling, says McKee-Clark.
This prep helps ensure the salmon cooks evenly.
6. Preheat and oil your grill
You should set a gas grill between 450-500° F for salmon.
If you're working with charcoal, let the grill preheat for about 20 minutes before placing your salmon.
Oiling your grill reduces the risk of your fish sticking to the slats.
7. Grill your salmon
Finally, this is where the magic happens. If you're using salmon fillets with the skin, there's no need to flip, says McKee-Clark.
You will need to choose the Goldilocks location on your grill for the best results, though.
"Choose a spot on the grill that's equidistant from the hottest and coolest part of the coals," she suggests.
You'll need to flip fillets with the skin removed, but that means you have the opportunity to brush a flavorful marinade on both sides.
(We love the citrus and spice in our Grilled Salmon with Orange Marinade recipe.)
The cooking time depends on how thick your fillets are, but you don't need a timer.
You can also cook it until the filet flakes off with a fork, explains Nader.
8. Let your salmon rest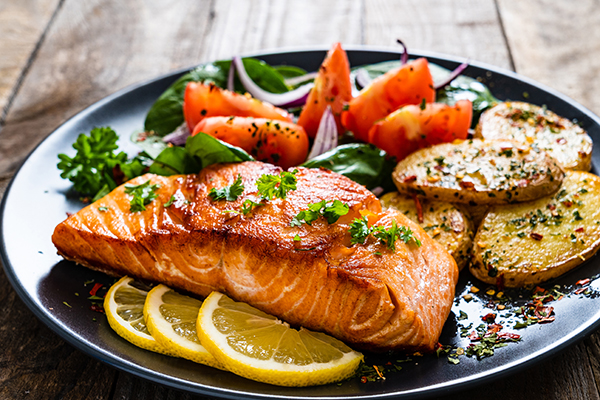 However you like your fish cooked, McKee-Clark suggests tenting it with aluminum foil after you've removed it from the grill.
Tenting helps ensure that the meat has a chance to rest and ensures even doneness.
Once it has reached a level of doneness with which you're happy, you can add additional flavorings.
McKee-Clark likes to use "either a combo of fresh dill and lemon juice, or miso paste, soy sauce, and fresh ginger," which she adds just before serving.
Looking for more expert cooking tips and nutrition information?
Head over to BODNutrition.com and learn how to eat healthy for the long term with the help of our two nutrition programs, 2B Mindset and Portion Fix.