Autumn Calabrese's Meal Prep Ideas for a Busy Day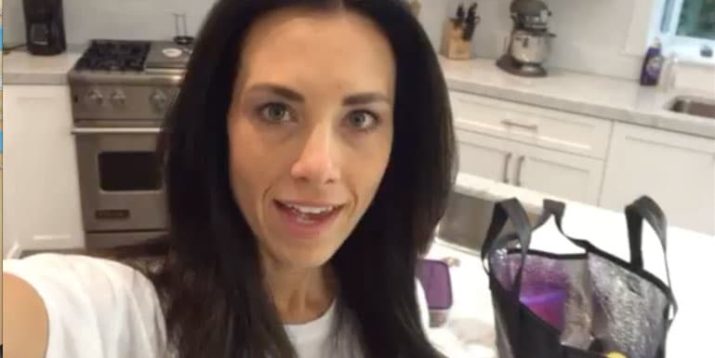 Ever feel like those elaborate meal prep ideas and full meal prep menus we share with you are meant for people with far more free time than you have?
What if, instead, you could take five minutes in the morning to throw together a few healthy meals to get you through your day and help you stay on track with your nutrition?
It's possible, and Autumn Calabrese will show you how she does it.
But, I'm Too Busy To Meal Prep
We've all had days when we feel like we can't even find a moment to catch our breath, let alone squeeze in a workout or sit down for a meal.
We bounce from appointments to meetings to errands with almost every minute scheduled down to the wire.
Sure, those days can be exhilarating, but if you leave your house one minute late in the morning, your whole day is thrown off – and your kids really don't want to be picked up late from school (again).
On days like those, making time for meal prep might be the very last thing on your mind. In fact, it might not appear on your to-do list at all. Who has time to worry about eating healthfully when you can barely find time to eat at all?
The answer: Everyone. If you can spare just five minutes, you have all the time you need to put together a nutritious, power-packed meal. Don't believe us? Then take it from Autumn Calabrese.
The creator of 21 Day Fix, Country Heat, and The Master's Hammer and Chisel is no stranger to an overloaded schedule.
Between meetings at BODi Headquarters, on-camera workouts, and catching her son's after-school activities, Autumn's day is a sprint from start to finish.
To keep herself on top of her game, she has mastered the art of super-fast, super-healthy meal prep ideas. If she can do it, so can you!
This is What's in Autumn's Meal Prep:
POST-WORKOUT
Oatmeal – 2 Yellow Containers
LUNCH
Salad with 1 cup kale, ½ cup tomatoes, ½ cup bell peppers, 2 Tbsp. chopped walnuts, and ¼ cup homemade guacamole – 2 Green, 1 Orange, 1 blue
6 oz. chicken breast – 1½ Red
SNACKS
Shakeology blended with a large banana – 1 Red, 2 Purple
1 cup watermelon – 1 Purple
Don't have Shakeology yet? Get all of the Shakeology flavors here.
How to Meal Prep in Minutes
What do you already have in the fridge that can become a meal? It doesn't have to be gourmet, it just has to get you through a busy day.
Do you have leftover rice or veggies? Bread and peanut butter? Some cooked chicken?
Can you quickly assemble a simple salad while oatmeal cooks on the stove? (The answer is yes.)
Of course, if you have set aside a few minutes on the weekend to make a big batch of quinoa (you can do it in a rice cooker!), hard-boil eggs, or chop some veggies you'll have the beginnings of many meals.
If you have time to make it to the store, you can stock up on things like canned tuna, hummus, canned beans or lentils, rotisserie chicken, or fill your fruit bowl, you'll have plenty of foods on hand that you can quickly pack up for meal prep.
More Fast Meal Prep Ideas
Think about it: If you don't meal prep, how much time will you spend at the drive-through, getting takeout, running to the store after work for a few things?
Ultimately, setting aside an hour or two on the weekend, or a few minutes at a time in the morning for meal prep will save you time and money.
Here are more tips to get started with meal prep, some terrific no-cook snacks and lunches, and other meal prep ideas we love.