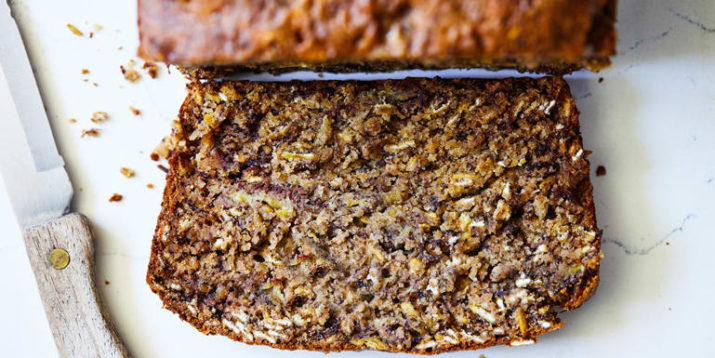 When baking soda and baking powder entered the market at the end of the 18th century, they paved the path for a newly popularized type of baking: quick breads.
Prior to this, yeast was the primary leavening agent for baked goods. And while yeast is still used today, it typically takes much longer for dough to rise.
Baking soda and baking powder became popular not only because of their speed, but also because they tend to produce uniform, reliable baked goods.
There are many types of quick breads out there, some of which include biscuits, scones, and brownies.
But let's not forget what could be the most iconic one of all: banana bread.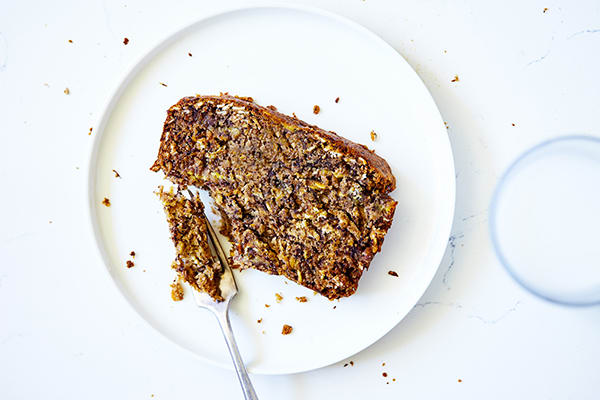 Not only is banana bread a great way to use up old bananas, but it's also a great not-too-sweet treat to have on hand when cravings hit.
This recipe for Gluten-Free Banana Bread is sure to become one of your all-time favorites. Thanks to a combination of almond flour, gluten-free flour, and rolled oats, this recipe is everything you'd expect — without the gluten.
And because this recipe calls for a generous amount of mashed bananas, it makes for a moist, decadent loaf that doesn't require heaps of oil. It's perfectly sweet and spiced just right.
Very ripe (i.e. old) bananas are best for recipes like these, so make sure you hang on to all your speckled bananas.
That said, if all you have are under-ripe bananas, you can help them ripen faster by placing them in an old paper bag.
Or if you're in a pinch, you can pop them in the microwave for a minute or so.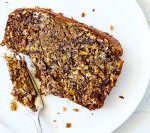 Gluten-Free Banana Bread
This Gluten-Free Banana Bread is moist, perfectly sweet, and spiced just right. It's the perfect treat to grab when cravings strike.
Prep Time 20 mins
Cook Time 48 mins
Total Time 1 hr 8 mins
Servings 12 servings, 1 slice each
Calories 274 kcal
Ingredients
1¼ cups almond flour
1¼ cups gluten-free all-purpose flour
1¼ cups old-fashioned rolled oats, gluten-free
½ tsp. sea salt (or Himalayan salt)
2 tsp. baking soda
¾ tsp. baking powder
½ tsp. ground cinnamon
6 large ripe bananas, mashed
1 tsp. pure vanilla extract
1 large egg, lightly beaten
3 Tbsp. extra-virgin organic coconut oil, melted
½ cup pure maple syrup
¼ cup unsweetened almond milk
Nonstick cooking spray
Instructions
Preheat oven to 350° F.

Combine almond flour, flour, oats, salt, baking soda, baking powder, and cinnamon in a large bowl; mix well. Set aside.

Combine bananas, extract, egg, oil, maple syrup, and almond milk in a medium bowl; mix well.

Add flour mixture to egg mixture; mix until just blended.

Place batter in loaf pan that has been lightly coated with spray.

Bake for 43 to 48 minutes, or until toothpick inserted in the middle comes out clean.

Cool completely before slicing.
Nutrition Facts
Gluten-Free Banana Bread
Amount Per Serving (1 serving)
Calories 274 Calories from Fat 99
% Daily Value*
Fat 11g17%
Saturated Fat 4g25%
Cholesterol 15mg5%
Sodium 347mg15%
Carbohydrates 42g14%
Fiber 5g21%
Sugar 18g20%
Protein 6g12%
* Percent Daily Values are based on a 2000 calorie diet.
Container Equivalents
1 Purple
1½ Yellow
½ Blue
1 tsp.
2B Mindset Plate It!
Enjoy this FFC as an occasional treat.
If you have questions about the portions, please click here to post a question in our forums so our experts can help. Please include a link to the recipe.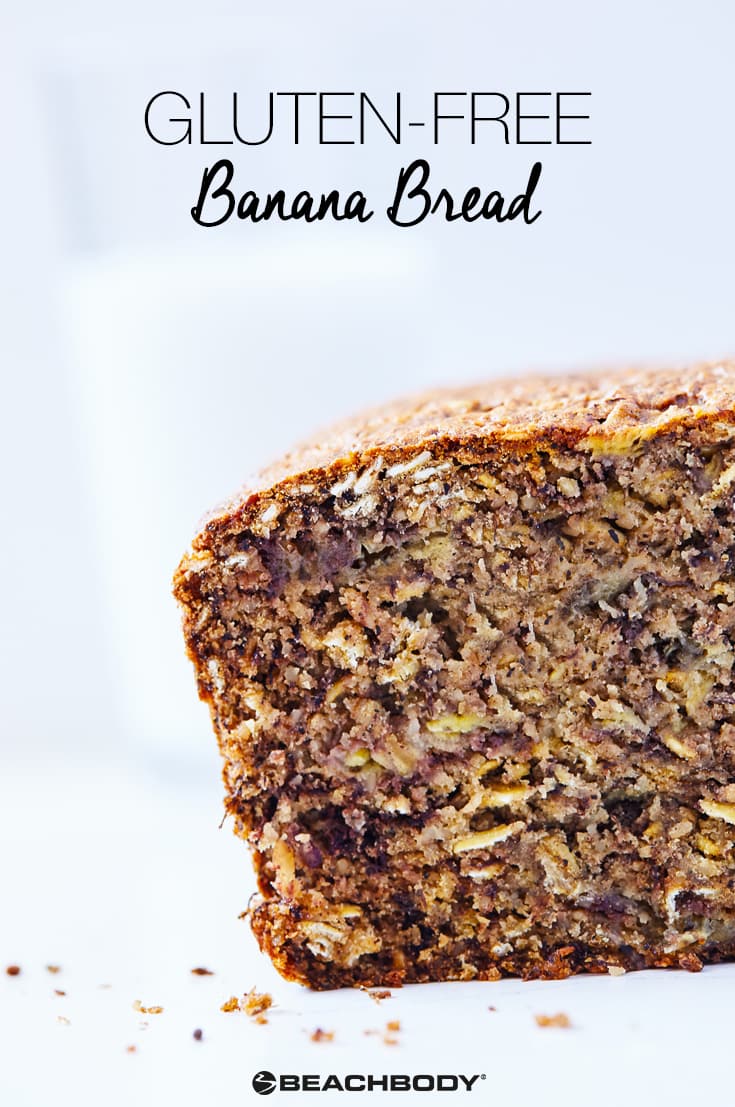 Photographs by Anguel Dimov and Brianne B of Natural Girl Modern World