Four Award-Winning Female Fitness Transformations
These ladies transformed their bodies and their lives at home with Beachbody fitness and nutrition programs, and they each won $1,000 as monthly winners of the the Beachbody Challenge contest July 2017! See their jaw-dropping before & after photos…
Vanessa Christopher Lost 29 Pounds
Vanessa got lean and strong with Body Beast on Beachbody On Demand. She lost 29 pounds in 2 rounds and placed top 3 in a bikini competition!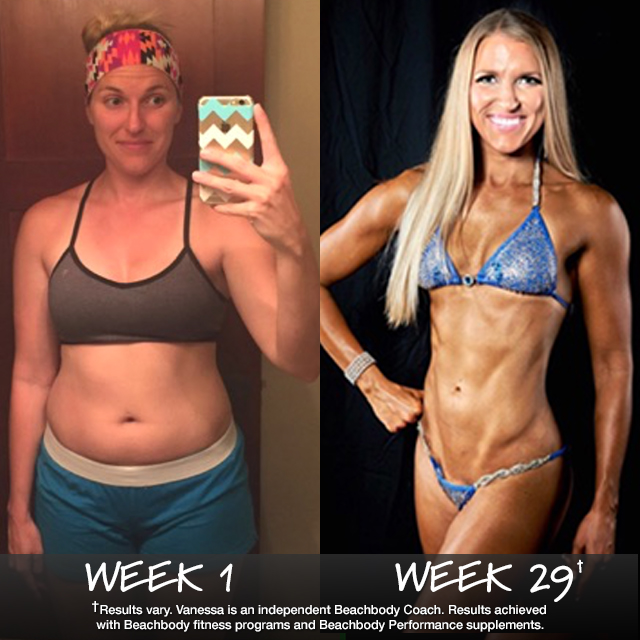 "Weightlifting is not just for men! Women can lift heavy too and get the body of their dreams! I loved how Body Beast made my muscles toned, lean, and sexy!! The way that it shaped my legs, abs, and shoulders was like a dream. I not only reached my goal of beating my previous [bodybuilding] competition physique, but I placed top three in my category and lost almost 30 pounds in the process!… My Challenge Groups were everything to me. They were there for me through all of the struggles I faced and rooted me on through the process. Having that supportive community was the secret sauce to pushing myself and getting the best results!"
---
Nicole Ferrigno Lost 139.1 Pounds
Nicole wanted to start a family and have children, and she decided to lose some weight first so that she could raise them in a healthy environment. In 19 months, she shed 139 pounds!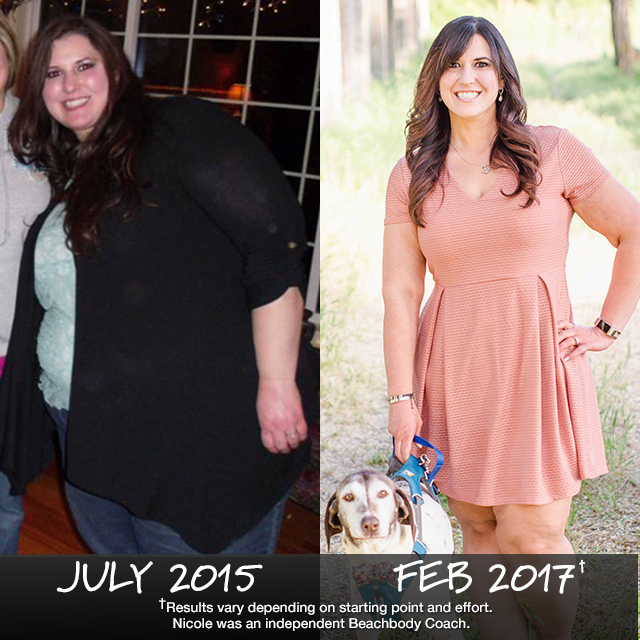 "I love using BOD. It is so much more convenient than a gym membership. There is nothing better than waking up and using my own living room as my work out room. It also helps that I can play with my dog in-between moves. He is more active, and so am I. The workouts were fun too… I am so proud of the fact that I made a commitment to myself and followed through. I work 12 hour shifts, but I made time for this. I woke up early and pressed play every day. I followed through on the eating plan. I lost self-doubt and gained self-worth. I also love the support of the Beachbody community. I have people cheering for me who have never even met me, but they genuinely care about my journey and my success. I am happier, healthier, and more focused. I am planning for a long, healthy future."
---
Jacqueline O'Donaghey Lost 69.7 Pounds
Hard work paid off, literally, for mom of three Jacqueline. She used a variety of fitness programs on Beachbody On Demand to reclaim her health and her happiness, shedding nearly 70 pounds in time for her 40th b-day, and she won $1,000 in the Beachbody Challenge!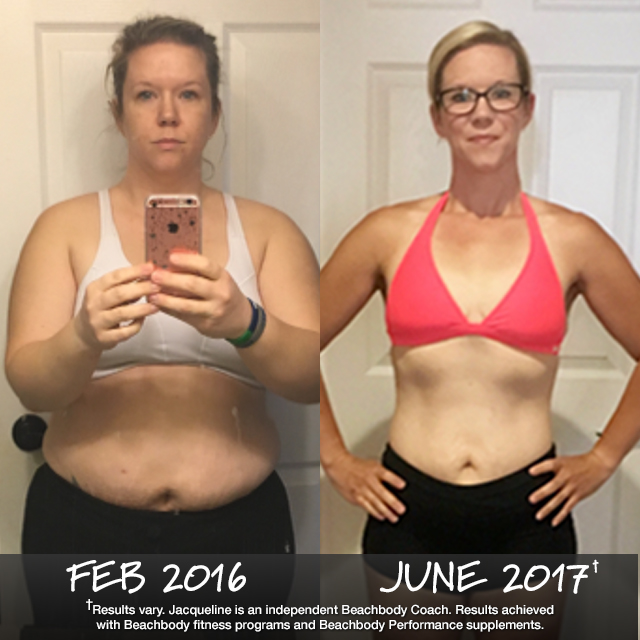 "I have changed my life, and Beachbody has been there every step of the way! I use BOD every day. It's just so convenient and easy! I stream my workouts at home, on vacation, at hotels, at friends' homes, out in the garden… wherever! I get to try out programs, see which ones I love, then print out the calendar and nutrition guide to follow… This didn't happen overnight, and it didn't start off easy; it's a process, and it takes work, but it does work! It's even more motivating when you start to see the work pay off. After a few weeks of workouts, I noticed that I had a feeling of strength and energy that I never had before. People started noticing the change, and commenting, which made my self-confidence grow. Within a year, I hit a goal which I thought was 'unattainable.' I just turned 40 in the best shape of my life. It has improved my relationship with my three children, who see their mommy exercising every day, full of life and energy. It has also improved my relationship with my husband, who has started a journey of his own!"
---
Judi Moore-Gwynne Lost 22.4 Pounds
With the right tools in hand, a healthy lifestyle can start at any age. Just ask Judi. At age 69, she lost over 22 lbs. and 20 inches!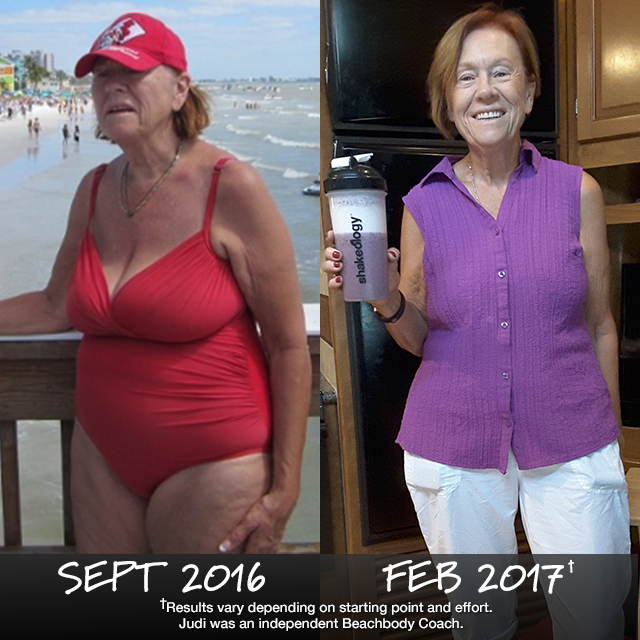 "Beachbody programs really fit my organized lifestyle. I get up, 'push play,' have my Shakeology, and plan my food for the day. I enjoyed starting with 21 Day Fix. I used aerosol cleaning cans as my weights to start with, and I worked my way up to heavier weights. I had a hard time getting up and down from the floor at the beginning, but I stuck with it and just kept moving. Autumn is so inspirational and her remarks throughout each workout are dead on. I've since completed 4 other Beachbody programs, and my results are amazing. I have lost 22.4 lbs and 20 inches. I have not been this weight since 1973. My life has changed immensely. I can wear clothes that I never would have thought about wearing before. My husband can get his arms all the way around me. My legs are much more shapely, and I have lost most of my muffin top."
You can change your life, too. Take the Beachbody Challenge for the tools you need to Decide, Commit, and Succeed! Complete any Beachbody program, and enter your results for a free gift and a chance to win cash and prizes. What program are you committing to next?