FIXATE Pumpkin Muffins With Pumpkin Spice Frosting
What do you get when you pair pumpkin muffins with pumpkin spice frosting?
A FIX-approved, magical mouthful of your favorite fall flavors!
Even more magical? The pumpkin spice frosting has a special ingredient — Pumpkin Spice Shakeology.
Scroll down and watch Autumn Calabrese and her brother Bobby make these delicious pumpkin muffins on an episode of their cooking show, FIXATE.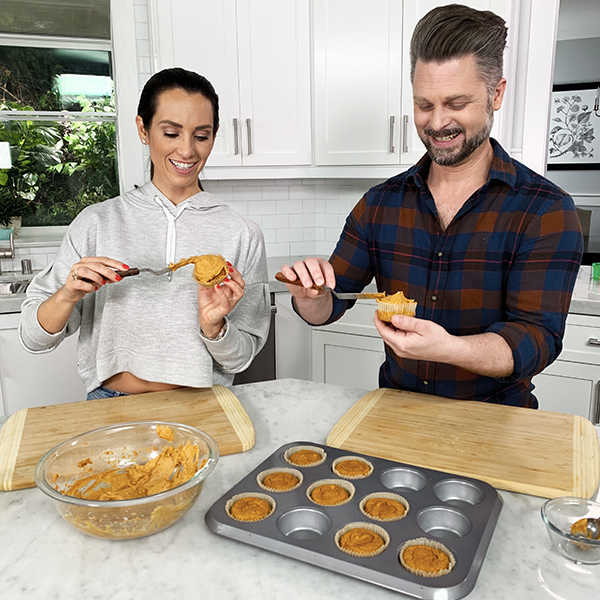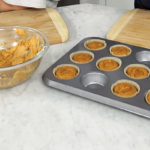 Pumpkin Muffins With Pumpkin Spice Frosting
Prep Time 15 mins
Cook Time 25 mins
Total Time 40 mins
Servings 12 servings, 1 muffin each
Calories 224 kcal
Ingredients
For muffins:
1¾ cups gluten-free all-purpose flour (preferably Bob's Red Mill® All- Purpose Baking Flour, red label)
1½ tsp. baking powder
½ tsp. sea salt (or Himalayan salt)
2 tsp. pumpkin pie spice
1½ cups 100% pure pumpkin puree
¼ cup extra-virgin organic coconut oil, melted
½ cup unsweetened coconut milk beverage
2 large eggs
¼ cup pure maple syrup
1 tsp. pure vanilla extract
For frosting:
½ cup whipped cream cheese
¼ cup coconut sugar
¼ cup + 3 Tbsp. unsweetened coconut milk beverage
2 packets Pumpkin Spice Plant-Based Vegan Shakeology
Instructions
Line a muffin pan with 12 muffin papers and lightly coat with spray.

Combine flour, baking powder, salt, and pumpkin pie spice; whisk until combined; set aside.

Place pumpkin puree, coconut oil, coconut milk, eggs, maple syrup, and extract in separate mixing bowl; whisk until smooth.

Add flour mixture to egg mixture; whisk until smooth and well-incorporated.

Divide batter evenly among muffin papers and bake, 20 to 25 minutes, rotating once, until a toothpick inserted into center of muffin comes out clean.

While muffins are baking, in a large mixing bowl, combine cream cheese, coconut sugar, and coconut milk. Beat with a hand blender on low until combined then slowly add in Shakeology until combined.

Turn hand blender up to medium-high and beat until frosting is fluffy.

Once muffins are completely cooled, top each with 1 Tbsp. + 1 tsp. frosting and enjoy!
Recipe Notes
Ovo-Lacto Vegetarian
The Nutrition Facts box below provides estimated nutritional information for this recipe.
Nutrition Facts
Pumpkin Muffins With Pumpkin Spice Frosting
Amount Per Serving (1 serving)
Calories 224 Calories from Fat 81
% Daily Value*
Fat 9g14%
Saturated Fat 6g38%
Cholesterol 38mg13%
Sodium 155mg7%
Carbohydrates 31g10%
Fiber 3g13%
Sugar 9g10%
Protein 6g12%
* Percent Daily Values are based on a 2000 calorie diet.
Container Equivalents
1½ Yellow
½ Blue
1 tsp.
If you have questions about the portions, please click here to post a question in our forums so our experts can help. Please include a link to the recipe you're asking about.