Fitspiration Friday: I Overcame My Scale Addiction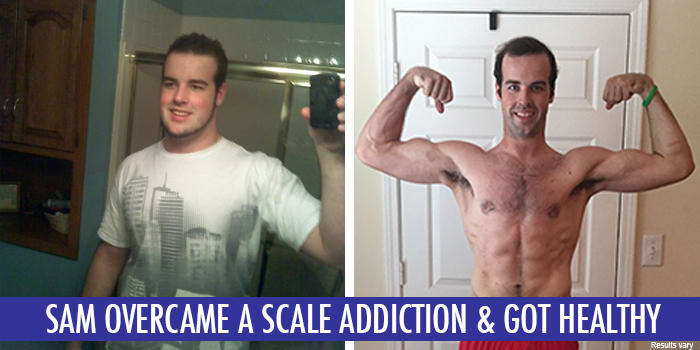 Results vary depending on starting point and effort. Sam was an independent Beachbody Coach.
If you've tried a Beachbody program, you've probably had a goal in mind that you wanted to achieve. Maybe you wanted to lose weight. Maybe you wanted to get stronger. Maybe you wanted to improve your health. Maybe it was a mix of all three, or something else entirely. But, along the way, no matter what your goal, everyone needs a little inspiration. Every other Friday, the Beachbody Success Stories team will share inspirational fitness stories from some of the folks who have done Beachbody programs. Maybe one will inspire you!
Meet Sam R. Sam was addicted to weighing himself and would get on the scale several times a day. Here's how he overcame it.
"My weight loss journey started after I finished my college football career. Back then, I was a lineman who ate way too much and spent too much time sitting in my dorm room playing video games. It wasn't until I came home for Christmas in 2010 and I took a picture with my friends and noticed how much weight I gained. I was very unhappy with my body and knew things had to change. My journey started with me weighing in at 245 pounds.
As I lost weight, I noticed myself getting addicted to the weight loss and I started weighing myself religiously. My nutrition was horrible. I only ate once or twice a day. If I didn't like the number I saw on the scale in the morning, I would go to work without eating. After work, I would come home and weigh myself to see if I had lost weight. Then I would eat my dinner, which was sometimes just a bowl of cereal with fruit.
Eventually it got to the point where I was weighing myself at least three to six times a day. I remember one month where I wanted to get down to 170 pounds. I thought if I could reach 170 pounds, I would feel so accomplished. The pounds were slowly coming off, but I would wake up, weigh myself, do one workout (without any water most times), and then go for a three-mile run. I would then come back and weigh myself to see how much I lost during those workouts. I usually only ate some yogurt during the day. After work, I would come home, weigh myself, eat some dinner, then sit in my hot tub to sweat my water weight out. I would come back inside and weigh myself one more time for the night and if I was over my ideal weight for the day, would go for another run at midnight.
Finally, I noticed I wasn't only confined to the scale, I was also lightheaded each day. I was training for a triathlon at the time and knew I couldn't live like this if I wanted to compete. I threw out the scale and vowed to never weigh myself like that again. I kept my scale addiction a secret for many years, but later on, confessed it to my girlfriend when I asked her to do INSANITY with me.  She told me she would be there to help me and make sure it didn't come back into my life. She also told me to open up about this story and share it, because you never know who else out there is going through the same thing, so that's why I'm sharing it with you.
In ditching the scale, I found I don't find the happiness by the number on the scale, but I found the happiness in the mirror.  In the beginning, it was a goal of mine to be happy and confident about my body. Since I threw that scale out, I have found that happiness. If you're going through something like this, talk about it with someone. Once you get it off your chest, you might be able to see what's going on and see what actions to take to make a change.
So, what am I doing now? Well, my girlfriend and I recently dove into 21 Day Fix EXTREME. It's the first program where I've followed the nutrition plan to a t. I got great results, was acknowledged by Autumn herself, and got to work out on stage with her at Summit."