Female Beachbody Challenge Winners, Jan 2018
Women of all ages are transforming their bodies and their lives at home with Beachbody's system of fitness, nutrition, and support.
In the month of January 2018 alone, more than 3,000 satisfied customers submitted their inspirational transformation stories to the Beachbody Challenge, where healthy lifestyle changes are rewarded with prizes all year long.
In addition to the free gifts that all qualifying contestants receive, these four first-rate females (below) recently won $1,000 each as a reward for their hard work and their inspirational stories.
Check out their mind-blowing "before" and "after" photos…
Courtney A. Lost 132 Pounds
One of Courtney's short-term life goals is to have kids and start a family.
But 272 pounds, she came to the tough realization that she would have to focus on her health first to minimize the risk of complications.
She started with 21 Day Fix on Beachbody On Demand combined with Shakeology. Now, after two years, check out the results of her hard work!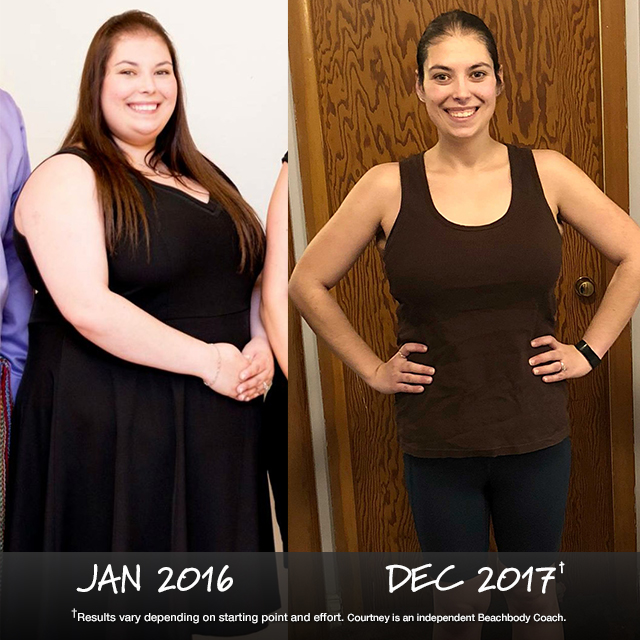 "I felt trapped in a fat suit that I couldn't take off and had zero self-esteem. I was well on my way to early heart disease and diabetes when I realized that the only person who could do anything to save my life was myself, and I had to fight, not only for me, but for my fiancé, the kids I desperately wanted, and my family.
I realized that I was worth saving.
"I used multiple Beachbody programs on my journey, and I loved all of them. I started with 21 Day Fix and loved that the workouts were only 30 minutes, which wasn't too intimidating to start with.
I learned that exercise does not mean countless hours toiling away at the gym.
There were so many options to choose from on Beachbody On Demand. Plus, the portion-control containers really showed me what and how much I really should be eating.
I've lost 132 pounds — that's an entire person!
I have more definition, and a lot more strength. I'm also proud that I learned to stop giving up, and to stay consistent. I have my confidence and self-esteem back.
I'm finally back to my happy self, someone I thought I had lost a long time ago."
Chrystal P. Lost 101 Pounds in One Year
Chrystal was morbidly obese when her doctor gave her a stark prognosis: lose weight or die young.
She decided to fight for her health, and she dove headfirst into Beachbody's system of fitness, nutrition, and support. She stuck with it for a whole year and is proud to share her jaw-dropping results!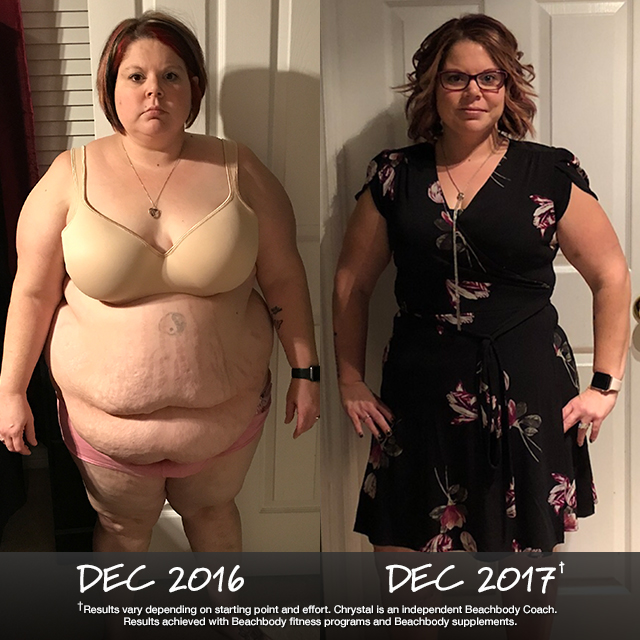 "I thought gastric bypass was my only hope to lose weight. But I followed my heart and opted out of the surgery.
Together, my husband and I started Beachbody and never looked back. I have stuck to Beachbody one whole year and committed to absolutely every aspect.
The [Portion-Control] containers, meal prep every Sunday, completing every fitness program I have started.
And WOW!! The results are incredible. I have lost 101 pounds to date and 98 inches all over my body.
So much has changed, not just my weight, but my mindset, too. My confidence is unbelievable. I found love for myself and learned I can reach all my goals if I fight hard enough for them."
Chrystal has completed programs by many of Beachbody's Super Trainers, but she feels particularly inspired and motivated by Shaun T.
His impact on her life has been so profound, she recently got a tattoo inspired by one of his favorite sayings to commemorate the date she got started: 12/08/16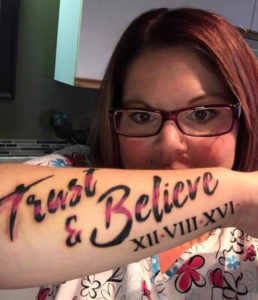 Lori Z. Lost 107 Pounds
At age 43, Lori is absolutely beaming with positivity after sweating out the negativity in her life over the last 2.75 years with a variety of programs on Beachbody On Demand.
She is proud to report this is the lightest and strongest she has been since she was 18!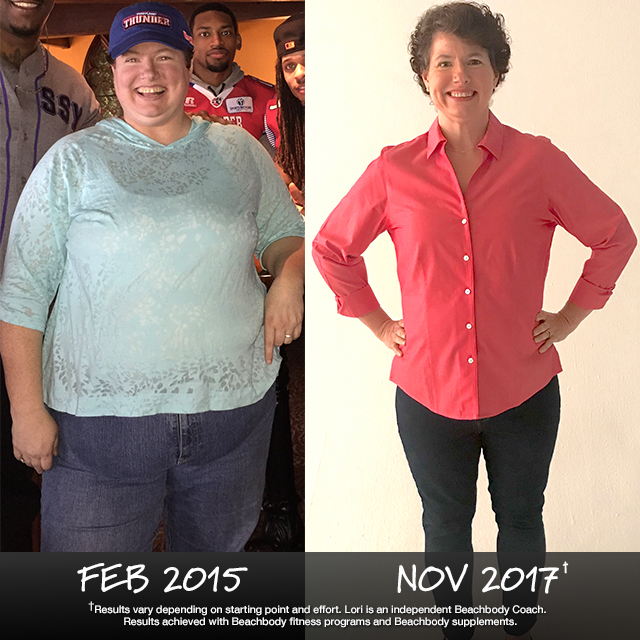 "I feel freaking AMAZING! I have lost over 100 pounds since my journey started. This is the first time I've been under 200 pounds since I was 18 (I'm 43).
I went from a 3XL to a Large. I can finally find clothes that fit. The biggest change is the positivity I have and express every day.
I look back at prior years' Facebook posts, and I was so negative. Not anymore. I can overcome anything, and that's something to be positive about."
Julie A. Lost 25 Pounds
Low-impact PiYo workouts helped Julie get bikini-ready at age 55.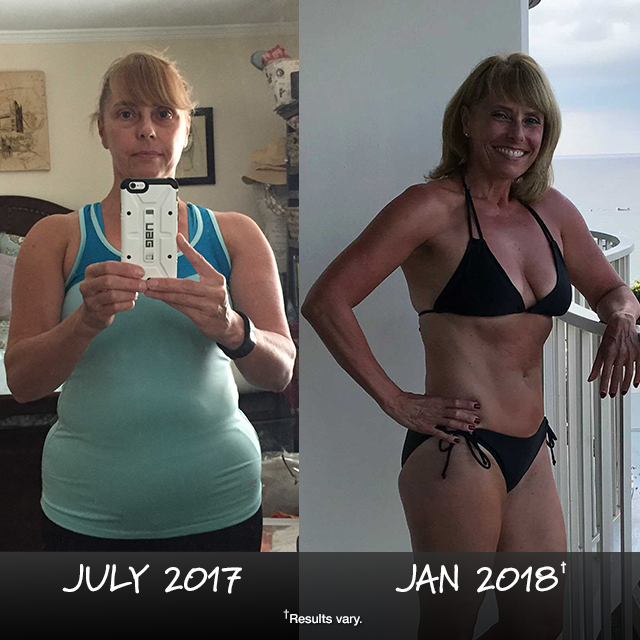 "I had a knee injury, and the doctor told me that my running days were over. The weight kept creeping on despite watching what I ate. I decided to try PiYo* as it was low impact and felt results almost immediately!
I keep eating clean, drinking water, and doing PiYo seven days a week. [After six months,] I am very proud to show off my new abs! The last time I took pictures in a bikini was 20 years ago.
I never thought that ANY program would get me back into that kind of shape. My mood keeps improving, confidence-boosting, and best of all, I'm fitting back into my clothes comfortably. PiYo is the best program! I'm very proud of my 'new' body."
You can change your life, too. Get started here for the tools you need to Decide, Commit, and Succeed! Complete any Beachbody program, and enter your results for a free gift and a chance to win cash and prizes. Ready to pick a program and get started?

The Beachbody Challenge contest is currently open only to legal residents of the 50 United States (incl. DC), Puerto Rico, and Canada (excluding Quebec) who are at least 18 or the age of majority at time of entry. Residents of Quebec and the UK are not currently eligible to compete in the Beachbody Challenge transformation contest. However, they can earn free gifts after completing a Beachbody program by submitting this application form online.
*Always consult your physician about your unique medical condition before commencing any fitness or nutrition program.
Results vary based on starting point and effort.