Country Heat Details, Workout Calendar, and Exclusive Tips from Autumn Calabrese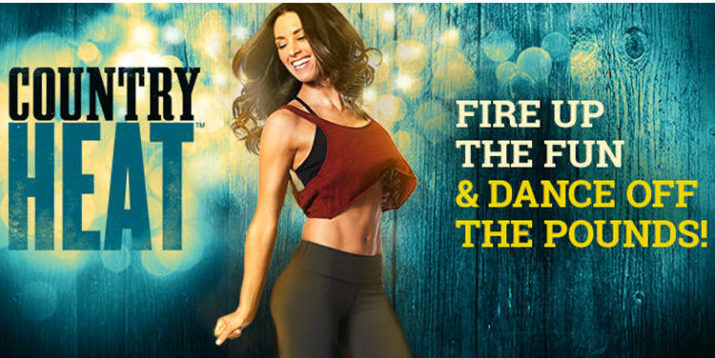 Looking for a fun way to get fit? Get ready to turn up the heat and burn off the calories with Country Heat, the country dance-inspired workout from Super Trainer and professionally-trained dancer Autumn Calabrese.
"What most people think about is having fun, being social, listening to great music, and maybe getting a little sweaty as they dance with friends," says Autumn. "That's exactly what makes Country Heat so powerful — you're going to have so much fun doing it, you won't even realize that you're burning tons of calories and working your entire body…you're going to want to keep coming back for more!"
Country Heat is a 30-day low-impact dance workout program that features five dance workouts, one full-body dance-conditioning workout, and a bonus line dancing workout. Each of the 20 to 30-minute workouts in Country Heat are designed to fire up your metabolism, burn calories, and melt away unwanted pounds while you have fun dancing to today's hottest country hits.
The workout program also includes a program guide, calendar, eating plan, a 7-piece set of portion-control containers, and a Shakeology shaker cup. All of this is available here for just $59.85. Country Heat is also available to stream on BODi.
The Country Heat Deluxe kit includes three bonus workouts. Two dance workouts Wild Goose Chase and Cardio Round Up; and the line dancing workout Saddle Up. It also includes an extra blue Portion Fix container.
Where Can I find the Country Heat Workout Schedule?
The Country Heat workout schedule is designed so there is one workout a day, 6 days a week for 30 days. A PDF of the Country Heat workout calendar can be downloaded here and can also be found in the workout kit as well as on BODi. Within BODi you'll also find two exclusive Country Heat workouts, the Eating Plan, the Quick Start Guide, and Tally Sheets to help you keep track of your portions.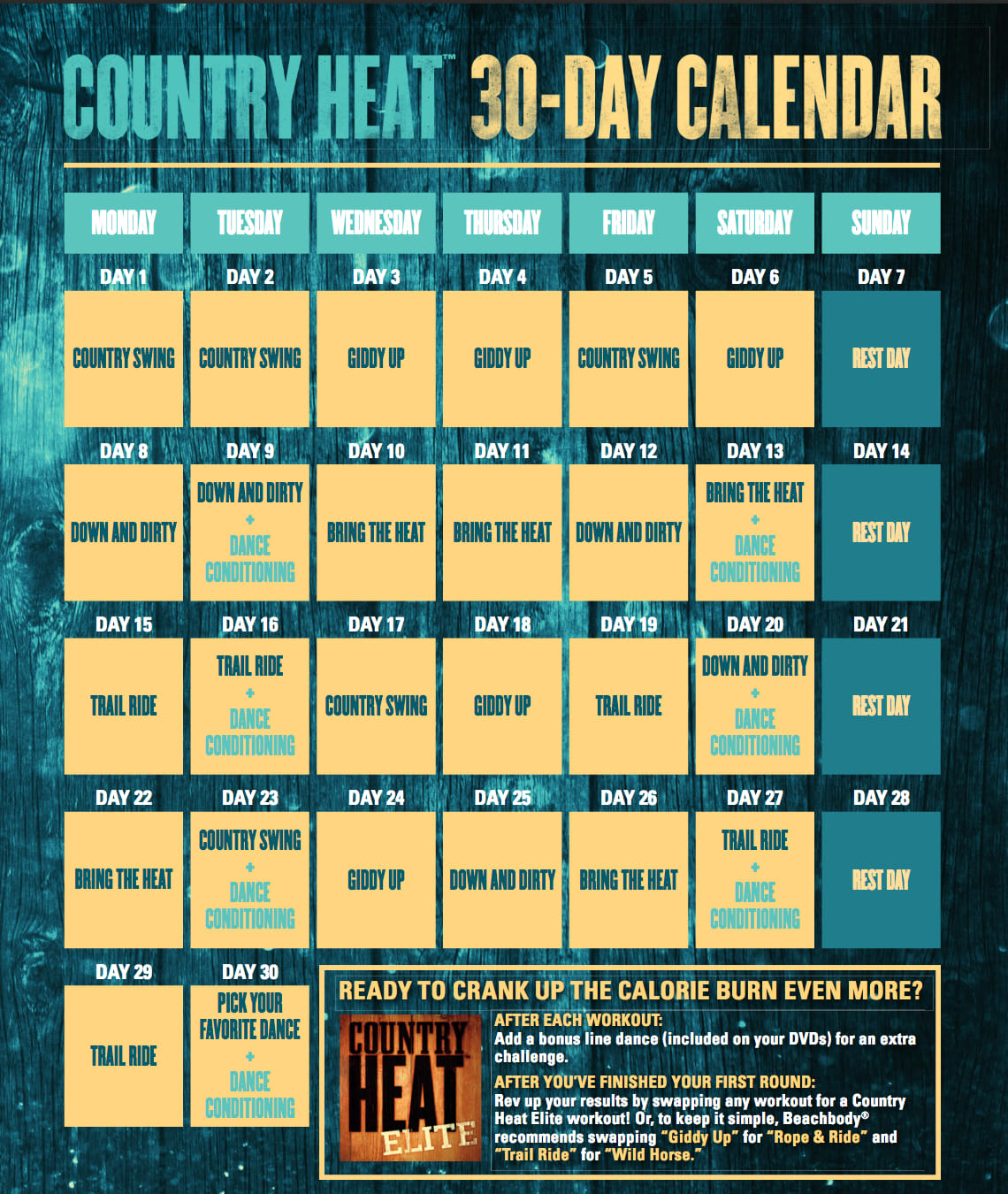 What Equipment Do I Need?
No equipment is required for Country Heat. No weights. No bands. No barbells. Nada. BODi does however recommend 6′ x 6′ square feet of space and that you wear cross trainer shoes or tennis shoes during your workout.
What If I Can't Dance?
You don't have to be a great dancer to get the most out of Country Heat! Many people are intimidated by choreography and Autumn designed Country Heat to be easy to learn and follow. Anyone can jump right in without missing a beat. "It doesn't matter if you've never danced a day in your life," says Autumn. "You're going to be able to follow along as we move to some of today's hottest country hits!"
To help you pick up the moves even faster, each workout comes with a 15-minute workout move breakdown. "Yes, it's an extra 15 minutes, but each workout is only a half hour, so we're still only talking about a total of 45 minutes, which is shorter than a typical gym workout," says Calabrese. "And those 15-minutes will be well spent — the more proficient you are with the moves before you begin the workout, the more you'll get from it."
Who is the Trainer?
You might know Autumn Calabrese as the creator and trainer behind the hit workout program 21 Day Fix, but Autumn is also a lifelong student of dance (she majored in it in college) and a devoted fan of country music. Autumn was excited to be able to combine those interests to create a program that would help people transform their bodies without feeling like they are "working out." Country Heat was the result!
Who Is Country Heat For?
If you're looking for a fun, low-impact workout, you're going to love Country Heat. It's great for those brand-new to fitness and it's also an effective cardio-based workout for anyone who likes to dance or wants to stay in shape. Each move includes a modifier, but as Autumn says, "It's total body cardio, and is for everyone regardless of fitness level.
As with any workout plan, you should always perform the most difficult exercise variations you can do with control and good form. If you can follow Autumn's lead in every exercise, you're doing well. But you can always perform the modifier demonstrated by another member of the cast. It will be less complicated, but it will target the same muscles.
Will I Get Results with Country Heat?
Absolutely. "It might look like you're just working your lower half, but you'll quickly realize that to perform the moves, you have to engage your core, move your arms, and rotate your torso," says Autumn "In short, I'm going to make you work."
The more consistent you are with your workouts, the faster you'll master the moves. "That consistency is also the key to reaching your fitness goals," she adds. "If you want to see results, you can't skip workouts—you have to be committed and consistent."
Want to see great results? Check out these before and after results from Country Heat.
Do I Need to Follow the Country Heat Eating Plan?
To get the best results, you should follow the eating plan included with the workout program. "I've said it before, and I'll say it again — you can't out-exercise a bad diet," says Autumn. "If you want to see results, you have to align your eating habits with your workouts and your goals."
To make that as easy as possible, Calabrese created an eating plan based on the same portion-control system she has used in other blockbuster fitness programs, including 21 Day Fix and The Master's Hammer and Chisel. For Country Heat, she spiced it up with country-inspired recipes that make losing weight more delicious than ever including Savory Turkey and Sweet Potato Hash, Creamy Cauliflower Mash, and Smoky Baked Beans. Oh, and there are a few sweet treats too such as Double Chocolate Cookies, High-Protein Chocolate Peanut Butter Snack Bars, and Banana Oatmeal Cookies.
We know you're busy, so we also built dozens of meal plans, complete with step-by-step instructions and grocery lists. Just follow the one that corresponds to your calorie level and go!
Ready to get started? Order Country Heat here or stream it on BODi.
Save
Save
Save