How to Pick the Best Workout Clothes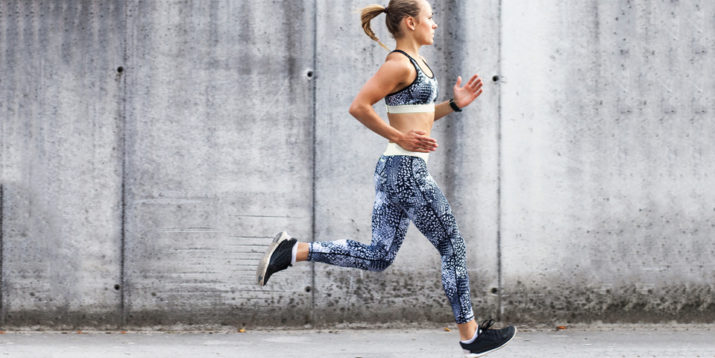 Jumping, lunging, and squatting your way through an intense workout is difficult enough, but it's 10 times harder if you have to stop after every rep to adjust saggy leggings or an ill-fitting sports bra. Activewear can make or break a workout, but it's difficult to know what the best workout clothes are with all the options that line store shelves. Plus, it can be tough to find affordable workout clothes that aren't just cheap workout clothes. (No see-through leggings, please!)
Stop wasting your hard-earned dollars on the wrong gear. Here are some tips to get the best workout clothes, so you can perform at your full potential—whether you're running, streaming a workout on Beachbody On Demand, taking a spin class, pumping iron in the gym, or practicing yoga.
Interested in Beachbody gear? Check out our apparel line for both men and women!
The Best Fabrics For Workout Clothes
Sure, that pair of leggings with the cute cutouts looks amazing, but how will it feel during your workout? Start by looking at what it's made of. Some fabrics are made to handle intense sweat sessions by wicking moisture away from your body, while others simply hold it in, making you feel sweaty and gross. Cheap workout clothes might feel good on your wallet, but not so much on your body.
Cotton is best for low-intensity workouts. This fabric sops up moisture like a sponge, making it an uncomfortable choice for super sweaty workouts. Cotton is fine for low-impact workouts where you're not perspiring as much, like light resistance training or slow yoga flows.
But cotton does have one major upside: It's less likely to give off a stinky sweat smell after a workout as compared to synthetic fabrics: Research shows that odor-causing bacteria cling to man-made fibers – like spandex – easier than cotton. But that's only really an issue if you leave your workout shirt in your gym bag, forget to wash it, and then re-use it without giving it a smell test. During your workout, you'll smell just as wonderful regardless of whether you're wearing pima or polyester.
Wicking fabrics are best to get rid of sweat. If you just can't stand that sticky feeling of sweat, this is the material for you. Workout clothes made from nylon, spandex, bamboo, and polypropylene are all known for their ability to wick (or pull) moisture away for your skin so it can evaporate. In so doing, this kind of material can also help keep your body temperature down during workouts in warm environments.
But what about the smell, since bacteria clings on to this kind of man-made fabric? If you're really worried about a post-workout stench, opt for workout clothes made with antimicrobial technology (which often uses silver nanoparticles that inhibit bacterial growth), or try some of these tips to get smell out of workout clothes.
Choose the right fabric for outdoor workouts. The right fabric is especially crucial for outdoor workouts when you're battling the weather. During the winter, layers are your best friend. Opt for a moisture-wicking polypropylene base layer to wick away sweat. Next, add a layer made of fleece for extra warmth if needed.
When the weather heats up, moisture-wicking workout clothes are even more important because you'll likely sweat more. On sunny days, be mindful of the sun, too. Look for workout clothes made with polyester for outdoor sessions in the heat: it both wicks away moisture and provides some protection from UV rays.
Do the "squat test" before buying leggings. You probably want to avoid leggings that turn sheer when you lunge or squat, giving people a glimpse at your skivvies. It's almost impossible to tell which pieces will be see-through just by looking at them on the rack, so always do a check in the dressing room beforehand. If you're buying them online, be mindful of this potential problem and read reviews from other buyers—and make sure the company has a good return policy. Cheap workout clothes are still a waste of money if you don't end up wearing them.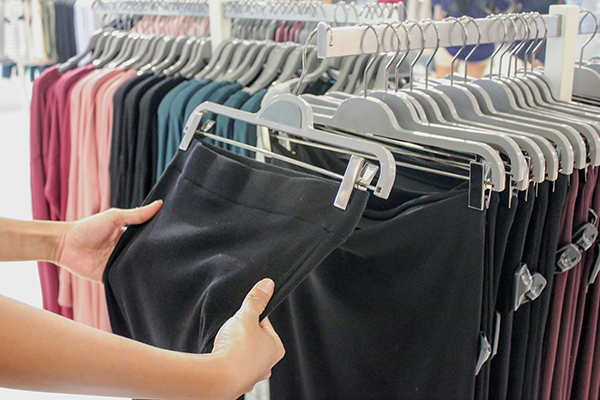 Tips For Finding Cheap Workout Clothes
Not every pair of quality leggings has to cost $100. That might be what you drop at higher-end stores like Lululemon, but it's easier than ever to find affordable, cheap workout clothes that are trendy and perform well.
Old Navy and Target are two reasonably priced stores that have whole departments dedicated to stylish activewear, ranging from $25 capris to $15 sports bras. TJ Maxx also ranks high on the list of affordable workout clothes, frequently offering apparel from brands like Nike and Adidas for a fraction of the list price.
There are some things you shouldn't skimp on, though. Good outerwear might be worth the splurge if you exercise outside frequently. Investing in items that are waterproof and windproof —while still being breathable—can make your workouts much more enjoyable. But not skimping doesn't mean you have to break the bank—you can find some great deals for affordable workout clothes at department stores and online. Here is some of our favorite cold-weather exercise gear.
Finding the Perfect Form and Fit
For men and women alike, you should always consider how the workout clothes feel when you're wearing them. If they're not comfortable – whether they're too tight, too baggy, too itchy, etc.– you'll be less likely to wear them, and getting motivated to work out is hard enough without adding that worry to the list.
Loose, tight, or just right? As convenient as online shopping is, trying on workout clothes before you buy them can save you a lot of trouble down the road. Do you have full range of motion in those skin tight leggings? Are your shorts going to slide up or gape and lead to a wardrobe malfunction? If you must wear loose clothing, consider also wearing something that's tighter and moisture-wicking underneath, like a polypropylene top or shorts.
Consider the type of workout you're doing before picking out an outfit. That strappy top might be cute and perfect for yoga, but it might not hold everything in place well enough during a HIIT session. For higher-impact workouts that require more movement, look for workout clothes made with nylon or spandex– they're stretchy enough to allow a full range of motion, while also providing support.
Find clothes that fit your specific body type. You might already know that you can buy petite and tall sizes for everyday clothes, and you can do the same for workout clothes! If you have shorter legs, you don't want to be tripping over long pants as you're moving about. And if you're bigger up top, there's nothing worse than a suffocating sports bra. But you don't have to suffer! Find brands that carry plus size and petite options so your workout clothes can fit your body perfectly. Check out some of our favorite plus size workout clothes for women.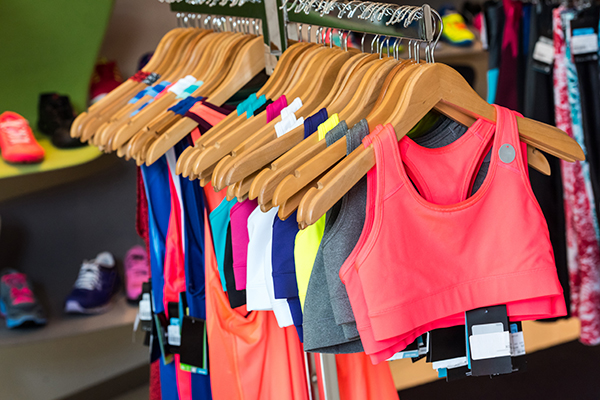 How to Pick the Best Undergarments For Working Out
You can't build a house without a foundation. The same thing goes for workout clothes. Which brings us to underwear.
For women, a comfortable sports bra is key. Finding the right sports bra is pretty much a science: you have to consider everything from your breast size to the width of the straps to find the right one. In general, there are two types of sports bras: encapsulated and compression. Compression bras secure breasts with pressure and work best if you wear an A or a B cup. They're very secure, making them perfect for high-impact workouts. Encapsulated sports bras have individual cups for each breast, are a good option if you wear a C cup or larger. They also provide good support, and the separation can be helpful with keeping sweat at bay. Here are some more tips to finding the best sports bra.
Opt for moisture-wicking fabrics for your underwear, too. Your entire body sweats during a workout, including down below. Look for lightweight underwear made from wicking fabrics that pull sweat away from your skin and reduce the risk of chafing.
Last but not least, don't forget about your feet. Don't make socks an afterthought! Steer clear of all-cotton socks – they soak up moisture, which can create extra friction and lead to painful blisters. Instead, look for socks made with nylon or a wool blend — both wick away sweat and make it easier for your feet to "breathe."
The 10-Second Takeaway
Cotton clothing performs perfectly well during low-intensity activities—and is less likely to stink up your gym bag—but moisture-wicking fabrics have the edge during moderate to high intensity workouts in which sweating can become an issue. Regardless of what material comprises your clothing, however, don't compromise fit for style—both your top and bottom should be fitted enough to allow freedom of movement, but not so tight as to restrict range of motion. And remember, it's not just about the top layer – a properly fitting sports bra and moisture-wicking underwear and socks are also key for staying comfortable as you sweat. Fortunately, finding just the right clothing for your body and workout type is easier than ever thanks to the ever-growing number of companies offering budget-friendly performance apparel.
Check out our line of Beachbody apparel for both men and women!